Grossglockner has surprised us with its supreme beauty and awe-inspiring landscapes. It is a place that everyone should visit at least once in their life.
The Grossglockner mountain is the most astounding mountain in Austria. It is simply jaw-dropping. We were in awe of this magnificent place, even if it was a cloudy and rainy experience for us. I can only dream of seeing this place on a sunny day with no clouds blocking the majestic peak.
Grossglockner, or Großglockner in german, is the highest mountain in Austria at 3,798 (12,461 ft) and the highest in the eastern Alps.
Grossglockner High Alpine Road

The Grossglockner High Alpine Road is the highest mountain pass in Austria. Although there are some higher roads, they are all dead ends. The Grossglockner pass has an entrance tax you must pay, but the road is wide and well maintained, with lots of parking spaces and viewing points. We are not big fans of paying to view nature because nature is. Nobody made it to be endorsed for money. However, being able to drive up there and cross the mountains is a totally different thing.
There are numerous picnic tables along the road with breathtaking views. Pack some food with you if you fancy a picnic, but we suggest enjoying it at a lower altitude, not all the way at the top where it is colder and probably windier.
I went there in shorts, but I changed them with some long pants a few hours later. Yes, hours, take your time, and don't rush because the beauty of this place deserves a lot of time. We even did a hike, which we'll talk about in a few minutes.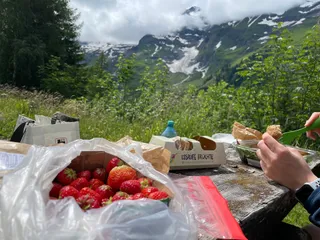 We've been there at the beginning of July, so the snow was not completely melted, but in some places, we found the snow surprisingly high. The temperature was somewhere between 10 and 15 degrees Celsius (50-60 Fahrenheit) on a cloudy and rainy day.
The Grossglockner road is usually open between late April - early May and October. The road is cleared of snow, but if the temperatures get to freezing level, then it might snow, or frost might develop on the road. Winter tires are only mandatory in Austria starting with the 1st of November, however, most rental cars will equip their cars with all-season tires, which are perfectly fine. You can always check the road conditions on the official website .
From the Grossglockner High Alpine Road, there are 2 side roads: Edelweißspitze and Kaiser Franz Josefs Höhe. They are both dead ends, so you will have to return to the Grossglockner road on the same way. They are not a long detour, and the time is well worth it.
Edelweißspitze
Edelweißspitze is even higher than the Grossglockner High Alpine Road, and it has magnificent breathtaking views.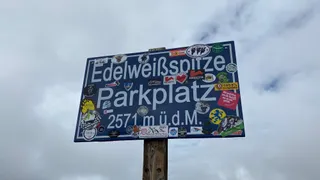 Kaiser Franz Josefs Höhe Road
Note: If you put Kaiser Franz Josefs Höhe in Google Maps for directions, it might not take you where it should. We recommend adding the parking near the end of the road for directions: Parkhaus Kaiser Franz Josefs Höhe.
This road takes you closer to the Pasterze glacier, the largest one in Austria, but unfortunately, it is melting very fast. There's a funicular that takes you down a considerable distance from where you can walk closer and see the glacier. Unfortunately, that is still not very close because of the melting. We've been there during the pandemic, and the funicular was not working. We hiked in the area, and the funicular would have saved us a considerable ascent.
Even if the funicular doesn't work and you don't plan to take the stairs, getting to this place is still worth it. You can still see the glacier, ice on the mountain peaks with a blue tint, and some turquoise glacier lakes, including the dam that you can walk on when hiking. Keep your eyes open for marmots as well.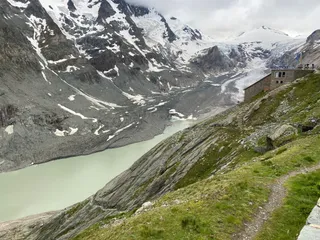 Don't rush to get to the parking though. There still are things to see on the Kaiser Franz Josefs Höhe road like the beautiful lake below:

Hike the Pasterze Glacier Trail
On the Kaiser Franz Josefs Höhe road, before the parking mentioned above, you will pass by another huge parking space. That is where the Pasterze Glacier Trail starts. You can find this spot marked clearly on our Austria map.

The Pasterze Glacier Trail was one of the most beautiful hikes we did, mostly thanks to the astonishing landscapes that surrounded us all the time. We've seen marmots on the trail, but you can't really get a good photo of them with your phone. If you're into photography, then take your professional camera with you. We were also hoping to see some ibex, but that didn't happen. Maybe you'll have more luck than we did, so keep your eyes open and don't make too much noise to scare them away. Fingers crossed!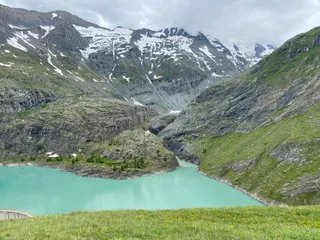 The weather was not ideal when we hiked. It was cloudy and chaging very quickly. We had to take out our backpack rain cover, and our rain jackets. Even so, the color of the lakes, the mountains, and the marmots made the hike memorable.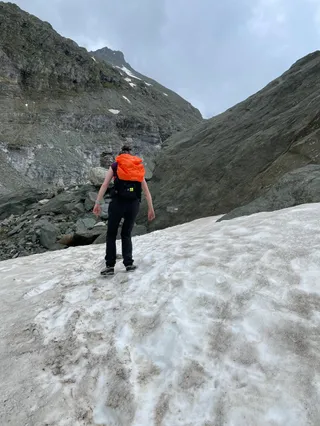 You might know that I have some mild height vertigo. I didn't have any issues whatsoever on this trail, there are no dangerously exposed areas or sheer drops. The stairs above are probably the scariest part, and there's also a bridge that you can see in the photos above.
If you wonder what you should take in your hiking backpack, we already have an article about that:

While preparing your backpack for this specific hike, you should consider the following:
Good shoes are a must!
Weather can change quickly!
The hike is not long, so you might not need some of the food-related items in the checklist above, just some snacks.
I doubt you will dive into a lake, although we've seen some crazy people doing it (continue reading until the end of this article). If you plan to do it, don't forget to take a towel.
Don't get caught by night on the trail! The headlamps are not required, but you can consider them part of the first aid kit.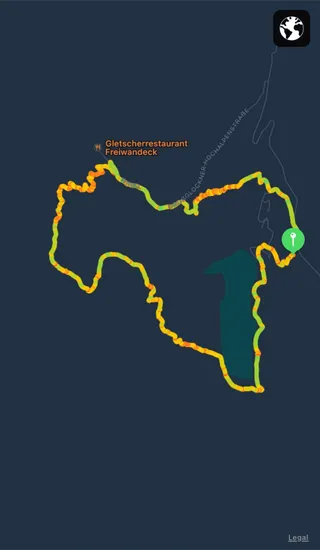 In some places, like the All Trails map, you will see that there is also an extra part for this trail which goes along the lake on the left, closer to the glacier. When we've been there, that part of the trail was not marked as an official trail. Maybe some people go like that, but for us, it didn't seem very safe because a landslide in the area seemed possible. This was a perfect example of why you should always assess your surroundings before following any advice.
Fuscher Lacke
There are numerous stops that you can make on the Grossglockner High Alpine Road. Don't rush, take your time and enjoy this magical landscape as much as you can. Fuscher Lacke is just one of the main beautiful spots along the road.
If you fancy a swim in the ice-cold water, then this might be a good place. Some guys were just going in the water when we got there, and you can see them in the photos below.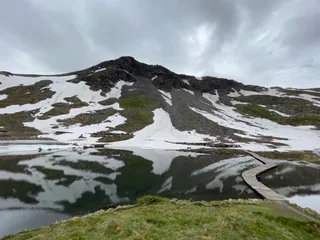 Lienz
South of the Grossglockner High Alpine Road there's a small town of Lienz. There's not much to do in it, but a good place if you want to stretch your legs, grab something to eat or a coffee.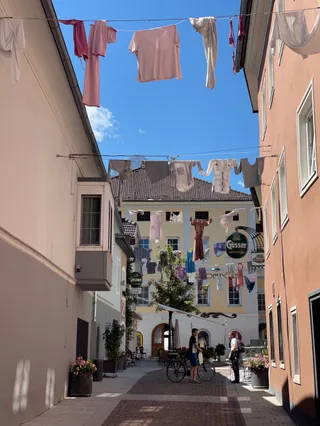 ---
I hope that by now I've managed to convince to visit this magnificent place because it should be a must-see while traveling in Europe and in Austria. It is easy accessible by car, safe and simply breathtaking.
It takes a lot of planning for the perfect trip, but packing can sometimes be frustrating. Either packing too many things or packing too few can ruin a bit of the fun. We've perfected our packing checklist over the years, and we believe it will be of good use for you too. We also have some travel packing tips & tricks to share to save you the hustle we once had.