The Pasterze Glacier Trail was one of the most beautiful hikes we did, mostly thanks to the astonishing landscapes that surrounded us all the time.
On the Kaiser Franz Josefs Höhe road, before the parking Parkhaus Kaiser Franz Josefs Höhe, you will pass by another huge parking space. That is where the Pasterze Glacier Trail starts. You can find this spot marked clearly on our Austria map.

We've seen marmots on the trail, but you can't really get a good photo of them with your phone. If you're into photography, then take your professional camera with you. We were also hoping to see some ibex, but that didn't happen. Maybe you'll have more luck than we did, so keep your eyes open and don't make too much noise to scare them away. Fingers crossed!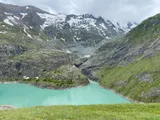 The weather was not ideal when we hiked. It was cloudy and chaging very quickly. We had to take out our backpack rain cover, and our rain jackets. Even so, the color of the lakes, the mountains, and the marmots made the hike memorable.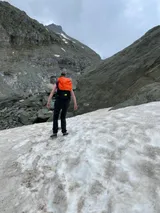 You might know that I have some mild height vertigo. I didn't have any issues whatsoever on this trail, there are no dangerously exposed areas or sheer drops. The stairs above are probably the scariest part, and there's also a bridge that you can see in the photos above.
If you wonder what you should take in your hiking backpack, we already have an article about that:

While preparing your backpack for this specific hike, you should consider the following:
Good shoes are a must!
Weather can change quickly!
The hike is not long, so you might not need some of the food-related items in the checklist above, just some snacks.
I doubt you will dive into a lake, although we've seen some crazy people doing it (continue reading until the end of this article). If you plan to do it, don't forget to take a towel.
Don't get caught by night on the trail! The headlamps are not required, but you can consider them part of the first aid kit.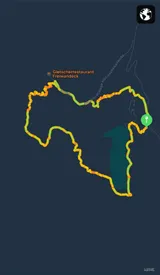 In some places, like the All Trails map, you will see that there is also an extra part for this trail which goes along the lake on the left, closer to the glacier. When we've been there, that part of the trail was not marked as an official trail. Maybe some people go like that, but for us, it didn't seem very safe because a landslide in the area seemed possible. This was a perfect example of why you should always assess your surroundings before following any advice.
If you're planning a trip to Austria and you are looking for more ideas and awe-inspiring places and experiences, then check out our other articles about this country:

It takes a lot of planning for the perfect trip, but packing can sometimes be frustrating. Either packing too many things or packing too few can ruin a bit of the fun. We've perfected our travel packing checklist over the years, and we believe it will be of good use for you too. We also have some travel packing tips & tricks to share to save you the hustle we once had.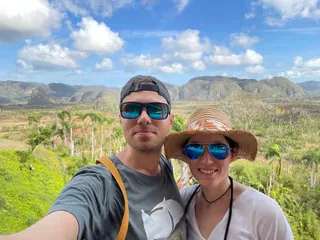 Writing free, independent and personal travel content since 2021. If you appreciate what we do, then you can return the favor by using the affiliate links below: