A country of mountains, green fields, vineyards, wine, apricots, high alpine roads, hikes, walks, cycling paths, lakes, cities, canyons, caves, and waterfalls. It is a rare opportunity to see them all in a single country, and this is Austria.
Austria is the underdog in travel. It was not high on our bucket list of summer destinations. We got to visit Austria because we were transiting this country whenever we were going on a road trip in Europe, from Romania.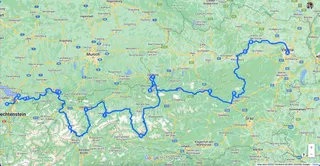 The map above is the main route that we followed, with small deviations of course. Depending on how much time you have and what you enjoy doing, you will easily be able to adapt the route based on the following points of interest:
Green fields of freshly cut grass are the norm everywhere in Austria. Once you get to the alpine region, you'll be surrounded by high mountains waiting for you to hike them.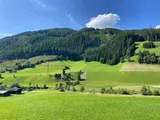 Vienna or Wien
The capital city of Austria, Vienna, is a good destination for a city break at any time of the year.

Wachau Valley
The Wachau Valley is a peaceful retreat, away from the city hustle and yet very close to the capital of Austria. The valley goes along the Danube river, where vineyards create a unique landscape. There are numerous things to do, including apricot specialties and wine tasting, cycling, or walking.

Grüner See
It is one of the most beautiful lakes in Austria. The water is so emerald that it looks out of this world. It's almost like someone painted it.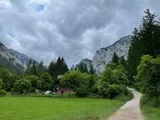 The lake is not exactly near the parking. You have to walk for around 1.5km to get to it, but it is an easy hike, mostly flat.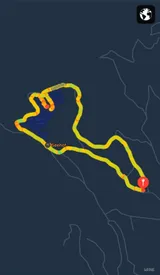 Admont Abbey Library
There is not much to do in the city of Admont, but the Admont Abbey Library is jaw-dropping. It is worth making a stop in Admont just for this library. This is the worlds largest monastery library, and I would say it is as impressive as the Trinity College Library in Dublin, Ireland, but not as famous and visited by tourists.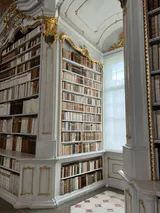 Loser Panoramastraße
Loser Panoramastraße is a beautiful drive to the top of the mountains where you can see everything 360. You can start multiple hikes from there, though we just enjoyed the views this time. On the way down, we met this couple having a "typical" van diner on the rooftop of their van.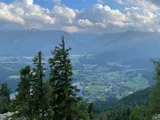 Hallstatt
Very close to Loser road, there is Hallstatt. It is a very scenic old town, next to a lake that almost looks like a Norwegian fjord. Unfortunately, the beauty of this place makes it a very popular touristic destination with lots of crowds. We've been lucky enough to arrive in Hallstatt after 4PM. Most of the crowds where gathering to the busses and the parking lot. The town soon became pleasantly quiet and peaceful.
We wandered on the main street, and then took every turn on small alleys where we thought we might see something interesting. We spent around 4 hours exploring the city and we had the feeling that 4 hours were more than enough. Of course, you can sleep in Hallstatt, and spend more time to let it sink in. For us this means becoming one with the tourist crowds, which we personally don't like.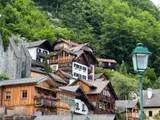 If you choose to visit Hallstatt in the evening, like we did, remember to go and visit indoor attractions first because they close around 7PM. Some of the indoor places worth mentioning are the salt mine and Charnel House which houses around 1200 skulls.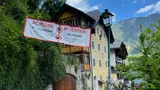 Note: People actually live in this town. Be respectful to locals, don't make loud noise and respect their privacy.
Grundlsee
If you are looking for a peaceful, tranquil accommodation not far away from Hallstatt, then we definitely recommend the Grundlsee area. There aren't too many tourists and the nature is blissful.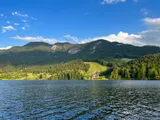 Wolfgangsee
After leaving the Panoramastraße, we grabbed some pizzas and enjoyed them on the shores of Wolfgangsee. It's great to be there at sunset. There are a lot of other lakes nearby, and we heard that the entire area is very nice to explore.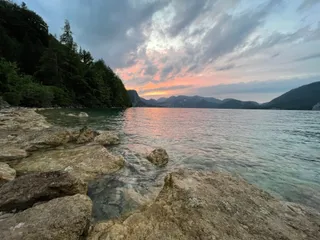 Hochkönig
The hike we did had a hidden start and a good incline at the beginning. Though, during the way uphill, you're on the road, which makes the walking a lot easier. It can be frustrating because you could have done that part with a car. However, we will get down to the parking on a different path, so the only car you can take is a taxi.
Once you get to the top, you go mainly through the forest that opens from time to time with spectacular views of the Alps.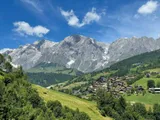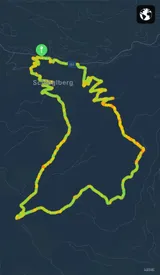 Lammerklamm
Lammerklamm is a narrow cannyon with turqoise waters. You walk along the walls of the canyon. Sometimes, the path gets quite narrow and might be difficult to pass along others. Thus it's good to go there early to avoid crowds.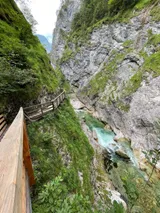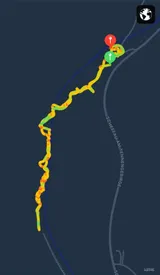 Eisriesenwelt
Eisriesenwelt is the world largest ice cave! It is located about 40 km south of Salzburg. To get to the cave, you have to take a cable car. Trom the top of cable car station, you have to walk to the cave for about 2km on an easy walkable path.
Entering the cave is possible only with a guide, and they run the tours roughly every 30 minutes. It gets slippery here and there, and it's quite cold - don't forget to bring a warm jacket.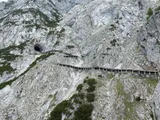 Salzburg
Salzburg is a typical Austrian city where you can find good places to eat with a beautiful walkway around the river.
It's possible to get to the top and see the castle, though we preferred to get lost in the city and explore the local lifestyle.
Rossfeld Panorama Strasse
The Rossfeld Panorama Strasse is not a must-do, but definitely worth mentioning. If you're in the area and have enough time, then you should put it on your list.
Rossfeld Panorama Strasse is located at the border between Austria and Germany. Part of the road is actually along the borderline. You get superb views at the top.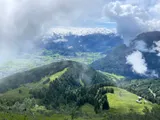 Grossglockner High Alpine Road
This is one of our favorite places in Austria. I don't have enough words to describe the beauty of this High Alpine Road. I'll let you check the dedicated article that we made about it.

Krimml Waterfalls
Krimml Waterfalls consists of a series of waterfalls, all created by the same river. They are one of the most beautiful waterfalls in Europe.
From the parking lot, there is a path that you have to follow and it will take you close to some of the waterfalls. Of course, the path is uphill, after all the water is falling, so you have to go up. The waterfall is so powerful that it creates a lot of sprays which are great to cool down after the walk uphill. Be careful because you can get really wet, and the rocks are slippery.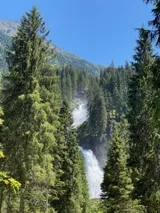 Friesenberghaus - Olpererhütte Alpine Mountain Hike
This is our favorite hike in Austria. Just looking at the photos makes me want to go there again. However, it is not an easy hike, but rather the opposite.

Timmelsjoch / Passo del Rombo
This pass takes you from Soelden, Austria to St. Leonhard in Passeier, Italy. It crosses the Ötztal Alps, and it is the second highest paved alpine pass in Austria, after the Grossglockner. However, there are some dead-end paved secondary roads from it that are even higher than the Grossglockner. Tiefenbach Gletscher - Ötztal Glacier Road (Tiefenbachferner) is the highest in Austria and the 3rd highest paved road in Europe.
Unfortunately, we haven't really seen too much here because there was a thunderstorm and a lot of fog. There was also hail, but we haven't had any problem with our car. Even with all the unwelcoming nature, you could tell that the landscapes look impressive.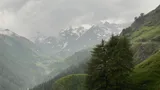 Ehrwald - Seebensee - Coburger Hut - Drachensee Alpine Mountain Hike
If you're in the area and wish for another jaw-dropping alpine hike, then head to Ehrwald. The Seebensee and Drachensee lakes are magnificent, not to mention the majestic mountains that surround them.

Egg
This part of Austria is all about cheese. It is possible to go in many cheese factories and enjoy some local cheese and drinks.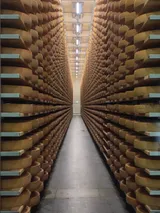 Ernele – die Ladenwirtschaft
Ernele is probably one of the best culinary experiences. The chef cooks in front of you, and he combines the ingredients in a way that you probably haven't tasted before.
It is a must-try if you are in the area, but make sure you go there hungry because everything tastes very good, and you will want to try different things from the menu.
Bregenz and Bodensee
I know the photo below makes you think about the seaside, but there's no such thing in Austria. That below is Lake Constance, and you can go sailing on it. There are a lot of other things to to in Bregenz, so check out the article below.

---
It is hard to make peace with yourself that you will never have enough time in your lifetime to see every corner of our planet. I am sure that there are a lot more beautiful places in Austria, but this is what we explored so far. We'll keep updating this blog post once we discover more interesting places in Austria to share with you.

It takes a lot of planning for the perfect trip, but packing can sometimes be frustrating. Either packing too many things or packing too few can ruin a bit of the fun. We've perfected our travel packing checklist over the years, and we believe it will be of good use for you too. We also have some travel packing tips & tricks to share to save you the hustle we once had.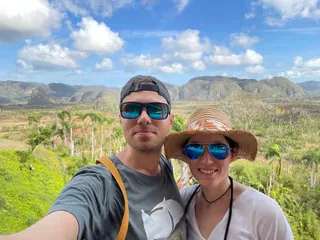 Writing free, independent and personal travel content since 2021. If you appreciate what we do, then you can return the favor by using the affiliate links below: