Most cities are just cities. Bregenz is more than that. Lake Constance transforms Bregenz into a place with plenty to offer. No matter what you're looking for, Bregenz is sure to please!
We could see ourselves living in the Bregenz area. Not in the big city, but close by, and close to the Constance lake. I don't know why, but water has a very calming effect on us.
Lake Constance, Bodensee in German, also makes the area a great place for many water activities. We haven't had time for everything, but you can even go sailing on the lake.
Bregenz
Bregenz is a lovely city, and what makes it even better is the lake. The cultural life of the city is very alive. They have frequent festivals, opera and music performances, and other artistic events.
There are plenty of activities to keep you busy, and the locals are friendly and welcoming. Explore the lively streets and cafes of downtown Bregenz, home to plenty of restaurants and shops, and hit up one of the local pubs for a beer.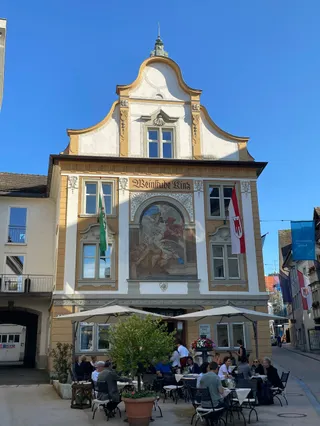 Biking through 3 countries
There's a bike route that goes all the way around the lake, having 260km (160 miles) in length. If this number scares you, don't worry. You can cut it short with ferries in many places and customize it the way you want.
The perfect green fields are the norm once you get outside the cities. The country directions on the cycling path are also intriguing. I don't think we've seen such a thing anywhere else.
Even more interesting are the cultural differences that you get to see in a short time, and over a short distance. Swiss, German, and Austrian are all Europeans, but each with its specific culture that reflects in the people's behavior, the cities, and the cycling path.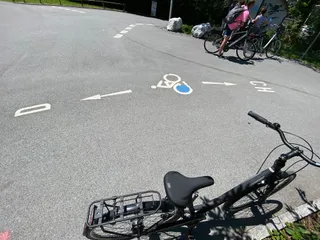 Like in Wachau , we would recommend you to take e-bikes. This way, you can see more of the Lake Constance's surroundings. You'll see more of Switzerland and more of Germany. Make sure you go at the bike rental stand early in the morning or try to book in advance. We went there the evening before, and they said they have enough e-bikes and that there's no need for a booking. However, when we got there the next day at 11AM, they no longer had e-bikes. We ended up with regular bikes. The cycling path is mostly flat, but if you're not cycling on a regular basis, you'll have a limit of how far you can get.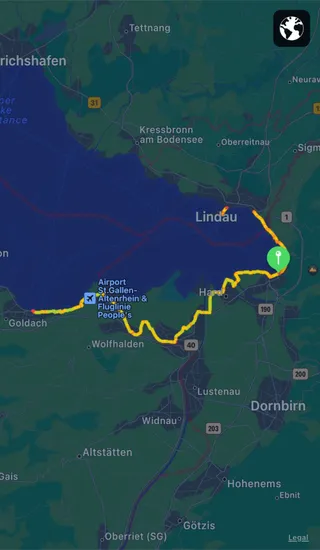 We crossed the lake from Goldach in Switzerland to Lindau in Germany. As you probably noticed on the map, I paused the cycling workout while on the ferry. Then I paused it again in Lindau but forgot to resume it immediately after leaving. That translates into a bit of discontinuity near Lindau.
After having lunch and exploring Lindau, we pedaled back to Bregenz. We did a lot of stops on our way because there are a lot of cool places where you can take a break and relax.
Lindau, Germany
You're not allowed to cycle in the center of Lindau city. You can either dismount or use a lock to leave your bike for a while. For us, it was a good break for lunch and a quick stroll in the city center.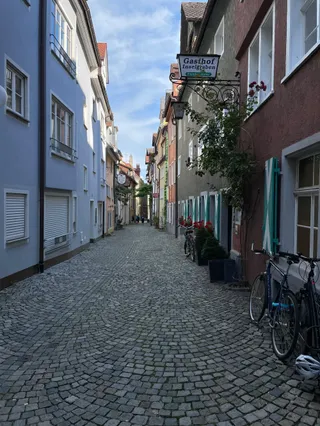 ---
I hope you found this post inspiring. We wish you have a great time in Bregenz and around Constance Lake. We would deeply appreciate any stories or feedback you would love to share in the comments below.
It takes a lot of planning for the perfect trip, but packing can sometimes be frustrating. Either packing too many things or packing too few can ruin a bit of the fun. We've perfected our packing checklist over the years, and we believe it will be of good use for you too. We also have some travel packing tips & tricks to share to save you the hustle we once had.