Packing is at the core of any travel journey. We have perfected our travel packing checklist over the years, making incremental improvements with each trip.
Smart packing makes travel easier.
Every journey needs two things: packing and planning. While the latter can be skipped and you can travel with no plans whatsoever, you always need to pack something with you, at least some essentials like a toothbrush or underwear.
I believe packing should be easy and take as little time as possible. After all, it's all about the travel, not the packing. Even so you need to pack smart because poor packing could stand in the way: you need free hands in the transportation, you need to find everything easily without tacking out half of your other belongings to reach for something.
Sometimes I see people starting to pack with one week in advance and this seems insane to me. Not only that you shouldn't waste so much time with a simple thing such as packing, but by having so many days of packing you will forget and lose track of what you added, what not, and where you put it in your luggage. I believe packing is not only about taking everything you need with you, but also having everything at hand and remembering sort of a map of your luggage.
With this in mind, I created over the years my own checklist that I always use when travel packing, and I also have some packing tips and tricks to increase the ease of use and finding your things.
Tips & Tricks
As the Spanish proverb says: "On a long journey even a straw weighs heavy". Travel packing is more than following a checklist. It needs skill and experience. We wrote an article with some tips & tricks about how to pack for your journey to help you optimize your packing and avoid making the same mistakes we did in the past.
Travel Packing Style
As we all know some people like to travel light, like backpackers, while others love the "comfort" of having everything with them (including things they never use). I consider myself somewhere in between, in other words, and like light comfort travel packing. I don't like carrying extra things that I will never use, but I also like to be comfortable. I like to have my hands as free as possible, and the baggs to weight as little as possible without compromising too much comfort. My goal is to find the ideal light/comfort balance.
It is up to each of us to decide which way we want to travel, just bare in mind that my checklist is somewhere in the middle, and you might want to remove few things or add others.
The Travel Packing Checklist
Our packing checklist went through many changes along the years. It has been through many one month trips, multi-months road trips, and also a 5 months trip around the world. The trip around the world also meant going to the other hemisphere which means switching a lot between seasons. We like the outdoors, so we had to take beach stuff and also hiking gear with us. We traveled on 7 continents, including Antarctica, in tropical countries, and also in freezing cold countries like Iceland.
Clothing
Upper Body
T-shirts / Tank Tops
Long-sleeved
Sweater / Hoodie
Jacket
Rain Jacket / Poncho
Lower Body
Short Pants
Longs Pants
Rain Pants
Skirts
Belt
Toiletries
Face & Head
Face Cleaning
Face Creams
Thermal Water
Aftershave
Lip Balm
Makeup
Cotton Swabs
Hair Wax
Hair Ties
Body
Lotion
Deodorant
Perfume
Head & Body Soap
Conditioner
Dailies / Tampons
Condoms / Birth Control
Oral
Toothbrush
Toothpaste
Dental Floss
Air Floss
Grooming
Razor
Shaver
Epilator
Nail Clipper
Other
Mosquito Repellant
Room Insect Repellant
Face Sunscreen
Body Sunscreen
Health & Medical
Allergies
Antihistamine cream
Antihistamine tablets
EpiPen + prescription
General
Prescription meds + prescription
Painkiller
Food Poisoning Medicine
Cold Medicine
Thermometer
Motion Sickness
Supplements
Hand Sanitizer
Facemasks
First Aid
Skin Rash Cream
Rehydration Tablets
Compression bandage
Skin Patches
Sterile Gauze Pads
Sterile Gauze Roll
Antiseptic Wound Cleaning
Antibiotic Ointment or Powder
Misc
Daily Needs
Day Backpack
Anti-theft Wire
Backpack Rain Cover
Water Bottle
Thermos
Sunglasses
Tissues
Wet Tissues
Laundry bags
Zip Bags
In-Flight
Flight Earbuds
Books / Kindle
Sudoku + Pen
Neck Pillow
Eating on-the-go
Emergency
Towel
Pillowcase
Travel Sheet
Head Lamp
Life Straw
Electronics
Camera
GoPro + Accessories
SD Card
Tripod
Laptop
Tablet
Phone
Phone Tie
Watch
Headphones
Power Bank
Chargers
Socket Adaptor
Travel Documents
Driver License
Car Documents
Proof of Vaccination
Activity Tailored Travel Packing Checklist
Hiking Packing Checklist
It's also important to mention that your destination matters as well when packing. You won't take the same things with you when going hiking as when going to the beach in Australia, so you would have to choose from the checklist the activities you need. Please note that the checklist doesn't include extreme weather conditions that should be considered when travelling to places like Iceland or doing hikes in Norway.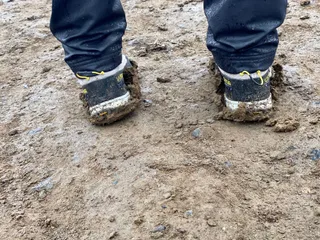 As enthusiast hikers, there's no better way to observe and admire nature than a hike. However, the thrill of a hike can be ruined if you don't have the proper gear with you. For this we made a special article about the gear you need on every hike.

Beach Packing Checklist
Beach Clothing
Flip-flops
Sunglasses
Hat
Beach Bag / Tote
Cooler / insulated bag
Swimwear
Beach Towel
Quick Dry Towel
Umbrella / Tarp
Book / Kindle
UV Clothes / Rashguards
Sunscreen
Snorkel Gear
Water Shoes
Beach accessories
Floating Buoy
Road Trip Packing Checklist
Car Related
Documents
Insurance
Flat Tyre Repair Kit
Gloves
Tyre Inflator
Tyre Chains
Others
Blanket
Hand Cream
Comfy Shoes
Bike Helmet
Picnic
Foldable Chairs
Picnic Table
Dishes
Spoon / Fork
Pocket Multi-tool
Food Bags
Napkins
Food / Snacks
Cooler Box
Reusable Grocery Bags
Must-haves
Trash Bags
Car Phone Charger
Car phone holder
Paper Money and Coins
Sunglasses
Water Bottle
Antarctica & Polar Expedition Packing Checklist
Polar expeditions and Antarctica require special attention. We wrote and entire article about this, explaining what each item means and for what purpose you're going to need it. If you're planning a trip in the Arctic or Antarctic, then you need to check out the following article:

Print Your Travel Packing Checklist
I made the checklist as a PDF so you can easily print it, write on it and cut off while packing. That's how I start packing. If you want the PDF version of this document, drop us a line and we'll send it to you right away. Bear in mind that the list is not exhaustive and you might have your own personal needs. Take a few minutes to go through it and brainstorm. Think of your daily life and what you used and need on a daily basis.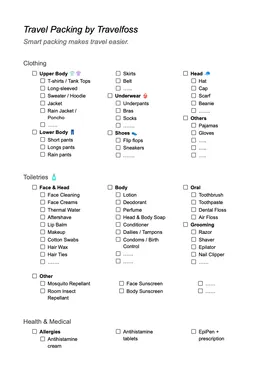 Feel free to share this article with your friends to help them with their travel packing. I'm continuously editing and improving the list based on my own experiences and on feedback from you guys.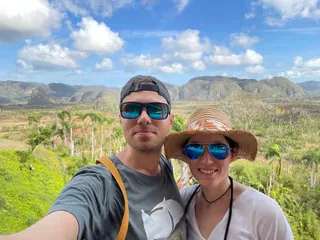 Writing free, independent and personal travel content since 2021. If you appreciate what we do, then you can return the favor by using the affiliate links below: