Looking for the perfect Alpine hike in Austria? Look no further than the Friesenberghaus - Olpererhütte trail. This hike offers stunning views of the Alps, and is perfect for anyone looking for a challenge.
The Friesenberghaus - Olpererhütte hike is one of the most iconic hikes in Austria. It is also one of our favorite hikes we have ever done, and I would love to go there again. Together with the Pasterze Glacier Trail from the Grossglockner High Alpine Road, these trails are the must-do hikes in Austria.
The Friesenberghaus - Olpererhütte hike is not easy, but rather the opposite. It is relatively long, the elevation difference is significant, and some might experience height vertigo. We'll share with you the stats at the end of the article, together with my most nerve-wracking moment of the hike.
Let's start the hike!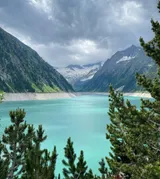 You will need to eat on this hike for sure. Luckily you don't have to carry a lot of food with you if you don't want. You can have lunch at Friesenberghaus, which we reached after 2 hours of hiking, 5.7km (3.5 miles), and gaining 670 meters (2,200 feet) in altitude. The food is not Michelin star dishes, but it is good, and the portions are large. However, I got hungry before reaching the hut. I felt I was running out of energy, so I had to snack on something. Even after lunch, we had a couple of bananas at Olpererhütte. So even if you plan to eat your main meal at Friesenberghaus, don't forget to take with you enough snacks.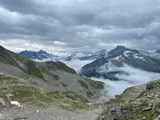 We did this hike in the summer of 2021 when the pandemic restrictions were still in place, and tourism was low. Friesenberghaus was open even then, so I guess it will be open every summer, but I would recommend you check on their website if they are opened before going without enough food on the hike.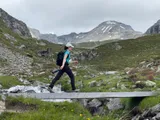 The pinnacle of the Friesenberghaus - Olpererhütte hike was when we reached the highest altitude. We were above the clouds and on top of the world. We were able to see everything around us. Every single mountain peak as far as the eye could see, and I didn't know the human eye could see so far away.
I'll let the photos do the talking about the beauty of this hike.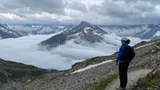 Olpererhütte
Some people only go up from the parking to Olpererhütte and then back down. As we were doing a circuit, we only descended this way down. I don't know what exactly is the altitude difference between these 2 points, but I think it is also quite significant.
The views from the Olpererhütte are quite breathtaking as well, with the turquoise lake being in the scenery for about half of the descent. However, the reason why most people go all the way up is to get the Insta perfect photo on that bridge. People even wait in line for that photo, and if you just want to cross, you'll get some angry looks. It's a bit frustrating that this is happening just because someone took a nice picture there and posted it on Instagram, now everybody wants a picture there. There's a lot more to being in nature and being there than waiting in line for a photo that you will never look at again.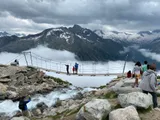 We had good boots, and we are sure-footed. For us, the descent was not a problem, but we've seen many people struggling, especially those with improper shoes. The path is uneven and full of rocks, and it is easy to slip or sprain your ankle.
Doing only this part of the hike is also not much fun. Because of the uneven path, you will keep your eyes glued to the ground all the time, and you won't have much to see until you get up. When you descend, you will have a nice view for around half of the way down, but then there's nothing to see again.
Friesenberghaus - Olpererhütte difficulty
The hike is not easy on people with height vertigo. There are a few narrow wooden bridges that you have to cross over the falling water, which might cause you some problems, especially those where there's nothing to hold on. Once you get to higher altitudes, there are some exposed parts of the trail where I didn't feel comfortable, but I didn't feel the need to crouch either.
As you can see the start and the end point are not the same. There are 2 different parking lots at each point. I stopped the hiking workout when we got to the paved road because between them there's only 1km of asphalt walking.
We've been there in July, and there was still a lot of snow and water from the melting snow once we got up. The most nerve-wracking experience was stepping over a waterfall of snow-melting water where the sides were also made of snow. We could see the water flowing under the hardened snow on which we had to step and which could have cracked at any time. We decided not to jump over the water, but to step on a larger rock in the middle of it. Under these circumstances, I want to repeat that good, waterproof hiking boots are a must on this trail!

---
Alpine hikes are always breathtaking. But all that beauty comes with some risks. There's nothing to worry about if you are well equipped and prepared. Don't be the next person pointed at because you're doing a stupid thing.
Enjoy the hike!
If you're planning a trip to Austria and you are looking for more ideas and awe-inspiring places and experiences, then check out our other articles about this country:

It takes a lot of planning for the perfect trip, but packing can sometimes be frustrating. Either packing too many things or packing too few can ruin a bit of the fun. We've perfected our travel packing checklist over the years, and we believe it will be of good use for you too. We also have some travel packing tips & tricks to share to save you the hustle we once had.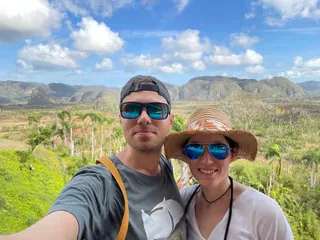 Writing free, independent and personal travel content since 2021. If you appreciate what we do, then you can return the favor by using the affiliate links below: