Wine lover or not, cyclist or not, the Wachau Valley will impress you with its picturesque towns, natural beauty, and hills covered in vineyards. Don't worry, we're talking e-bikes.
The Wachau Valley sits along the Danube River, west of Vienna. It is known mainly for its wine and apricots. We also loved the beautiful landscapes shaped by hills covered with vineyards. Even if you don't drink wine, you might like this scenery.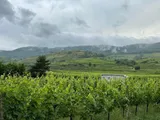 Wachau is the perfect place for a relaxing retreat, away from the big cities.
Wine & Apricot Specialties Tasting
Of course, those vineyards could only scream wine. If you're a wine lover, then you can find multiple options for wine tasting, including at some restaurants.
The Wachau Valley is also known for apricots. In fact the Wachau apricot is internationally recognize in Europe, and it is protected as an Austrian brand within the EU. As you can imagine, they don't grow all those apricots just for eating them. They also make a ton of different products from them, from jellies and sweets, to juices and alcoholic drinks.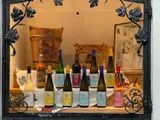 Stroll along beautiful small towns
Situated between Krems and Melk, the Wachau Valley comprises numerous small, picturesque towns. We passed through some of them, but we couldn't stop too much and take pictures because the weather was not on our side.
Weißenkirchen in der Wachau
Our accommodation was in Weißenkirchen in der Wachau, so we had more time to wait for the rainto slow down and stroll along the city streets and alleys. The rain is also the reason why all the streets in our photos are empty.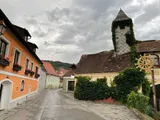 Cycling in Wachau
Since most towns have small roads and limited parking, renting an e-bike to explore the Wachau Valley is a great option. The advantage of an e-bike is that you will be able to cover more ground in less time and see more beautiful places. We definitely recommend them.
You can also join a cycling tour, and most of them also have wine tasting included. In case you prefer this option, don't forget to book in advance.
If you bike on your own, then keep reading. There's a European cycling route that starts in France and ends in Bulgaria, and it also passes through the Wachau Valley (EuroVelo #6). You can bike on this path along the Danube river, which is very lovely and easy.
You probably know us by now. We need a bit more adventure and uphill, especially with an e-bike. Therefore, we combined this route with parts of another cycling route called Höhentour 11 - Mühldorf-Route. We ended up on hills with rolling vineyards, picturesque landscapes, and fields of pink poppies.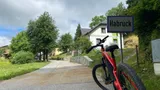 You'll be able to find food in most of the towns along the Danube River. Outside the towns, along the cycling path, we found honesty huts full of local products. You could get what you want and put the money for it in a box. It was a very nice opportunity to take a cherries break.
We rented the e-bikes from Spitz at a bike rental house right at the Spitz train station. For some reason this place does not appear on Google maps. Our accommodation host told us about it. Go to the train station, and you'll see a brown wooden house. If you're coming by car from the Krem direction, you should also be able to see the house with a bike rental poster on it from the main road.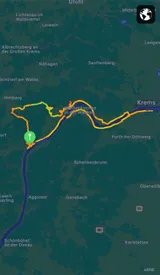 We crossed the Danube twice: once on a bridge and the second time on cable ferry. There aren't too many bridges to cross the Danube, so if you don't want to go back on the same route, then take the ferry. It goes back and forth continuously, so you don't have to wait too much for it, but just enough time to stare at the weird huge nose statue next to the ferry station.
---
Enjoy your time in Wachau, and let us know how it was. If you're planning a trip to Austria and you are looking for more ideas and awe-inspiring places and experiences, then check out our other articles about this country:

It takes a lot of planning for the perfect trip, but packing can sometimes be frustrating. Either packing too many things or packing too few can ruin a bit of the fun. We've perfected our travel packing checklist over the years, and we believe it will be of good use for you too. We also have some travel packing tips & tricks to share to save you the hustle we once had.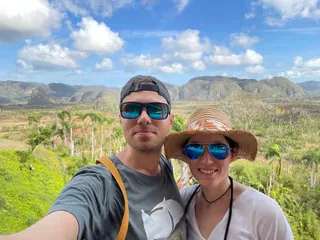 Writing free, independent and personal travel content since 2021. If you appreciate what we do, then you can return the favor by using the affiliate links below: