Standing in the middle of Europe, Czechia is a country that is hard to rival in beauty and history. No wonder it is a major tourist destination.
The Czech Republic is a country of natural beauty and remarkable history that shapes its landscapes and cities. It takes a lot of time to explore each corner of this country, so we're sharing with you 3 places that are definitely a must-see if you're planning a road trip to the Czech Republic.
Prague
Prague is the capital city of Czechia and one of the most beautiful destinations for a city break in Europe. It was the first city break we ever did, and an experience that seeded in us the desire to travel the world. Funny enough, Prague is usually one of the first destinations for every person which is just starting to travel.
No matter if you are an experienced traveler or a beginner, Prague is a must-see for everyone. You will never hear someone say they didn't enjoy the capital of Czechia.
We have an entire article dedicated to Prague with lots of photos and a 4-days suggested itinerary, including a map:

Brno
Brno is the second largest city in Czechia, and just like Prague it is full of history, with medieval buildings, but with a modern twist here and there. We only spent 4 hours in Brno because we didn't expect it to be so beautiful and interesting. We were only able to get lost on the streets, admire the architecture and have lunch.
We missed few of the must-do stuff in Brno, and if we ever have a chance, we will go back to spend at least 1 full day. What we regret the most that we haven't done is the Brno Underground. We found out about it while strolling on the city streets, but unfortunately, the first available entrance that day was too late for us. The labyrinth under Brno is so extensive that you can go on multiple tours. Each tour will take you to different sections: undeground catherdral, food and drinks storage, cellar, ossuary, and nuclear shelter.
Instead we've been at the very popular Villa Tugendhat, a restored, modernist house, which, to be honest, I don't see why it attracts so many people. I would have preferd to go the the Brno Underground or Špilberk Castle.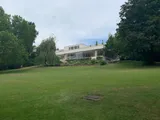 Our suggested places to check out in Brno are:
Brno Underground
Špilberk Castle
Cathedral of St. Peter and Paul
Old Town Hall
Stroll the streets to discover the beautiful architecture, including the Astronomical Clock shaped like a bullet.
Adršpach-Teplice Rocks
We love the outdoors, and we believe that mother nature is the greatest architect of them all. The Adršpach-Teplice Rocks are there to prove that statement.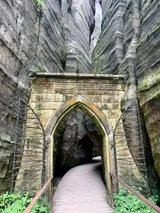 There are numerous very well-marked trails that you can choose. The path is mostly paved, and they have carved or constructed stairs, so they are easy to walk. For us, it was more of a walk than a hike, but we recommend that you have some good shoes in case it's rainy and slippery.
You can opt to do the rocks circuit, which is around 3-4km (2 miles) long, or you could explore more of the area if you feel in shape and have enough time. Check out the official maps before starting the trail. Below is the path we walked.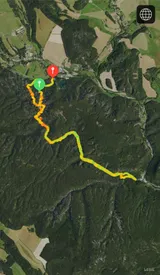 ---
It takes a lot of planning for the perfect trip, but packing can sometimes be frustrating. Either packing too many things or packing too few can ruin a bit of the fun. We've perfected our packing checklist over the years, and we believe it will be of good use for you too. We also have some travel packing tips & tricks to share to save you the hustle we once had.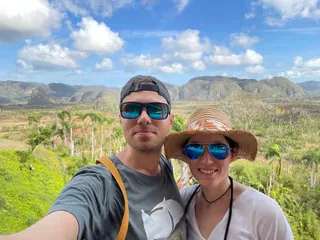 Writing free, independent and personal travel content since 2021. If you appreciate what we do, then you can return the favor by using the affiliate links below: