An epic adventure from Romania to the northernmost point of Europe.
Until today, the road trip we did to Nordkapp (The North Cape) is still the longest road trip we ever did. It was an epic journey with a lot of remarkable experiences. It's always a pleasure to think and talk about it.
A lot of planning went into this trip, and it is impossible to cover it all in a single article. We want to share with you some stats about the road trip and the top 8 most outstanding experiences we had.
Statistics
9 countries
Our goal was to reach Europe's Northernmost point, and to see as much as possible on the way there and back. We left from Romania, our home country, with our own car and stopped in each country on the way.


Germany
Denmark
Norway
Sweden
Finland
18 ferries
Ferries are a big thing in the Norwegian fiords. There's no other way to see the fiords than taking the ferries. You could find an alternative route if you really want to, but it usually takes waaaaay longer for nothing.
In this entire road trip, we took a total of 18 ferries, including 2 overnight ferries. The first overnight ferry was from Kiel, Germany to Oslo, Norway. The plan was to get back through Sweden and Denmark, but since plans change, we ended up taking another overnight ferry from Bergen, Norway to Hirtshals, Denmark.
56 days
We left home on July 1, 2019, and got back on August 25, same year of course.
30 accommodations
There's no way to reach a point that is so far away and see stuff along the way without chaging a lot of accommodations. This can be a source of great experiences, each day having something new, but it is also a sure way to get tired. 30 accmmodations in 56 days means on average less than 2 nights at one accommodation. Studies have shown that in the first night you sleep in a new place only half of your brain will rest, while the other half will be on alert. This means that the sleep you get in the first night at a new accommodation is less restfull than a normal night of sleep.
13,000km (8000 miles)
This number seems crazy for a small continent like Europe. Even by American standards (where distances are huge compared to Europe) this is for sure a very long road trip.
200+ hours in the car
Yes, it's a lot, but luckily we had a very comfortable car, and we didn't feel tired while driving at all. In case you wondered, we had a 2019 Volvo XC90. It did a very good job back then, but, unfortunately, it got floded in 2021, just 5 days before leaving in another European road trip.
World's longest road tunnel
Yes, that's in Norway, and it has 24.5km (15.2 miles). Sounds like a bucket list thing to do, but in reality it is the most boring thing you can do. You have the same image and blue light over and over again. Feels like you entered some sort of infinite loop. At a point it even gets hards to focus your eyes straight.
Outstanding experiences
We've seen a lot of amazing places in each country, but the most outstanding for us was Norway.
Hike a glacier
This is truly a bucket list experience, although not recommended for everyone. If you have height vertigo, then you're in a bit of trouble. I have a mild height vertigo, there usually are places where I'm fine even though others don't feel well. However, exposed areas where you don't have much to hold onto are extremely difficult for me.
The glacier is full of crevases, and you can only go on a glacier with an authorised guide and proper equipment. We were all tied to each other for safety reasons. Even so, there were places where we walked on ridges between crevases where you couldn't see the bottom of the way down. My adrenaline was up so high at times that I hit my hand nuckles and my knees on the ice very hard without noticing. At the end I ended up with some swollen fingers and bruised knees.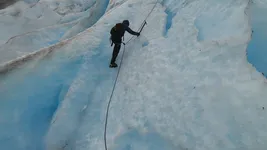 I'm not 100% sure I would go climbing on this particular glacier again, but I would try others. We've been on Svartisen, Norway's second largest glacier. We've heard that hikes on the Norway's largest glacier, Jostedalsbreen, are more like walks, so I would try that one out.
We've also been on another glacier in Iceland, and it was an amazing experience. It was not a hike, but rather a walk, but it was breathtaking.
16m rappel on a glacier
I never rappeled, and I never thought of doing it before. It felt crazy, but the alternative was to go down the glacier between the same crevases and steep inclines I had a hard time coming up. Since going down is usualy harder for people with height vertigo than going up, rappeling seemed like a good alternative. It proved to be easier than what I was expecting, and I would love to do it again.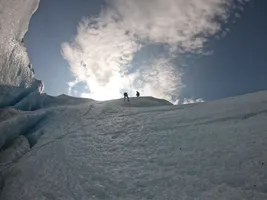 Observe the rapid pace of the glacier melting
While we were on the glacier we heard some loud noises in the distance. We were not sure what it could have been, but when we got down from the glacier it was obvious. A huge piece of the glacier tip cracked felt over melting away. It might not seem like much in our photos, but that's because we were far away from it.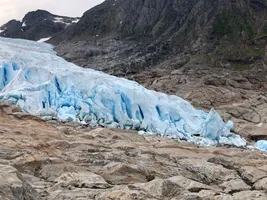 Broken car rear window
Shit happens. We got into a parking with some weird low beams that were painted white, making them hard to see in the mirrors. We hit the rear window wiper in that beam and the rear window cracked. This happened in Trondheim. We went to a service to get it checked and see what parts have to be replaced in order to fix it. The spare parts were not in stock, and it would take days to order and receive them. We haven't had enough time for it in Trondheim. So we made an appointment and ordered the spare parts at a different service in Tromsø that matched with our plans 3 weeks later. Until then we traveled thousands of kilometers and tens of days with a duck-taped rear window.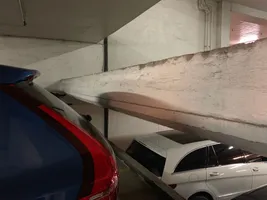 19km hike to the actual northernmost point
Geographically speaking, the northernmost point of Europe is Knivskjelodden, and can only be reached by foot. The path is out-and-back and it is 19km long. The weather is not friendly or welcoming, but the 24 hours long day gives you enough energy and excitement to keep going.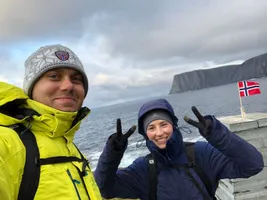 Kayaks with sails are a thing
We haven't seen kayaks with sails until we got to Sommarøy. It's a pleasent experience, especially if you get enough wind.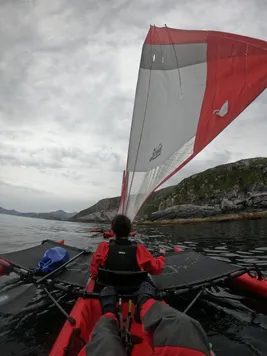 Lots of reindeer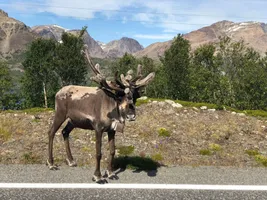 Stay in a fisherman's cabin on Lofoten
We had a great time and we only regret not being able to spend more than 1 night here. Lofoten is an outstanding place and you could easily plan a few days holiday just for this amazing place.
---
Our planning was even longer than this. We skipped the southern part of Norway, the southern part of Sweden, and most of Denmark. Once we got to Bergen, we took a ferry to Denmark.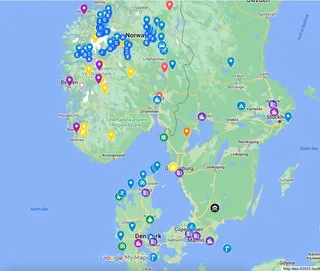 What do you think happened in Denmark? It rained! And the forecast for the next week was not looking good either. We were extremely tired, and the bad weather that we had in the last few days got to us. Wheater in Norway in August, especially in the second half of August is very unpredictable, and rainier. That year it rained a lot. We decided to leave and head back home because even if we stayed longer, we were not sure if we would've been able to see or do anything. We loved Norway and we were sure we will go back to finish our plan.
2 years later, in 2021, we finished our Denmark plans in another long road trip we did in Europe. We also covered a lot of Sweden, but we still have some things we want to see in this huge country.
3 years later, we are now planning to go back and finish our plans. It's August, but the weather this year seems different. I also believe that we got better at enduring rain and bad weather while travelling (Iceland was our training ground). Of course, we're not going just in Norway, we're also making plans for Sweden, Denmark, and Netherlands. Although, with the eruption in Iceland starting again, we might add Iceland on the list. Stay tuned!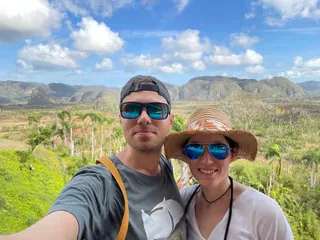 Writing free, independent and personal travel content since 2021. If you appreciate what we do, then you can return the favor by using the affiliate links below: