Make planing for Madeira easier with a bit of knowledge about climate, transportation, accommodation, hiking, food and other usefull information.
Madeira is an island well-suited for extensive exploration on foot. Some people come to Madeira for walking tours, and they literarily walk around the entire island. On our blog we are trying to cover as many beautiful places and activities as we can. We hope this will serve you well to start planning your trip to Madeira no matter if you're walking, hiking or road tripping.
We visited Madeira between January and February 2023 for almost one month. We wanted to escape the European winter, and Madeira is simply the perfect place for some winter sun. It is a hiking paradise all year round. Although, as we learned during our stay, hiking can be a challenge during the winter months.
Climate on Madeira
During the summer time, things are easier: the temperature is warmer and bearable everywhere. However, during the winter things get a bit complicated. We were mainly checking the weather forecast for Funchal, but, as we learned the hard way, that is not relevant when traveling the entire island.
Winters in Madeira can offer you sun and 20°C (68°F) or even more, but also snow and 0°C (32°F). The southern part of the island is the sunniest and the warmest at sea level. However, the temperature drops quickly as the altitude increases. Since the roads on Madeira are extremely steep, you can get 5°C drop in temperature in just 10 minutes drive. This aspect is extremely important when choosing your accommodation.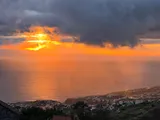 The high mountains in the middle of Madeira keep the cold air and the clouds on the northern part of the island the entire year. This means that the northern part of the island is mostly cloudy, windy and rainy. This bad weather gets worse during the winter months. The temperature on the north cost during the winter months rarely goes over 10°C (50°F) (even at sea level), and it rains almost every day.
The center of the island is the coldest because of the elevation, with the lowest temperature around the highest peaks, like Arieiro and Ruivo. If you're planning a hike here, then you should consider that the temperatures are around freezing level during the winter, it sometimes snows and the winds are very strong.
Where to check the weather?
Any weather forecast should be good, but you just need to look at the right locations. Funchal, Calheta, Ponta do Sol, Jardim do Mar, Paul do Mar, are all located on the southern part of the island. Don't forget to also check locations on the north coast like Santana, Seixal, and Porto Moniz. For the central mountain range, there is no accurate forecast, especially on regular weather sources. Here you need to use https://www.mountain-forecast.com/.
Where to stay
We knew Calheta is one of the warmest locations, so we booked an accommodation relatively close. Little did we know that a short distance on 2D map between 2 points can have between them such a big difference in altitude. Our conclusion is that anywhere up to 400m altitude is relatively fine, but anything above will be too cold especially during the winter months. This altitude of 400m is roughly the altitude up to which you will see banana plantations.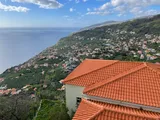 We've stayed at around 700m altitude, and the highest temperature during the day was around 13°C (55.4°F), while at the sea level there were 20°C (68°F). Besides the huge temperature difference, at higher altitude it is also rainier and windier, even on the south part of the island.
Moving Around Madeira
Madeira seems to be a small island. At least that's what we thought before coming here. In reality there are a lot of hills, rivers, valleys, ravines, that you have can't go over. If 2 points seem close on the map, the driving distance might be way greater than what you expect.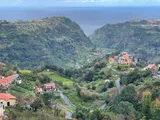 Busses / Public Transport
Public transport is very well organized on Madeira, and covers extensive parts of the island. However, you might have to waste a lot of time waiting for some of them. Once we picked up a hitchhiker who got tired of waiting for the bus.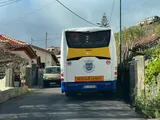 Busses are good options even if you have a rented car, but want to do some one-way hikes and need a ride between the start and the end of the hike. There are usually bus stops relatively close to trail heads.
Taxi
There are taxis that you can hire for an entire day to take you all over the island. You can also use taxi just for short distances. Our experiences with taxis hasn't been a good one. We wanted to do a one-way hike, namely PR 7 - Levada do Moinho, and we needed a taxi to take us from the end point to the starting point of the hike. Although it was a small distance drive, on the main road ER101, the amount of money they asked was insane. For a 15 minutes drive the asking price was 40 Euros.
Car Rental
This is our preferred means of transportation on Madeira. Having your own car gives you a lot of flexibility, freedom, and you also save time because you don't have to wait after nobody.
When choosing a car you should keep in mind that Madeira has a lot of narrow and steep streets. Also, almost all roads have asphalt, so you don't need a SUV. Smaller cars are recommended, but you do need a good engine. We personally had a Ford Puma, although not the smallest, we were perfectly fine with it.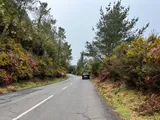 We had no problem at all driving in Madeira, although the roads do require attention and caution, but this is not something to be scared of, just don't speed, respect the rules and respect other drivers as well. We wrote an entire article dedicated to driving in Madeira, and we strongly recommend you to check it out.

Porto Santo
Although a different island, Porto Santo is also part of Madeira. This island is known for its beautiful golden beaches, which the main island of Madeira lacks. There are 2 options to get to Porto Santo: by ferry or by plane.
The ferry trip take 2 hours one way, while the plane takes only 30 minutes. However, you might find the flight a bit too expensive. Check the ferry timetable before planning your trip to Porto Santo. Unfortunately, on our trip to Madeira, the ferry was closed for 50 days for maintenance. We wanted to take a flight, but the 175 Euros price per person seemed too much.
Wildlife Safety
Most subtropical holiday destinations come with some nasty insects, animals or reptiles, that most people don't like. Luckily, Madeira is not the case. There are no venomous or dangerous animals on the island. In fact, there are no snakes at all on the island, and the spiders are not venomous. The only venomous spiders are on the Desertas Islands, but not on Madeira.
With snakes and spiders out of our way, the only truly dangerous insect for us personally are bees. I am allergic to bee venom, and there are a lot of bees on Madeira. Usually if you leave them alone they will not bother you, but accidents happen, so be prepared.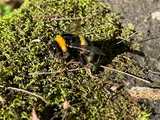 Another things to be cautious of are mosquitoes. During the summer months there have been Dengue outbreaks in the past. Dengue does exist on the island and mosquito repellent is your best friend.
People and Language
People in Madeira are extremely friendly and relaxed. The spoken language is Portuguese, but you will encounter some people that know a bit of English and even German. If you're like us and you like to explore smaller towns and villages, and mingle with the locals, then you should know some basic Portuguese words (Spanish helps too).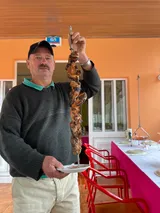 Buying Fruits and Vegetables
You probably heard about the market in Funchal already. Unfortunately, that is a very touristic market with prices even 5-6 times higher than the normal price on the island. It might be a good place to sample new fruits, but buying fruits for the sake of eating the fruits you like is a rip-off. As globetrotters, one of the purposes we visited Madeira was to indulge in the tropical fruits we can't find back home, at the local fair price, not tourist traps.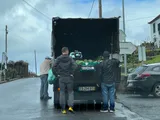 Locals do their groceries the old way: there are trucks with fruits and vegetables moving around the island and stopping wherever people want to buy something. It's like a moving market with fair prices: the sellers make a profit, and you don't get ripped-off. They might be hard to spot for the untrained eye, but whenever you hear a car talking something on a megaphone or people gathered around a car, just go and check it out.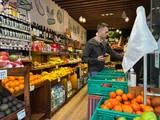 There are also mini-market shops that sell fruits, and they are called fruteria. These shops usually have good products at a fair price as well. They are mainly find in cities, and locals shop here too.
What Fruits Not To Eat
In the Funchal touristic market, and other touristic markets in Madeira, they also sell fruits that are not that good. One of the fruits they call Ananas Banana, meaning pineapple banana. The plant is also known as Monstera Deliciosa or Swiss Cheese Plant. The fruit doesn't taste bad, but it has some crystals in it, that you can't see, but you will feel in your mouth. They will tell you that it feels like that only if it is ripped yet, but that is not entirely true either.
If you look carefully at the plants on the island you will notice that the plant which produces Ananas Banana is all over the place. More often than not, the plant is full of fruits because locals don't eat them. We learned about this plant and fruit in Madeira for the first time. Since then, we have noticed it in many tropical and subtropical countries. In none of them you could it find for sale to eat.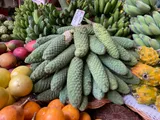 Other such fruit that we don't recommend you to buy is Maraquia Banana (Passion Fruit Banana). I don't remember the taste, but I only remember that it was so bad we threw it away. The fruit is considered ripped when is turns yellow, like a banana. We encountered this fruit hanging all over the place while hiking the island. Sometimes you can even see it in people's yard, not just hanging, but also ripped fruits fallen on the ground.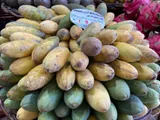 Holding Birds On Your Hand
While exploring the nature in Madeira, you can get to admire birds up close. They are used to people and if you take some bird food with you and raise your hand, they will come and eat from your hand. You do need a bit of patience, but it pays off. Just make sure you don't feed the birds with bread or other human processed foods which can harm them. Opt for bird food or raw and simple (unsweetened unsalted) seeds.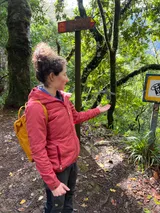 If you don't have any bird food, don't worry! Instead of giving them harmful food, know that you can also trick them and raise you empty hand up. They will still come out of curiosity.
Hiking
I am sure that you have some hikes in plan for your trip in Madeira. The natural beauty of the island is jaw-dropping and hiking will help you discover it better. However, hiking in Madeira can be a challenge even for experienced hikers if you are not well prepared. This topic is so important that it deserves a dedicated article that we strongly recommend you to check out:

Packing for Madeira
It takes a lot of planning for the perfect trip, but packing can sometimes be frustrating. Either packing too many things or packing too few can both ruin a bit of the fun. We've perfected our packing checklist over years and we believe it will be of good use for you too. We also have some travel packing tips & tricks to share to save you the hustle we once had.

---
If you're planning a trip to Madeira and you are looking for more ideas, hikes and awe-inspiring places and experiences, then check out our other articles about this destination:

Enough talk, let's walk the walk!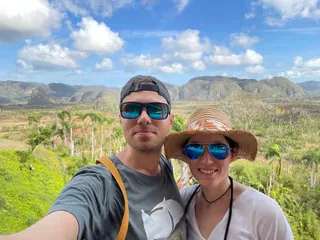 Writing free, independent and personal travel content since 2021. If you appreciate what we do, then you can return the favor by using the affiliate links below: