There are a few places in Europe known for the outstanding beauty of their beaches. One such place is the marvelous Italian island called Sardinia.
The summer is almost here, and I know most of you are starting to research for your summer beach holiday. We've been already asked about destination recommendations, and one of our favorite beach destinations is Sardinia.
We like beaches, but we can stand still for too long. That's why we've been checking out multiple beaches on the Italian island called Sardinia. Of course, there are beaches close to big cities like Olbia and Cagliari, and there are remote beaches that can only be accessed by boat or by hiking.
The beaches close to big cities are the ones where most tourists go when they come to Sardinia by plane. They are the preferred location because you don't have to rent a car or use any means of transportation to get to them. Unfortunately, these are also the most crowded and touristy beaches with less unspoiled nature.
Top 7 Best Beaches in Sardinia
We prefer other kinds of beaches, those that few people go to, where you can see nature at its best, and that are preferably hard to reach. We will cover both types of beaches in this article because we always try to stay open-minded and check all of them out. You never know when you'll have a surprise. Our top criteria when ranking the beaches are:
a tranquil beach where to relax away from crowds and motor boats,
a beach that leaves room for exploration,
have a scenic picnic while listening to the sea, not a restaurant with music.
Without further ado, here is our top 7 best beaches in Sardinia:
Spiaggia Dei Milanesi
Cala Goloritzé
Cala Luna
Cala Di Mezzo and Cala Grande
Spiaggia La Liccia
Spiaggia di Rena Majore della Nurra
Foxilioni Beach
---
I'm going to list below all the beaches that we've visited in Sardinia chronologically, as we discovered them one by one on our trip.
Secondo Pettine
The photos we have don't do justice to this place. The light was not ideal for a beach because it was too cloudy and no sun. Nevertheless, I didn't want to skip any of the beaches, so here it is.
We got to this beach by chance. We were driving on the street next to it, and we liked the scenery with pines on both sides of the road, so we decided to stop when we spotted a wooden trail. After following it, we reached the Secondo Pettine beach. It's not bad, but there's nothing special about it. We thought Sardinia must have more impressive beaches, so we moved on to the next one.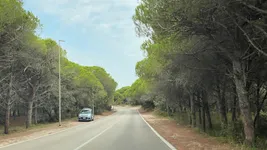 Spiaggia di Vignola
This beach was not on our map as well. We were driving along the coast and stopped for a break because the pine trees were very inviting. Spiaggia di Vignola was not crowded, the sand was nice, and there are some rocks in the water which might attract fish in case you're interested in snorkeling. Otherwise, there's a huge camping area next to this beach.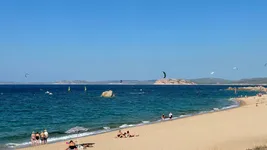 Cala Di Mezzo and Cala Grande
Both places are unique, special, and bursting with outstanding beauty. The granite boulders shape the landscape in such a wonderful way. Both Cala Di Mezzo and Cala Grande are at the end of Valle della Luna, a spectacular place that we will talk about in another article.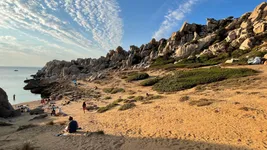 You can go there for the walk, or you can also go and sit on the beach. Compared to Cala Di Mezzo, Cala Grande is not so sandy, but rather rocky. That doesn't make it less beautiful, but if you want to lay down Cala Di Mezzo is the best option. Anyway, both places are jaw-dropping and next to each other, you can't visit one without seeing the other.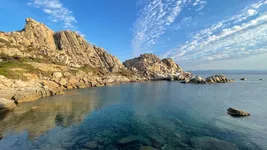 Spiaggia La Liccia
It seems that on our first day in Sardinia, we were more into exploring the island than following our itinerary. This beach was not on our map again, and to be honest I regret it wasn't. We got to it too late. Although the sunset was delightful, we didn't have time to spend on it. Not just the Spiaggia La Liccia beach was nice, but also the dunes before the beach called Le Dune Di Rena Majore. Make sure to put this on your map and take enough time for this beauty to sink in.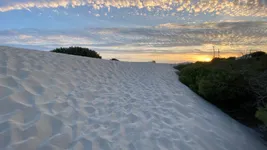 Spiaggia di Maria Pia
This beach was a nice break to stretch our legs while driving between Alghero and Belvedere Foradada. The trails between the pines and this time some palm trees are very peaceful. However, the beach was quite crowded and not impressing at all.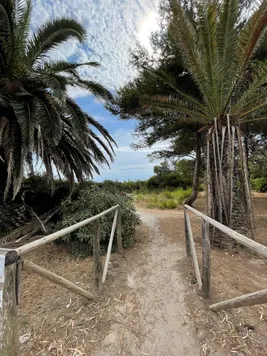 Spiaggia di Rena Majore della Nurra
After looking over the map, we thought that this beach might look nice and might also be away from crowds. It was not on our itinerary. It was just a pick we made while driving in the area and exploring the island.
Spiaggia di Rena Majore is not easily accessible. You need to go there by car, leave it in the parking, and then walk all the way down to the beach on a sandy trail that is quite slippery. We both had sneakers which made things easier for us, and I would definitely recommend sneakers and not flip-flops.
The beach is made of very small pebbles, almost like sand, and the water might be good for snorkeling, although we didn't have our snorkel gear with us to check it out.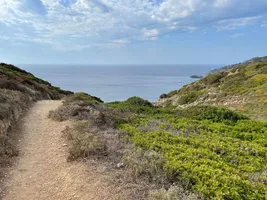 Spiaggia La Pelosa
La Pelosa is one of the most controversial beaches in Sardinia. La Pelosa is eroding at an alarming rate, and in a desperate attempt to save it, the authorities added some weird rules for it and an entrance tax that is considered too expensive by many. You can't sit on your towel unless you have a mat under it, it is forbidden to carry large bags, and the bag should preferably be transparent. These rules are there for people to limit the amount of sand you take off the beach "on purpose or by accident" they say.
We didn't find anything special about it, and I believe that this controversy is what attracts tourists even more. The perfect example of bad PR is good PR.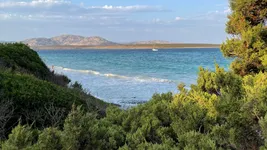 Spiaggia del Lido delle Rose
Our accommodation was within walking distance from this beach, and that's how we landed on it. You have to pass through some pine trees before stepping on Spiaggia del Lido delle Rose, which adds a bit of charm to the beach. Otherwise, there's nothing special about it, although it is huge and mostly empty and quiet. The water gets deep quite quickly, and there's not much to see if you snorkel. We only went to this beach if we had a glass of wine or were too lazy to drive somewhere else.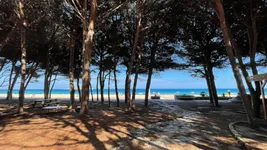 Spiaggia Dei Milanesi
Spiaggia Dei Milanesi was the beach where we spent most of our time in Sardinia. Spiaggia Dei Milanesi is a beautiful and tranquil beach, easy to access but not crowded. The granite boulders make all pictures look like postcard photos, but there's plenty of sand for you to relax on. The boulders make Spiaggia Dei Milanesi a good place for snorkeling, and at the same time, you can also safely go into the water for a swim because there's a large area without boulders.
The Spiaggia Dei Milanesi beach ranks very high among our top best beaches in Sardinia, and I already miss it just by talking about it. I guess that the reason why there aren't so many people on this beach is that you have to walk over some rocks to get to it.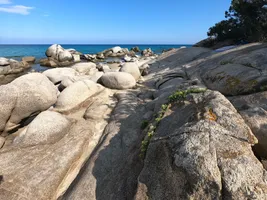 Directions: nothing too difficult, just not obvious. Go to the Hakuna Matata Beach, and, while facing the sea, turn right towards the rocks (which means that you should go South). Continue walking on the rocks until another beach will open in front of you. That is Spiaggia Dei Milanesi.
Spiaggia di Mari Pintau
We only looked at this beach from a distance. Mari Pintau is the kind of beach we don't enjoy, full of sunbeds, umbrellas, and tourists. We bought a tarp from Cagliari to provide us with some shade on the beach, and we were looking for a beach to test it before arriving at our accommodation. Spiaggia di Mari Pintau was on the way, and so was Spiaggia di Kal'e Moru.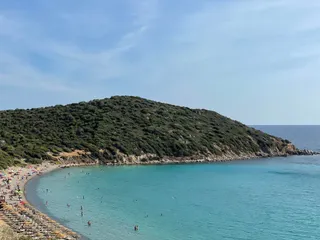 Spiaggia di Kal'e Moru
We eventually stopped on Spiaggia di Kal'e Moru to test our new tarp. This beach was nicer than Spiaggia di Mari Pintau, but we only have a timelapse on this beach with our failed attempt to set up the tarp. Don't forget to subscribe and follow us here and on Youtube to see this timelapse once we post it.
Spiaggia di Porto Giunco and Spiaggia di Notteri
Spiaggia di Porto Giunco is close to the sea, while Spiaggia di Notteri is on the lake. The main reason why we wanted to check this place out was that you might see flamingos on the Notteri lake. It came as no surprise that there were no flamingos. There simply are too many people making too much noise on the Porto Giunco beach. I regret that I don't have a photo of the crowded part of the beach.
The Porto Giunco beach is very touristy and commercial. Only after walking a considerable distance do you get to a place with fewer crowds as you can see in the photo below.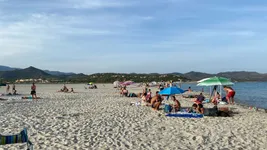 Cala Goloritzé
Cala Goloritzé is one of the most scenic beaches on the island. It is only accessible by boat or by hiking. We got there after doing the hike, which we enjoyed a lot. We'll cover more details about the hike in another article about the hikes we did in Sardinia.
There's an entrance fee that you have to pay to get a ticket. Be sure to keep the ticket until you leave.
The beach itself is very beautiful and impressive, but you should beat the crowds to it. Cala Goloritzé can get very crowded in the afternoon, and there aren't too many places where to lay down. The beach is mostly made of rock, so it's not too comfortable as well. It might also be tricky to get some shade without being too close to the cliffs where rocks might fall.
In other words, the beach is nice to look at, to explore, to take a bath in this natural outstanding beauty, then have a picnic with a marvelous view, and leave. We spent there approximately 3 hours, only on Cala Goloritzé, without the hiking time.
Don't forget your water shoes, or you'll have a hard time getting in and out of the water.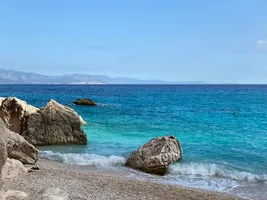 Note: If you plan to reach the Cala Goloritzé beach by boat note that boats are only allowed to set anchor at a specific distance away from the shore where the water is quite deep. You will have to swim from your boat to the shore if you want to get on the Cala Goloritzé.
Spiaggia di Cala Fuili
The light from the rising sun made this beach look wonderful. We passed Spiaggia di Cala Fuili on our way to Cala Luna. Yes, you got me right, we were there at sunrise because we wanted to beat the crowds at Cala Luna.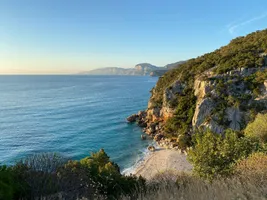 Cala Luna
Cala Luna is the most photographed beach in Sardinia, probably because of its caves. There are 2 ways to get there, by boat or by hiking. The hike is not for everyone as the hike is long and not easy. We'll cover more details about the hike in a different article about hiking in Sardinia. Obviously, we chose the hiking option.
There are shuttle boats that run to Cala Luna and that leave people on the beach. While this might sound good for some it in fact transforms this picturesque beach almost into a chaotic place. There are huge crowds that only come to this place for the perfect Insta photo with the caves.
To some disappointment, the caves are not exactly on the main beach. There are some cliffs where the waves smash that you have to cross to get to the beach part with caves. It's not easy, it's slippery and many people don't get past it. If the waves aren't too strong and you don't mind getting wet, I would recommend you to go through the water and avoid any injuries. For this reason, the beach part with caves is not crowded even when the main beach is chaotic. You can easily spend an entire day at Cala Luna. The caves are also very popular among climbers.
Note: book your boat ride in advance or leave early for the long hike.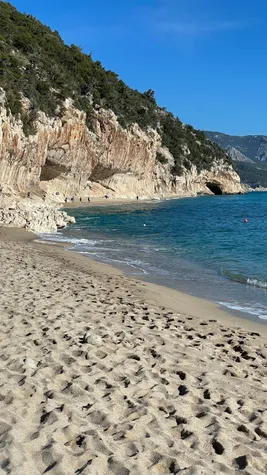 Foxilioni Beach
While we've been there, Foxilioni was a peaceful beach that we needed because we were tired after 2 weeks of exploring Sardinia non-stop. The Foxilioni beach is right next to Spiaggia Dei Milanesi, a bit more to the South. When you enter the Foxilioni Beach, if you turn left and walk on the rocks you will be able to see Spiaggia Dei Milanesi. It might be possible to walk from one to another, but we just didn't try to do that.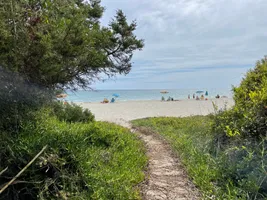 Spiaggia La Cinta
What can you do on Sardinia if you have an evening flight? Explore more beaches on the way to the airport! That's how we ended stopping on Spiaggia La Cinta and Spiaggia Porto Taverna.
As you can probably notice, Spiaggia La Cinta is touristy, although the sand and the water look very nice.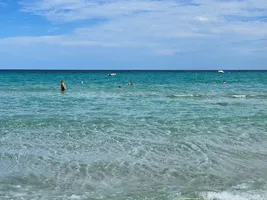 Spiaggia Porto Taverna
Spiaggia Porto Taverna was our last stop before dropping off the rental car at the Olbia Airport. It was not crowded, but rather calm. Not sure if it'll remain calm when some of those boats will start their engines.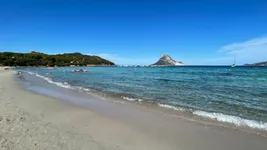 Other Beaches
There are also a few beaches that we had on the map, but we didn't get to see or couldn't see because they were only accessible by boat. We have no recommendations to give for them, just a list in case you have more time or different driving routes based on your accommodation.
Spiaggia di Porto Pino
Spiaggia di Scivu
Cala Biriala
Cala Mariolu
Berchida
Capriccioli beach (East)
Spiaggia di Cala Domestica
Spiaggia di Talmone
Brandinchi Beach
Spiaggia di Lu Impostu
---
Keep in mind that there is no end to discovery, and that is also true when it comes to the beaches in Sardinia. It is probably impossible to see all of them unless you live on the island.
We have created a map with all the beaches mentioned in this article and other points of interest located in Sardinia that we will cover in different articles:

Related Travel Articles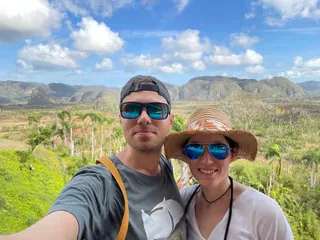 Writing free, independent and personal travel content since 2021. If you appreciate what we do, then you can return the favor by using the affiliate links below: