Kayaking in Antarctica is a unique experience that you will always look back to with bewilderment. Even after being there and doing that, it still feels surreal to kayak in Antarctica.
I'm not going to tell you how wonderful it is to kayak in Antarctica. I could talk about that for hours and would still not have enough words to convey such an experience. You have to go there and experience it for yourself to understand anything I'm saying here.
This post is going to be about things you should know or you might want to know before going to kayak in Antarctica. If you're planning a trip to Antarctica soon, then keep reading.
Is it safe?
We always went kayaking with 2 certified open water kayaking guides. With us, an extra guide was in charge of safety. The guy in charge of safety always went out before us in a zodiac to inspect the waters and find a safe place for us to kayak. He then anchored the kayaks in that place for us to pick them up.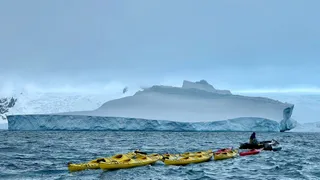 Besides that he was always following us with a zodiac just in case, keeping enough distance in order not to spoil our experience. Once we went into a lot of brushed ice and it was a bit hard to paddle out of it for some kayakers in our group, so the safety guide came close with the zodiac making a trail of clear water on which we could paddle. No one gets left behind, one guide is always in front and the other in the back making sure that he or she has everyone in the group in sight.
If it's too windy or the waves or swells are too big, then kayaking will not take place.
Pro tip: if you want your kayak to stay stable while paddling, then both kayakers should paddle in the same rhythm. The person sitting in the back seat should keep the pace set by the person in front. Otherwise, the kayak might lean left and right, but not in an unsafe manner.
How do we get in and out of the kayaks?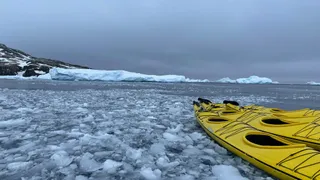 From the ship, we were taken in some zodiacs to the kayaks that our kayak safety guide put out for us. There the 2 guides got in their individual kayaks, and then came our turn. Our kayak was held between the zodiac and a guide and one by one we got into them. It might sound dangerous, but with the right technique (explained by the guides) the kayaks seemed very stable and didn't bounce left and right at all when getting it.
Getting out of the kayaks is done the same as getting in, just in reverse. Once all of us are in the zodiacs we head to the ship and do the usual zodiac disembarkation.
How to gear up fo kayaking?
You don't need to take any special kayaking gear with you. They will provide it on the ship:
drysuit
some special shoes
neoprene gloves
spray skirt
life jacket
dry bag
Your kayaking guides will explain to you how to put all these on, so I'm just going to go through what to wear under this equipment. Keep in mind that kayaking might warm you up from the movement. Depending on your fitness level, it might be low or high effort. If you're not sure what to wear the first time, the best advice would be that is always better to sweat than to be too cold on the kayak. Once in the kayak, you will not be able to put on or take off any clothes.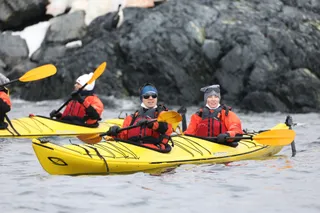 The idea remains the same: layers. You should wear mostly the same layers that you wear every time you go ashore. The only difference is that the drysuit doesn't have an insulation layer as your parka does. You may want to take the insulation layer from your parka if the parka is made from 2 pieces. Otherwise, it's good to have your own insulation layer.
A special note here is that both of us (my husband and I) had a base layer and mid-layer pants as well every time we went kayaking. I wanted to make this clear because in the other blog I mentioned that for men mid-layer pants are not always necessary.
One more important item that is good to have with you are some glove liners. We had ours every time to take under the neoprene gloves they gave us. The neoprene gloves are good at keeping you dry and they also isolate quite well, but a pair of glove liners make them more comfortable.
Hats, bennies, neck gaiters, socks, glasses are all up to you and how cold you get in these areas. We were perfectly fine with the gear explained in our other article about what you need to pack for Antarctica:

How to take pictures or videos?
Well, there's always the phone and we did use it to take photos and some short video shots. There's always the risk of dropping the phone in water if you don't have it attached to you in any way. We lost a phone once while kayaking in Australia in the Noosa Everglades. If any of you know some quality phone cases for this, please let us know in the comments below.
Stefan has an iPhone 12 Pro and I own a 13 Pro. My phone takes better quality photos than his, but we didn't want to risk losing my phone, so all the photos from kayaking were captured with his phone.
Other than the phone we had a GoPro Hero 7 Black and a chest mount. I do think that the best mount for the image frame would be a head mount, but it is up to you if you feel comfortable with all the weight on your head. By the way, there are no helmets while kayaking. Since the kayak's front is long enough, with the chest mount you risk capturing on half of the screen only the kayak and leaving too little space for the landscape. The advantage of a head mount is the vantage point that you get over the water and the ice that you might have around you.
We're not big fans of GoPro, we mostly avoid using it except when there's no other option. We tested a GoPro 10 in Iceland before going to Antarctica and the battery simply couldn't handle the cold. Strangely enough, the old Hero7 seems to hold on much longer. If you have any advice on how to use GoPros or if you have a different action camera recommendation please let us know what you are using. We always prefer using our phones rather than the GoPro, so below are a few shots done with the iPhone.
Should I use a professional camera? You will have your hands busy most of the time paddling, and you will have a spray skirt covering the hole in your kayak. So there's really no accessible place to safely put your big camera away. Not to mention that you might accidentally spray it with salt water while paddling.
Final words?
If you are in doubt when offered the possibility to kayak in Antarctica just go for it. There is no experience like it and the only thing that you will regret is not doing it. I wish I was there to kayak a few more times. I wonder how the guide feels to do this almost daily.
---
We write to help you prepare for your expedition to Antarctica. Good preparation is the key to successful travel. Checkout out our other posts about Antarctica: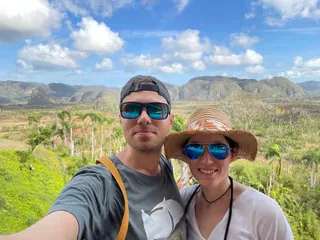 Writing free, independent and personal travel content since 2021. If you appreciate what we do, then you can return the favor by using the affiliate links below: