Very few people on this planet have stepped on Antarctica and you are about to be one of them. Do you know what to pack?
Disclosure: The products that we mention on this page are products that we use ourselves. We earn a commission from every purchase made from the links on this page at no extra cost to you. In case you need to buy anything for your next travel please use the links in this article to help us pay the costs for the Travelfoss website. Thank you!
Packing for an expedition in Antarctica sounds intimidating and for a good reason. The Antarctic environment is inhospitable, also unpredictable, and potentially dangerous especially if you are not well prepared.
We've been on an expedition to Antarctica between December 21, 2021 and January 5, 2022. This article is revised after our return based on what we used and what we needed on our expedition to the southern continent.
Aboard The Ship
Clothing aboard the ship is mostly casual except for the Captain's Welcome Aboard and Farewell gatherings, which are informal.
Casual wear
The daytime casual wear consists of sports outfits. After all, you never know when a group of whales show up and you want to be able to go out on deck to see them. In the evenings, open-neck shirts, trousers, and casual wear are appropriate, but the majority will still wear sports outfits.
Informal wear
This is not a wedding or a ball, so there's no need to over exaggerate with the outfit. It is however a special, informal diner, but there's no need to go as far as wearing a tie. Since these events might happen during a day at sea, I personally don't recommend wearing heels.
Ashore
The most important aspect you should focus on is your clothing. You don't want to get cold, not to mention wet. We also want to preserve and protect Antarctica, so make sure to clean very well your boots and other clothing items to avoid taking any seeds or foreign bacteria to the frozen continent. They will do a biosecurity check on the ship, so don't obsess with it, but be careful.
First and foremost, when people hear of Antarctic expect to see the coldest weather they have ever experienced. Don't forget that you are going in Antarctic during summer time. If you're from Florida, it might seem cold for you, but if you regularly have cold weather and snow where you live, then it might seem like a rather warm day of winter. The temperature is around 0 degrees Celsius (32 Fahrenheit), the element that has the most impact on real feel is the wind. However, if the wind is too strong, all outside activities will be canceled for safety reasons.
The best way to gear up is layering. This way you are prepared for warmer days as well as colder ones. You should also consider that people feel cold differently. Some people might want to get some heavier layers, while others will be just fine with lighter ones.
The amount of physical effort you make also impacts how cold or warm you get. If you have a long walk ahead of you be prepared to take some layers off. If you're going for a zodiac cruise, put on an extra layer as you will be standing still.
Base Layer
The base layer refers to the first layer of clothes that you will take directly on your body. It is sometimes also called underwear (although it does not refer to your bras, panties, or boxers). The base layer needs to be breathable, keep you warm, and wick moisture away quickly to keep you dry.
The best materials for this layer are merino wool and synthetic technical ones like Capilene from Patagonia. We personally prefer wool for the base layer. Synthetic materials tend to smell quickly and to create more static electricity.
When it comes to merino wool base layers, you can opt for different weights. The weight is measured as the fabric's weight in grams per square meter. The bigger the weight number, the thicker the material, and the warmer you will be. The graph below illustrates the different types of weight for wool products.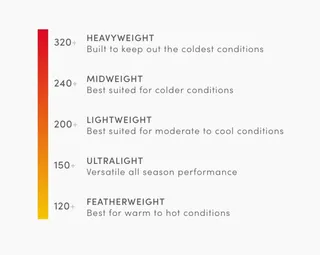 Our go-to options are lighweight merino wool products with a weight of either 200 or 240. These options are good for cold conditions. Remember that you will be layering, and the heavyweight might be a bit too much for some people. We would personally go as far as 320 for under -10 Celsius (14 Fahrenheit).
The following are the base layers that we used in Antarctica:
Women
Men
You should carry at least 2 pieces each so you always have a clean one when you wash the other.
Mid Layer
The mid-layer is worn over your base layer. It adds an extra barrier against cold without making you too bulky. It should be smooth on the outside for easy layering. You can opt for a heavyweight, mid-weight, or lightweight fleece.
Personally, I prefer wearing 2 lightweight fleece layers if necessary rather than a heavyweight one. That's because I overheat quickly and I prefer feeling a bit cold rather than too hot. Being able to take a layer off and prevent overheating is extremely helpful. Taking the heavyweight fleece off might be too much though. Nevertheless, we didn't need to use 2 fleece layers in our expedition to Antarctica.
Like base layers, the available materials are wool or synthetic ones. For this layer, we prefer synthetic materials because they are extra light and quick-drying.
There are mid-layers for both top and bottom. The fleece pants can be either long, capri, or shorter. Most men may not need to wear mid-layer fleece pants on sunny days. I prefer capri length pants, and not full length because I have wide calves and I want to be able to keep the mid-layer pants out of my boots. As a woman, I prefer putting on the mid-layer pants and if I get too hot I can always open the side zips of my waterproof pants to cool down. That is true only for Antarctica. In the Falkland Islands I had a single pair of base layer pants and the waterproof pants and it was still too hot.
Zodiac crusing and Kayaking are a different story, so please read our articles dedicated those experiences:


Here are our go-to options when it comes to mid-layers:
Women
Men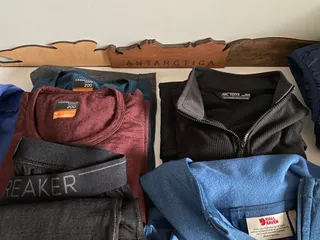 Insulation Layer
Keep in mind that the parka that you receive on the ship might also includes an insulation jacket, not just the shell jacket. You should check this out with the company you are cruising with. I only used the insulation layer on very windy and cold days and for zodiac cruises. I was even too hot once with it. Stefan only used the insulation layer that came with the complimentary parka.
There are numerous ways to pair this layer with your other layers. For very cold days you can wear it over the mid-layer and under your parka. For average days you can use it without your mid-layer or you might not need it at all.
Outer Layer
The outer layer is extremely important because it is your main shield against the Antarctic environment. Most Antarctic expedition cruises will provide a parka to their guests, so the only thing you should worry about is to order your size with your cruising company. If you are not sure, you should check with your agent the information regarding the parka jacket.
The parka is windproof and waterproof, but you will most likely receive it on the ship. If you are unlucky with the weather between the airport and the ship you might need to use a lightweight rain jacket. However, the time you spend outside is negligible, we never used our lightweight rain jackets.
Waterproof pants are a must! They will help you stay dry during zodiac rides and during wet landings where you will need to step into the water that goes over your ankles. The waterproof pants should be wide enough to fit over your boots. Yes, they should be worn over the boots, and not inside them. If you wear the pants inside your boots you risk for water to enter in your boots, even in knee-high boots. I've seen this happen to other people and getting wet is the last thing you want. So keep in mind: pants over boots.
Some readers have asked about using ski or snowboard pants instead of waterproof pants, so we wanted to share our insights on this matter. The ski/snowboard pants can be a bit bulky compared to layering, but the main concern about them are the wet landings. You will wear knee high boots and not all ski/snowboard pants fit over those boots. Additionally, the thin waterproof pants will stick to the boots when submerged in water preventing the water from going up between the pants and the boots. The bottom part of the ski/snowboard pants will simply get wet and offer no protection when stepping in deep water. The waterproof pants are better at keeping water out because they are made of nylon. Ski pants are mostly textile with DWR treatment.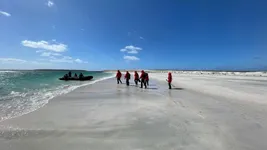 Footwear
Zodiac wet landings require you to step into the water. For this, you need knee-high rubber boots. You will be walking in those boots on land, snow, and ice, so you need good traction and warmth.
Most (if not all) expedition cruises will offer boots for rent on the ship, but you should specify your size before to be sure you will find your size. Renting is the best option if you want to travel lightweight (a pair of boots weighs around 2.5kg), but keep in mind that you risk not having your exact number. If you plan to do other expeditions where you might need this kind of boots, then buying them is the best option. The rental price for a pair of boots is more than half the price of a new pair.
The best boot options that we know of for Antarctic expeditions are:
I don't know which is best, but we are from the EU and we could not find Bogs available for purchase in Europe since they are made by an American company. Therefore, we went for the Muck boots. However, we did read some reviews that suggested that the Bogs men's boots have different soles than women's and that men's have better traction. Also, women with larger calves are recommended to go for the men's version anyway.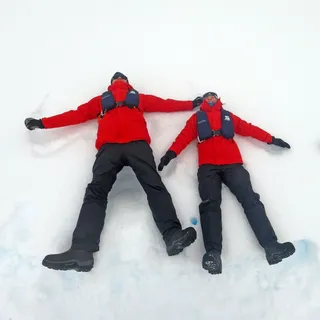 Hats, Gloves, Socks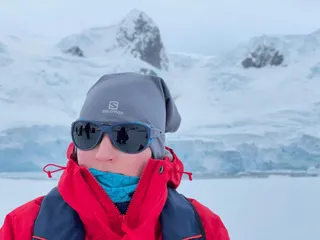 Accessories
---
The Antarctica Essentials Packing Checklist
We shared with you some knowledge to help you understand what it is like in Antarctica and what you need to pack. To make your packing even easier you can get our packing checklist directly.

Additional Travel Packing
Besides the essentials that you need to pack for Antarctica, you may need to pack some regular stuff that you use on a daily basis when traveling. We have a travel packing checklist and also some tips & tricks for travel packing that you might like. In case you are interested you can check all our articles related to travel packing:

---
That's about it, I hope you found our checklist useful. If you consider that we should add anything to this list please let us know in the comments below.
For more Antarctica resource check out our other articles: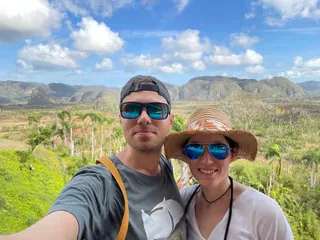 Writing free, independent and personal travel content since 2021. If you appreciate what we do, then you can return the favor by using the affiliate links below: