Flights in the middle of the day can be a challenge to planning your trip. We had this problem too, and here's how we fixed it in Singapore.
In fact, we had the second half of the day on our arrival day, and another few hours in our departure day. We came up with a solution for both days, so you have 2 options to choose from whatever fits your planning better.
Option 1: Jewel Changi Airport
The Jewel Changi Airport is another iconic attraction for Singapore. I believe most of you will want to check this out too. Luckily, it is fairly easy to visit Jewel, both on arrival and departure. Though, it depends at what hour you have your flight and on which terminal you arrive or depart from.
If your departing flight is too early in the morning, I doubt you will want to wake up even earlier, so it's better to go to the Jewel when you arrive. Visiting the Jewel on arrival poses its own challenge as you have to do it with your luggage after you. Ideally, you would want to go to the Jewel after dropping off your luggage before departure, but make sure you have enough time.
From some terminals, the Jewel is just a quick walking distance away (10-15 minutes), while from others like T4 you need to take the free shuttle. The Jewel is located outside the immigration and security area. You can go to visit Jewel without going to security. Just follow the signs in the airport.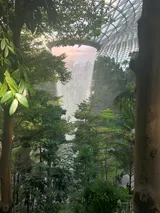 How impressive is the Jewel? I'll let the photos speak for themselves! It's extremely rare and unusual to have such a tall waterfall and so much greenery inside. It almost feels like being in the jungle, while inside what's basically a mall.
Option 2: In The City
I know everybody who comes to Singapore wants to go to the Gardens by the Bay, but we wanted to dedicate an entire day to that place because there are a lot of things to do there. Presumably, your first day in Singapore will also be the day you arrive, and you won't have a full day. This itinerary is what we did in half of our first day in Singapore. We arrived in the afternoon, and spent the second half of the day exploring the places below.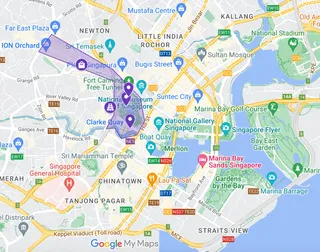 If you only have 2-3 days in Singapore, and want to have a packed itinerary, you can also include this half-day itinerary in the cultural day itinerary since they are relatively close by: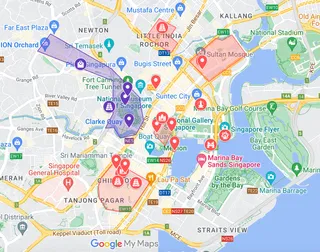 1. Clarke Quay
Clarke Quay is a redesigned historical quay with lots of restaurants and pubs. It is worth visiting for food, nightlife, or just for the architectural design which stands out and makes this place extremely beautiful and attractive. Wander on the streets of the Clarke Quay, admire the buildings and everything that looks interesting to you.
It was a bit cloudy when we got there so our photos are a bit too dark, but the atmosphere was very lively and pleasant. Clarke Quay is also nice to see from across the river. There are multiple bridges that you can cross back and forth, depending on how much you enjoy walking.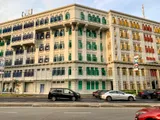 If you're interested in boat tours, here is the place where you can jump on a boat on the Singapore River.
2. Sri Thendayuthapani Temple
Close to Clarke Quay there's a Hindu temple called Sri Thendayuthapani Temple. We've been lucky to get to this temple while a ceremony was taking place, just after sunset. We've got perfect timing without planning for it, which made it more interesting.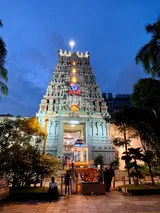 3. Fort Canning Park
If your first day is short and you don't like parks, but you like shopping, you can swap this for Orchard Road presented below and number 5.
The Fort Canning Park park is right next to Clarke Quay and the temple. We got into the park at Jubilee Park entrance. We arrived here at night, but the park is well lit and impressive during the night as well.
In case you worry about safety, Singapore is one of the safest countries in the world, and there is nothing to be afraid of. Walking in parks at nighttime is as normal as doing it during daytime. In fact, you should do both, because during the night the park also has some pretty light decorations.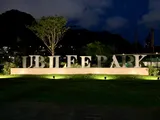 As we visited Singapore during Christmas time, there was a free concert taking place in the park which was an extra show to enjoy. There a lot of beautiful parts in this park, but unfortunately we couldn't photograph much during the night. In our opinion this park is a must. It is a great city park, made for people to spend quality time here. It's probably one of the few parks in this world that have escalators to go uphill.
4. Clarke Quay at Nighttime
If you spend enough time in this area of the city and nightfall catches you here, then check out Clarke Quay again during the night.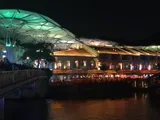 5. Orchard Road
Everybody has recommended us to check out Orchard Road, but this is mainly a shopping mall, and pretty much that's it. When we've been there, they had some very beautiful Christmas decorations and also artificial snow, which made our trip worth it. However, we would only recommend Orchard Road if you want to go shopping or if you have some spare time in the same day you visit Clarke Quay.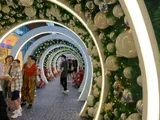 ---
We write to help you create your own Singapore itinerary, and to discover off the beaten path attractions. Checkout out other articles that we have about this spectacular country:

---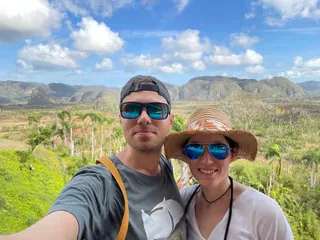 Writing free, independent and personal travel content since 2021. If you appreciate what we do, then you can return the favor by using the affiliate links below: