From hiking and horseback riding through unique landscapes to tasting local tobacco and rum, Valle el Silencio is the Cuban adventure you've been waiting for.
We recommend you take a guide with you on this trail for 2 main reasons: avoid the stress of getting lost, and secondly make the most out of your adventure. If you're concerned about the distance, then you can always opt for a horseback ride.
By taking a guided tour in Valle el Silencio you can turn this visit into a broader experience, including trekking / horseback riding, tobacco houses, smoking Puro, rum tasting, mogotes, caves, and refreshing cocktails.
You can book guided tours using Airbnb Experiences in advance or arrange them through your host in Viñales like we did. With so many tours available we were unsure what to pick, so we preferred to trust our hosts, tell them what we wanted, and have them recommend us something. I believe that the main difference between booking an Airbnb experience or hiring a guide through your host is the group size. On Airbnb they take everybody who books along, while we had a private tour, it was just the 2 of us and our guide.
Horse-Powered Taxi Ride
It all started with a horse-powered taxi ride that took us across the town center, closer to the dirt trails in Valle el Silencio. The horse taxi ride was bumpy and uncomfortable, but it showcased the true reality of Cuban transportation. This is their normality, and it was exciting for us to be part of it.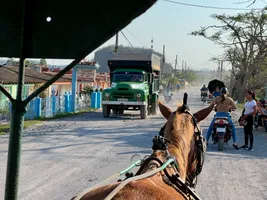 Once we hopped off the horse carriage we met with our guide and our adventure began. While we missed the joyful atmosphere of a larger group, it was a great opportunity to ask our guide more personal questions. We learned a lot, not only about our adventure but also about the local life. We heard real-life stories that are unique.
Hiking / Horseback Riding
In Valle el Silencio you can opt for a horseback ride if you wish. Unfortunately for us, Stefan developed hip pain after riding camels in Jordan, so we couldn't go horseback riding. Nevertheless, we enjoy walking and the distances were not so long. We hiked in total for around 6-7 km (4 miles) during 3 hours.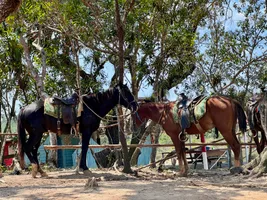 Cuban Tobacco & Rum
After walking on sandy trails through agricultural fields, our first stop was a tobacco house. Since our visit was at the end of March, most tobacco fields were already harvested, but some were not. Some tobacco houses had the tobacco plants hanged for drying, while others were just getting ready for the harvest. Sadly, because of the strong hurricane that hit Viñales half a year before our visit, some tobacco plantations were destroyed and had no crops during our visit.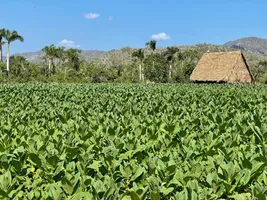 The main purpose of your visit to a tobacco house is to hear the stories and understand each stage in the process of making Cuban cigars or Puros as the locals call them. From the seeds to the plants, the drying, the cigar making, all the way to sampling, where you get to smoke the real, authentic Puro. During your exploration of Viñales, maybe in Valle el Silencio but not only, you will have numerous opportunities to see fields of tobacco, and locals harvesting and hanging the plants. Now you will have a broader understanding of what those people are doing and what happens with the plants.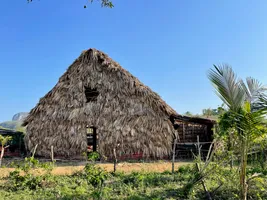 A great pairing with the Puro is some authentic Cuban Rum, and perhaps some exclusive Guayabita Rum. The tobacco house we visited also offered rum tasting, making it a great all-in-one experience. We sampled some simple rum, and also the special Guayabita Rum. Guayabita is the Spanish name for "little guava". As the name suggests, this type of rum is made from these small fruits instead of sugar cane.
Note: in case you are thinking of buying any cigars or rum from Cuba, don't forget to check out the customs regulations of the country or countries you are going to fly in after Cuba. Countries such as the USA might have a ban on any Cuban products.
Nature & Cocktail Break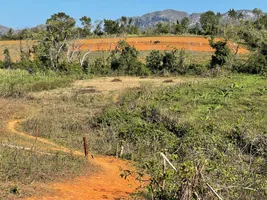 We continued our journey on the red sandy trails of Valle el Silencio, watching people working their crops and animals grazing. On the way we passed by multiple tobacco houses, until we reached a lake with a nice countryside bar called El lago Valle de Silencio. Here we enjoyed some well-deserved cold refreshing cocktails before our next stop. Our guide's favorite was coco loco which is a freshly open coconut with a pinch of rum in it.
Mogotes & Cuevas de Silencio
Moving further, we reached a mogote that was visible from the bar and explored together with a local the caves inside it called Cuevas de Silencio. Bee or wasp hives, old and new, were hanging on the ceiling of the tall entrance. The cave was in fact a narrow tunnel that exited the mogote somewhere else. The rock formations were impressive, and we're not geologists, but some were clearly coral fossils. Overall it was an interesting experience, but remember that you are doing it at your own risk. Nobody there evaluated the structural stability of those caves. Anything can happen.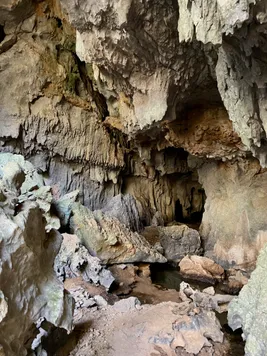 Unique Life & Landscapes
From here our journey heads back to the town center of Viñales. As boring as it may sound, it was in fact a very pleasurable hike along the fields, meeting people and many animals: dogs, bulls, horses, and pigs, until the first houses from Viñales started to appear. Of course, they were the same neat and well take care of houses that you see everywhere in Viñales.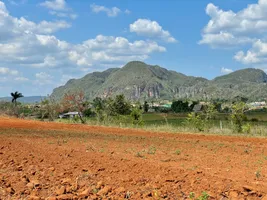 Back in Town & More Things To Do
Once you're back in the town center you can take a break and enjoy lunch. Valle el Silencio is a marvelous way to spend the first half of your day in Viñales. Discover more ideas of things you can do in your other half of the day in Viñales from our broad list of suggestions.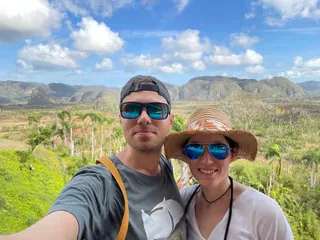 Writing free, independent and personal travel content since 2021. If you appreciate what we do, then you can return the favor by using the affiliate links below: