Discover our personal Viñales travel experiences packed with practical advice to help you plan and make the most of your time in and around this Cuban town.
The entire area around the town of Viñales has a completely different vibe than the rest of Cuba. First of all, it is a rural area and not a city. People here endure a lot of hardship (hurricanes and power outage), but yet you don't feel their struggle and poverty as you do in Havana or Trinidad.
Cuba gets hit by hurricanes every year, causing damage to an already impoverished nation. Viñales was hit strong in September 2022 by Hurricane Ian, wreaking havoc, and destroying the houses of many people. Some people now sleep with friends, others in tents, while working and trying to make a living, and eventually build a new house for themselves.
We visited Cuba in 2023, half a year after the hurricane, and saw how the entire region around Viñales was recovering. It was obvious that the people in Viñales endured more recent hardships than the rest of Cuba prior to our arrival. Yet, they seemed happier, with a more balanced life, living in less poverty than people in Havana or Trinidad.
Accommodation
But there's more about Vinales than meets the eye, and that can be easily discovered when you enter people's houses. By that, I mean staying in a "casa particulares" or private home. Accommodations in Viñales are cheap, and if you're not on a very tight budget you will afford to get a high-end place to sleep.
First of all, high-end accommodation includes having the place all to yourself: your own room with private access and a private bathroom, as opposed to a shared room.
Secondly, you have to note that we are talking about a destination hit by hurricanes, where houses have been destroyed. Cuba is also a country where imports are restricted and construction materials are hard to get. From what we've seen, most accommodations have some recent painting, without mold, peeling paint, or other severe marks of degradation. However, if you're on a very tight budget, make sure to check out this aspect.
As you might have guessed, Cuba has a very warm climate. That means high temperatures and mosquitoes. You might find it difficult to sleep during the night because of the heat, and keeping the windows open will let it unwanted insects. An AC is a lifesaver, but they are a relatively rare occurrence in Cuba. We would definitely recommend stretching your budget enough to get accommodation with AC.
Having said about AC, there's one impetuous requirement for it to work: electricity. Power outages are frequent in western Cuba. They can be short-lived, but they can also last for hours. If you're lucky, this will happen during the day when you're out exploring.
Water and showers are another topic that you don't commonly think of when booking accommodation. However, in Cuba, you will see the hosts mention in the amenities list: cold water, and hot water. Most (if not all) accommodations in Viñales don't have separate cold and hot water, they just have water. The way water is stored and heated is in huge barrels on top of their houses that get heated by the sun. In the middle of the day, there will be no cold water, just hot. Showers in the evening are pleasant, but make sure you don't take them too late or the water will get cold.
Food & Drinks
There are plenty of restaurant options in the town's center. They are not Michelin-star restaurants, but we liked them better than restaurants in the rest of the country. In Viñales town center, you can also treat yourself with the cheapest ice cream you will eat in your lifetime.
But there's another choice you have for food: eating at your host at casa particulares. We loved it! With Viñales being a small rural town, most of their ingredients are locally sourced, including chicken. On top of that, eating at your host is your best opportunity to sample local, traditional food. Most locals can't afford to eat at restaurants, and therefore restaurants are only for tourists, making touristy food.
We're not foodies, but we enjoy good, healthy food. The breakfasts and dinners we had with our hosts in Viñales were the best ones in the entire Cuba. It's worth mentioning (in case you haven't read about our experience with food safety in Cuba yet) that we mostly had a bad experience with restaurants in Trinidad and Havana, with spoiled food and foreign, dangerous objects in the food.
Drinks are no exception. The best cocktails we had were in Viñales as well. Best of the best at our hosts at the casa particulares, and then at restaurants and bars in and around Viñales. The biggest difference is probably the ingredients, and especially the rum they are using. If you're not picky about the cocktails you are drinking, and just swallow them fast for the after-effect, then you might be fine with them. We personally like to savor the flavors, and cheap alcohol tastes bad. Somewhere in Havana we even had a Cuba Libre that seemed to have been diluted with water.
How to get to Viñales?
There are multiple ways to get to Viñales as explained in our detailed guide about transportation in Cuba. If you opt for Viazul, then you can book tickets directly on their website. We only recommend that you take the Viazul if you are coming straight from Havana, not Trinidad, Varadero, or another place that requires you to connect 2 buses. Traveling by bus in Cuba doesn't happen by the schedule. Delays are common, and you might not be able to catch the second bus.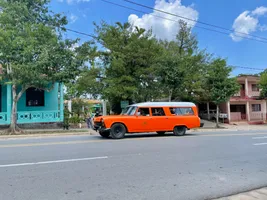 If you are planning to use a colectivo or a private taxi, you can easily talk to your hosts and they can arrange it for you. We went to Viñales straight from the airport, and we had a private taxi waiting for us when we arrived. The 2.5-hour drive from the José Martí airport near Havana to Viñales, with AC, cost us $100 (or Euros for that matter).
Where to stay in Viñales?
Booking accommodation in Cuba is only possible through Airbnb. We stayed at a single accommodation in Viñales, we had a wonderful time, and our hosts were amazing. We would recommend this place to anyone interested, although there's nothing in it for us. We don't earn any commission, we just love our hosts and want to help them, and you, at the same time find a nice place to stay. The accommodation is called Villa Las Palmitas, Mildren y Alexander. Mildren takes great English, so you don't have to worry if your Spanish is bad.
As I mentioned above, when talking about accommodations in Viñales, be sure that you are aware of the shower water temperature. They make great food and serve it on the roof terrace with great views over the neighboring houses and some of the Viñales' mogotes.
Mildren and Alexander took good care of us, they also helped us arrange our transportation in and out of Viñales, a guide that took us on a tour around Valle el Silencio, helped us rent bikes with pick-up and drop-off right in front of our room. They can also arrange day trips to the beach, car tours to explore the entire area, and whatever else you desire.
Things to do
Few places as small as Viñales have so many things to do. There's a lot to talk about the activities and experiences we enjoyed in and around Viñales. We talk all about them in a dedicated post that we believe you will find useful while planning your trip to this Cuban gem.

Caution
We don't recommend anyone to venture too far away on dirt paths on their own. Sticking to roads that appear on Google Maps is mostly safe if you have a map, GPS, or other means of orientation with you, as you would normally do while traveling anywhere else. However, dirt paths meandering through agricultural fields, pastures, and mogotes are not recommended without a guide. Cuba is frequently hit by hurricanes which can destroy these small paths. The paths get redone by locals who need to get from one place to another. This doesn't guarantee that the paths will be exactly the same as on your map leading to disorientation.
Our host in Viñales had 2 guests before us who got lost in the mogotes with their bikes while trying to follow paths that no longer exist. Those tourists were able to phone call the host and get help, but it was a terrifying experience.
This is just an advisory because you should be aware that Viñales is a destination like no other. However, it is perfectly fun and safe. We hiked, we cycled, we walked, both with a guide and alone, and we had a lot of fun.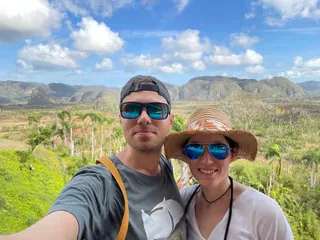 Writing free, independent and personal travel content since 2021. If you appreciate what we do, then you can return the favor by using the affiliate links below: