Antarctica is one of the most extreme expeditions one can think of. It is remote and isolated. It is inhospitable, yet full of wildlife. One moment in Antarctica is enough to change you for life.
Antarctica to us is one of the fewest places on Earth where Mother Nature shapes everything and we are at her mercy. Vast landscapes of pure, untouched nature like you rarely get to see anywhere else. A place where we, people, take a step back to respect the wildlife instead of getting in its way.
There are not enough words to describe such a place, and the only way to understand anything that I am saying is to just go there at least once in your life. The more I write, the more I miss Antarctica. I feel deeply sad that I am no longer there to see and feel what I am showing you here.
Expedition Summary
We visited Antarctica between 21 December 2021 and 5 January 2022. Theoretically, this is summertime in Antarctica, but the expedition team said that this year there was a lot more snow and ice in this period than in other years. This news usually comes with some downs (canceled landings), but also with some ups (float ice sheets, a lot of brushed ice, etc). If we were to go again, we definitely wouldn't go any sooner than this.
We did the expedition with Silversea, but, to be honest, we wanted to go with National Geographic, but they only had free spots in 2023. We strongly believe that we will return to Antarctica one day. Not sure if on a research base or another ship. If we choose to go on a ship we would try National Geographic again or Aurora Expeditions.
If you are about to go on an expedition to Antarctica and you are looking for tips regarding what to pack, we have an article dedicated to the Antarctica Packing Essentials.
Day 1 - Flight and Embarkation
We first gathered in Santiago de Chile. From there we took a charter flight with Latam to Punta Arenas where we got on the ship. We were lucky to have few clouds during the flight and the views over the Andes were majestic.
The wind in Punta Arenas was crazy. The plane landing was quite terrifying. We are frequent flyers and this was the scariest landing that we ever had. The experienced pilots did a great job controlling the plane in such winds, and everybody started cheering after we landed.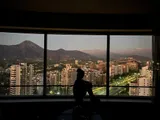 Day 2 - Day at Sea
As we've seen on the itinerary, the plan was to sail south, on the west coast of Chile. Due to strong winds I guess, the captain decided to go through the Strait of Magellan, and head south along the coast of Tierra del Fuego.
Nothing special to do on this day, other than exploring the ship, attending some mandatory briefings, and prepping your gear for Antarctica.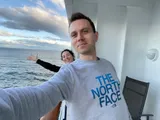 Day 3 - Day at Sea
Welcome to the Drake Passage! No, it was not fun. The expedition leader called the roughness of the crossing a 4 out of 10. I have laid on the couch all day, barely being able to eat. I'm can only be glad that it was just a 4.
I'm the kind of person that can get motion sickness in the car, not to mention busses. Stefan on the other hand rarely gets motion sickness, and he was okay most of the time on the ship, except when going to a briefing in the ship's amphitheater, a room in the rear end of the ship with absolutely no windows.
In case you are wondering about seasick medication, I did take 2 different types of seasickness homeopathic remedies. I am sure that I would have been much worse without them. There are also some stronger remedies, those that are not homeopathic, but those have a lot of side effects that I would rather not experience.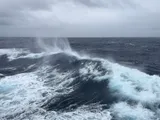 Day 4
Today is our first contact with Antarctic land. Or so we thought!
Elephant Point
We started off on the wrong foot. The first planned wet landing got canceled. It was supposed to be Elephant Point in the South Shetland Islands, but the weather was too rough. We only got the chance to see for the first time some land and ice.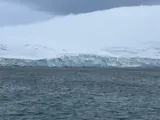 Deception Island, Whalers Bay
Our second stop was on an island that is different than anything else we have seen in Antarctica. The island is the caldera of an active volcano in which the ship can sail inside. The ground is warm and therefore there is no snow. The water at the shore is was also warm, even warmer than our hands. People used to dig holes on the beach here to bathe in hot water, but that is now forbidden. The evaporating hot water is what creates fog on the ground.
Deception Island is also home to an abandoned whaling and research station. It feels extremely sad to see those huge whale oil tanks, whale bones here and there in the sand, and they say that the seafloor is full of whale bones.
What humans left behind is a huge pile of garbage and a whale cemetery. Fortunately, nature is claiming back this place. Kelp Gulls were nesting on the oil tanks and some Skuas were also sitting on their eggs.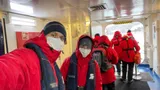 Day 5
Day 5 was like 2 days in a single one. We had 2 exciting activities, one in the morning and the other in the afternoon. In the evening it even happened to us to refer to the morning activity as yesterday.
D'Hainaut Island, Mikkelsen Harbour
In the morning we got to see for the first time hundreds if not thousands of penguins on D'Hainaut Island at Mikkelsen Harbour. There was a Weddell seal sleeping, lots of Gentoo penguins and some snowy sheathbill birds. The penguins seemed very well and active, but to our surprise, the expedition team said that they are not doing very well because their nesting areas are still covered in snow.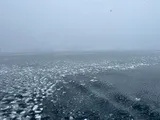 Cierva Cove
The plan was to do a zodiac cruise here, but we signed up for kayaking. We would almost always opt for kayaking rather than zodiac cruising. Unfortunately, on the Silver Cloud ship from Silversea, they have only 12 spots available for kayaking, and if more people want to kayak they do a lottery. On other ships, like Aurora Expeditions, you pay for a kayak in addition to your suit and you can go kayaking each time if you want. If you pay for a kayak, you are sure that they will carry a kayak just for you.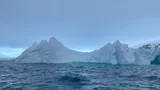 This was our first kayaking experience in Antarctica, and I have to admit that I never expected to kayak through brushed ice, especially on the first day of Christmas. It might sound dangerous, but we did not perceive it as such. Neither we nor anyone else in the group felt unsafe. Kayaking at Cierva Cove was one of our favorite experiences in Antarctica and we have written an entire article about kayaking in Antarctica that you might want to check out:

Day 6
On this day we had a wet landing planned in the morning at Portal Point and a zodiac cruise at Enterprise Island. Unfortunately, there was too much ice near the shore where we were supposed to do the landing and it was not safe to attempt one. It might have been possible to get with the zodiac to land, but if the wind continued to push ice to the shore we risked remaining stranded.
Polar Plunge
Since so many people wanted to do the Polar Plunge, they decided to replace the landing with the plunge. Some people consider it healthy or brave, while others simply consider it stupid and risky. We didn't do the polar plunge, so you can easily guess which category we fit in.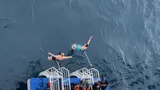 Enterprise Island
Of course we signed up for kayaking instead of zodiac cruising, but luck was not on our side. It was not bad though, with the zodiac they can get closer to ice than you safely can in a kayak, so we got to see up close the blue ice and the ship wrek. Those 2 penguins on top of the huge blue iceberg were extremely funny.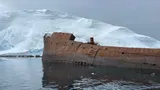 Day 7
In Antarctica, you never know what you wake up to. It might rain, snow or you could see the sun. In fact, heavy winds and swells were our worst enemies, followed by too much snow and ice for this time of the year.
Orne Harbour
We hoped for a landing in the morning, so we didn't register for kayaking. Unfortunately, the expedition team decided to go for zodiac cruising because of the snow and ice conditions on land. Luckily for us, many people also hoped for a landing so there were only 8 out of 12 people that signed for kayaking so we managed to get in as well at the last minute. A wonderful experience again that we talked more about in a dedicated article about kayaking in Antarctica.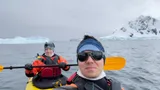 Danco Island - Errera Channel
The plan was to land on Cuverville Island, but that was not possible. Thankfully, the captain and the expedition leader didn't give up so the ship went deeper in the Errera Channel. Here things started to look a bit better, although the Errera Channel was choking with ice. We did a wet landing on Danco Island where a big Gentoo penguin colony awaited us.
I haven't mentioned before, but penguins use to walk on the same paths over and over, creating a clearly visible path that we call penguin highway. You can also see this kind of penguin highway in the video above from Mikkelsen Harbour.
When we got there there was sort of a penguin rush hour. A lot of penguins came out of the water and up the highway in a single file, each of them patiently waiting for the penguin in front to move. When a penguin got tired it would simply take a break laying on its tummy. It's extremely impressive to see how long distances and how uphill penguins have their nests. It must be a huge effort for them to walk that much.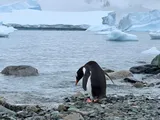 Day 8
Neko Harbour was on the original expedition itinerary, but due to the actual weather conditions, the expedition leader changed the itinerary to Leith Cove and Skontorp Cove.
Leith Cove
Since we missed the Portal Point landing, there have been long debates about landings on islands near Antarctica and landing on the actual continent (a point from which you could walk all the way to the South Pole without stepping in water). In the end, the "continental landing" debate remained open, as the peninsula seemed to have water all around it. It might have been high tide or rising sea levels or neither.
We had a nice view over Paradise Bay, although cloudy and windy. The only wildlife we saw was a Gentoo penguin on a piece of ice on the shore. Otherwise, nothing special for us compared to the crew members who did a lot of work to carve steps in the snow for this landing. We wish we could join them.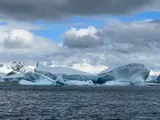 Skontorp Cove
In the afternoon we did a zodiac cruise near an Argentinian research base. Of course we signed up for kayaking again, but we didn't catch a spot. I can't say I regret not being able to kayak because we got to see a Weddell seal close up on a big sheet of ice. The kayaks didn't get so close. We've been next to a massive glacier, and we've been able to see snow algae on its ice. Large chunks of ice can break from the glacier at any time and produce dangerous waves. Zodiacs have greater stability than kayaks and 60HP motors that can get us out of trouble in no time. The yellowish colors that you can see on the rocks are moss and lichen beds, some of the very few plants that can withstand life on the frozen continent.
Like most research bases in Antarctica, this one was closed too due to Covid-19. With people missing, the Gentoo penguins started nesting all around the buildings, wherever they could find a piece of land without snow.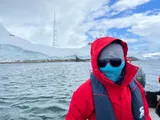 Paradise Bay and Neumayer Channel
Both Leith Cove and Skontorp Cove are in Paradise Bay, but in the morning and the afternoon, when we did the landing and the zodiac cruise, it was cloudy and we had reduced visibility. In the evening the sun came out and the clouds started to dissipate opening up a magical landscape that we previously didn't notice.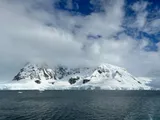 This evening we reached the southernmost point in our trip and from Paradise bay, the ship went into the Neumayer Channel from South to North.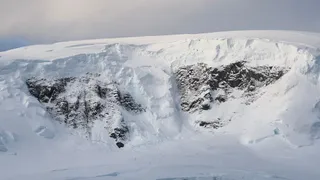 We consider ourselves extremely lucky to have had such wonderful sunlight in this picturesque channel. All the colors changed, adding some warmth to the frozen landscape and some shadows to the sharp mountain ridges.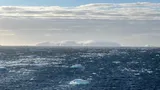 Day 9
I have no idea what was the plan for this day in the original itinerary, but since we couldn't do the wet landing at Portal Point, we went there for a second attempt. The winds changed direction, which meant that it should push the ice away from our lading site instead of towards it.
Portal Point
Indeed, the ice cleared out compared to last time. A whale was sleeping between the ship and the landing site and it didn't react as zodiac after zodiac stopped near it.
Not much to see at Portal Point, the main idea being again the so-called "continental landing", meaning that you can be sure that you stepped on the Antarctica continent itself and not on an island next to the continent. For some, it matters more, for others not much at all since all islands that are close to Antarctica are connected to it and represent the same piece of land.
The 2 penguins in the photos are Adélie penguins. They and an Antarctic shag or cormorant are the only wildlife that we've seen at Portal Point. It was a nice encounter as for us it was the first and only time when we saw this kind of penguin, the Adélie penguins.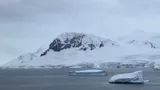 Wilhelmina Bay
In the beginning, I didn't understand why the ship went to Portal Point and then to Wilhelmina Bay. We were sailing North and Wilhelmina Bay is South of Portal Point, so it means we had to go back South after Portal Point. We had such wonderful weather while cruising Wilhelmina Bay with the ship, while the morning at Portal Point was cloudy and windy.
The sky was almost completely clear, with a deep blue color. Just like glacier lagoons have a turquoise color, the blue sheets of ice enhanced the blue color of the water creating a spectacular landscape. The calm wind transformed the water into a huge mirror having an almost perfect reflection of the mountains. The halo sun added one more mystical element to complete the perfect antarctic landscape.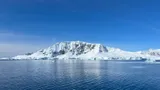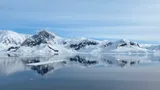 During winter the water at the shore freezes forming a thick layer of ice. Normally, in December this ice melts. Right now, on December 29, the ice sheet still covers a large surface of the water at the shore, as you can see in the images above. Pieces of this ice crack and start floating on the water until they melt.
Although hard to spot in these photos, the ice sheet at the shore had lots of seals sunbathing on it. The floating ice sheets are the perfect place for penguins to take a break while remaining close to their food source in the water. Watch closely the floating ice sheets in the video below for penguin footprints.
Day 10
Let's not forget that we are in Antarctica and the weather changes quickly. The idyllic landscape only lasted for a few hours and by the end of day 9 the wind picked up and it started snowing heavily that you could barely see 100m away.
Discovery Bay
Half Moon Island and Fort Point in the South Shetland Islands were our plans for day 10, but the weather, especially the wind, didn't allow us to land at these 2 locations. We ended up doing a zodiac ride in Discovery Bay. There was no kayaking this time due to the weather conditions.
The wind was strong so the zodiac rides were a bit wet. There was a lot of splashing, but with good clothing, the water shouldn't get under your shell layer. It was a lot of fun for us, we stayed dry on the inside, but other people in the group were obviously not comfortable. I am glad we were able to do this ride and that people not dressing up appropriately didn't stop the crew from getting us out. More on zodiac cruises and how to stay dry in this dedicated article:

The wind increased so much while we were doing the zodiac rides, that the ship had to be repositioned before the crew was able to tie up the zodiacs at the entrance gate to embark/disembark people.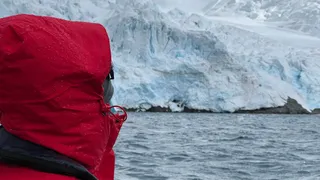 Discovery Bay was probably one of the best places where we did zodiac rides. It is hard to describe in words what you feel while standing next to these huge walls of ice. We did cruise along the ice on other days, but the one here was much much more impressive. It was jaw-dropping.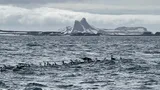 I wish we had a video from this day with all the water splashing, but we were too astounded by looking at the ice to think of something else. The birds that you can see on the water in the photos above are Antarctic shags or cormorants.
We did however film a flock of Cape Petrel from the ship flying very close to the surface of the water and dodging the waves that came towards them instead of simply flying above them.
Day 11
Point Wild, Elephant Island
Very few people managed to step on land here because the wind is almost always too high. A zodiac cruise was planned, but it was impossible to lower the zodiacs in the water. The captain pulled the ship very close to Point Wild, the place where the Shackleton's people spent 4 and a half months stranded waiting for someone to save them.
Today we've seen for the last time the antarctic ice. Farewell, Antarctica!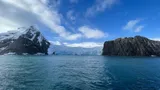 New Year's Eve
The second half of the day is at sea, including the New Year's Eve party. From Elephant Island we head to the Falkland Islands. It's time to see if we can have a New Year's Eve party or if I'm going to be seasick again. Some call this crossing the Drake Passage, but we were more on the outskirts of the Drake. To my surprise, I had no problem at all enjoying the rest of the day.
For me, this passing between years was a special one. It was simply crazy to be there, to feel it, and now to think of it. A bunch of people on a floating ship, in the middle of the Southern Ocean, surrounded by vast stretches of water on all sides. There was no sign that something was about to happen and disrupt the stillness of nature.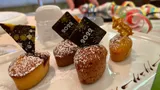 Nature was the same, nothing changed, except us! We made a lot of noise for no apparent reason for the wildlife witnessing our party. When we were done being crazy, everything went back to the natural equilibrium of stillness.
At a regular New Year's party, you can always feel the rush, the excitement, almost like ants in an anthill, always going somewhere and having something to do. You know that something is going to happen, but not here, not in Antarctica!
Day 12 - Day at Sea
The swells picked up compared to last night. I haven't been myself on this day, but it was not as bad as our initial Drake Passage crossing.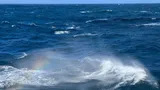 The wind speed and direction have been very favorable today for birds flying very close to the ship. We had Wandering Albatross after Wandering Albatross following the ship. These birds are the largest albatrosses on the planet and are among the largest flying birds. They have the largest wingspan of any bird, up to 3.5 meters from tip to tip.
Wandering Albatrosses are a wonder of nature and seeing so many of them is truly impressive. They live right here, on the rough waters of the Drake Passage, and only go on land for nesting.
"I now belong to a higher cult of mortals for I have seen the albatross" - Robert Cusham Murphy, October 1912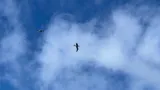 Day 13
Antarctica is a very special place that you easily get to admire, respect and miss. Even so, seeing more colors, more sun, more vegetation, instantly made us happier and full of energy. For a second you forget that you miss Antarctica because you can't believe your eyes. When you first see land after Antarctica every color seems more intense than you remember it. I guess it's true that you only start to appreciate something when it's gone.
Bleaker Island, Falkland Islands
The landing was on a beautiful white sand beach. The weather was too warm for our clothes, but the high wind was extremely annoying. We've seen different plants and grasses, some goose, Magellanic penguins, and the Rockhopper penguins that made our day. They have a cool haircut and demonic eyes, and we could have stayed for hours to observe their behavior.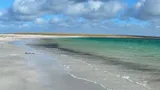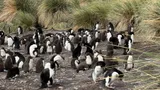 Bull Point, Falkland Islands
Our afternoon landing at Bull Point was canceled because the annoying wind from the morning was even more powerful.
Day 14
Today we are doing our final 2 landings on this expedition. The first one is on Saunders Island, and the second on Carcass.
Saunders Island
When you think you've seen them all, this island had not one, but 2 more new bird species to show us: the King Penguin and the Black-browed Albatross. The Saunders Island was also full of Gentoo penguins with large chicks. Most chicks were doing well, but some didn't survive and the Skuas were feeding on baby Gentoo carcasses. Forgot to mention Skuas earlier, but these birds were also present in Antarctica and they also feed on Gentoo's eggs.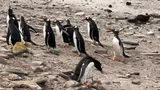 Most of the King penguins were sitting on their eggs, while others were molting. Those with weird, fluffy feathers are not chicks, but adult penguins that are molting.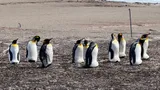 Carcass, Falkland Islands
We went on this island for a longer walk than usual. We didn't expect to see too much wildlife, just a lot of vegetation. To our surprise, somewhere almost at the top of the hill, there was a Gentoo colony. I really don't understand why they go through all the hustle to climb those hills with their short legs.
Going down to the beach we were greeted by some sleepy elephant seals, few Magellanic penguins and one young and curious King Penguin that kept inspecting what we were doing in their environment.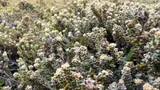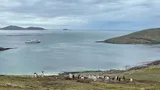 Day 15 - Disembarkation and Flight
That was the end of our expedition. On day 15 we had to clear our suits by 8 AM and disembark although our flight was at 3 PM. We wish we could have visited Punta Arenas in the meantime, but that didn't happen. They took us by bus to the small and crowded airport with not enough seats, and we were left there to wait for hours for our plane. If you were lucky to be among the first busses then you might get a seat, but a lot of us were sitting on the floors of the airport.
---
Long story short…
There are no words, photos, or videos that could possibly describe a place like Antarctica. One that has never seen that place will never be able to understand the true meaning of what we are trying to describe.
I am not saying that you should go to Antarctica. It is solely up to you. But, now that I know how it is, I wouldn't want to miss it. On the contrary, we want to go there again, and we would like to be able to spend even more time on the frozen continent. We want to be able to visit the research stations and the post offices, hopefully when the pandemic is over. Who knows, maybe one day we'll even volunteer and go to live on a research station for an entire antarctic summer and we'll meet right there when you come to visit.
See you on the frozen continent!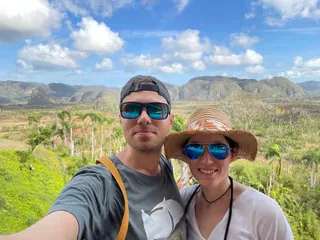 Writing free, independent and personal travel content since 2021. If you appreciate what we do, then you can return the favor by using the affiliate links below: