Viñales wins hearts with the landscapes, activities, experiences, and kindness of the people who live here. This is our favorite destination in Cuba.
If you only have time to visit one more city in Cuba besides Havana, then Viñales should be IT. Trinidad is beautiful as well, but Viñales has much more than just beauty. You can spend several days in Viñales and still have things to do, places to see, and kind people to meet.
Below is a map with the most important attractions and activities in Viñales. You can explore the map in more detail if you click on it, and even create your own copy on Google MyMaps.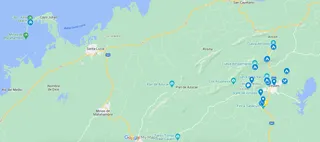 Main Attractions in Viñales
When people come to Viñales they have specific things in mind like tobacco and mogotes. The Valley of Viñales has more to offer than most people think. A more inclusive list of attractions includes the following:
Viñales Town
Tobacco Farms: depending on the time of the year you visit Viñales, you will see different stages in the tobacco growing process. The plants grow from November to February when they are harvested and hung for drying.
Rum Tasting
Parque Nacional Viñales: mogotes, caves, trails and jaw-dropping landscapes
Mirador del Valle de Viñales & Mirador Los Jazmines
Valle De Dos Hermanas
Mural de la Prehistoria
Cueva del Palmarito
Palenque de los Cimarrones & Cueva de San Miguel
Cueva del Indio & boat tour in underground lake
Cayo Jutias
Attractions are nothing without the experiences that come with them. Some experiences and adventures that you will have in Viñales will include multiple attractions. We're going to detail each attraction as part of the experiences you can't miss in Viñales.
Viñales: Explore the town and nearby trails by foot
There's no better way to get immersed in the Cuban countryside than walking. The town is relatively small but has a lot of stories to tell. The local life is booming with cultural customs that you can see nowhere else. There's no better way to feel the vibe than by foot.

Valle El Silencio
Valle el Silencio is truly the place where you are going to create lifelong memories. This valley is best explored with a guided tour that will take you on the perfect blend of nature and culture, from hiking and horseback riding to tobacco and rum tastings.

Cycling / Car Tour
You don't have to be a pro cyclist to embark on this adventure, but you have to know that it will be tiring. We cycled for 45km (28 miles) without even realizing how far we'd gone. It's been a great experience that I would recommend to anyone who cycles every once in a while.

However, if you don't like cycling at all, or if you're not in for that much effort, you can arrange for a car tour that will take you to the exact same places that we've been to by bike: Mural de la Prehistoria, Valle De Dos Hermanas, Cueva del Indio, Palenque, Cueva de San Miguel, Cueva El Palmarito, and Mirador del Valle de Viñales.
Horseback Riding
Horseback riding is a popular activity in Viñales. It is so popular that one might say that you haven't truly visited Viñales if you don't go on a horseback riding adventure. Unfortunately for us, during our trip to Viñales, Stefan had hip pain from camel riding in Jordan, and we had to skip the horseback riding. However, we hiked and biked on some of the same paths. We encountered many tourists horseback riding, and we've seen lots of good-looking horses.
Although the most common place to go horseback riding is in Valle El Silencio, there are other routes as well. One of them covers the Red Cycling Route that we mentioned in the Viñales cycling guide. You should check the available Airbnb Experiences or talk with your accommodation host to help you pick the right one for you.
Beach Day
Viñales is not a beach destination, so you might be wondering: beach day in Viñales? While talking with our hosts about arranging our trip, they also suggested that they could arrange for us a day trip to the white-sand beach area of Cayo Jutias. The beach is just a 1.5-hour drive away from Viñales, and it is a natural wild beach, compared to the touristy beaches in Varadero.
Cayo Jutias looks spectacular in photos, and believe it is a great place for peace and quiet while tanning on the Caribbean white beach with turquoise waters. We would have liked to go, but we didn't have enough time in our schedule to encompass this activity as well. If you have the luxury to plan each day before booking your flights and accommodations, make sure to add enough days for Viñales, and don't miss Cayo Jutias. Don't forget to take sunscreen with you!
Travel Tips for a Memorable Trip in Viñales
Cuba is a destination like no other, and Viñales is even more different. To make your trip more memorable and enjoyable we would like to share with you some practical advice that we learned from our experience in Viñales: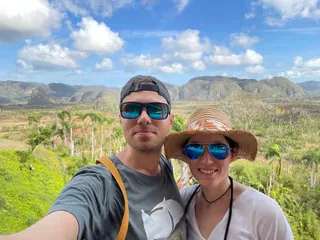 Writing free, independent and personal travel content since 2021. If you appreciate what we do, then you can return the favor by using the affiliate links below: