Walks are one of the best and easiest ways to admire what the amazing nature of Tenerife has to offer.
There are probably countless promenades in Tenerife, but we prefer less touristy walks that are closer to nature. This way you get to see more locals, their culture, habits, and ways of living.
El Sauzal
Black rocks, blue water and green vegetation, all creating strong chromatic contrasts that make this place look amazing.
Situated in the north part of the island, El Sauzal is one of our favorite walks. We went there one afternoon without any expectations and we were amazed. The scenery lets you speechless.
Large waves can make this place even more surreal. Strong waves constantly smash on the rocks with impressive power that in some places you can feel it as a tremble underneath your feet.
In case you wonder, the cover photo for this article was also shot here.
Barranco de la Arena
This place has a lot of history to tell, from old terraces to present farms and plantations.
This walk starts close to El Bollullo beach and goes all the way to Puerto de la Cruz.
We might be a bit biased about this walk because it was close to our accommodation and it was our go-to place for a walk on a free evening. While writing this, I started to realize how strongly I miss it.
Most people (other than locals) drive right past this beauty on their way to the El Bollullo beach, perhaps without noticing it. Take a moment to pause and admire your surroundings.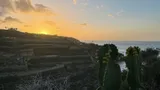 Los Gigantes Walk
We found this walk by accident while wandering around Los Gigantes. It is relatively short but pretty nice with blue waves smashing on the black rocky cliffs.
There's also a natural pool if you feel like going for a swim, but watch out for big waves because they will go over the pool's edge.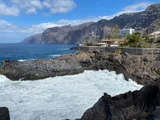 Paisaje Protegido de la Rambla de Castro
This walk is popular among locals that go out in the evening for some exercise. It's not an easy walk though, there are a lot of steep hills that you will ascend and descend.
Sendero Las Salinas
A walk between the ocean coast and golf course, landscapes can rarely get better than this. If the sea is rough, then the experience gets a whole lot better.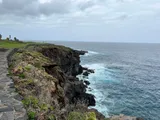 Punta de Teno Walk
Punta de Teno can only be reached by bus, bike, walk, or hike. The road is closed almost the entire day and can only be accessed by bus and other authorized vehicles.
We tried to walk on the road, which is permitted. There are around 7 km to Punta de Teno. Unfortunately, we didn't feel safe to finish this walk and headed back after we reached a very exposed area with rugged cliffs and very strong winds. There are rock nets mounted, but you can still see cracks on the road made by falling rocks. Not to mention that there's also a tunnel that you should walk through, which doesn't seem safe either. If you're going by bike don't forget to have a helmet. We eventually got to Punta de Teno by hiking.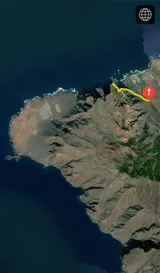 Punta Montaña Amarilla
Overwhelmingly impressive!
This place ranks very high on our list of favorites. It is a must-see even for those who have as little as 5 days in Tenerife. It is probably a hidden gem because we haven't heard much about it or seen photos. Punta Montaña Amarilla is a Natural Monument that you can stare at for hours and still not get bored. Your brain needs a lot of time to process this out-of-the-ordinary landscape.
It is possible to hike all the way up on the mountain or just walk at sea level (that's where the beauty is). You can even sunbathe in this beauty or take a dip in the ocean. Ideally, try to get there at low tide in order to be able to walk all the way along the coast. Otherwise that's not possible.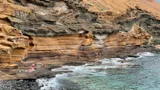 Punta del Hidalgo
Punta del Hidalgo is a small town in the north of Tenerife with a very modern lighthouse. The coast line of this town is very scenic, with blue waves braking on the black rocks on one side and green mountains and colored houses on the other side.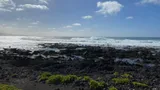 ---
It takes a lot of planning for the perfect trip, but packing can sometimes be frustrating. Either packing too many things or packing too few can both ruin a bit of the fun. We've perfected our packing checklist over years and we believe it will be of good use for you too. We also have some travel packing tips & tricks to share to save you the hustle we once had.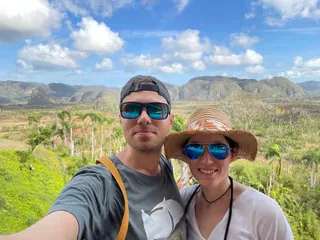 Writing free, independent and personal travel content since 2021. If you appreciate what we do, then you can return the favor by using the affiliate links below: