The Hiking Gear You Need for Cold Weather
• 8 mins read
Cold weather requires extra hiking gear and effort, but nature is always beautiful and worth exploring, not just in warm weather.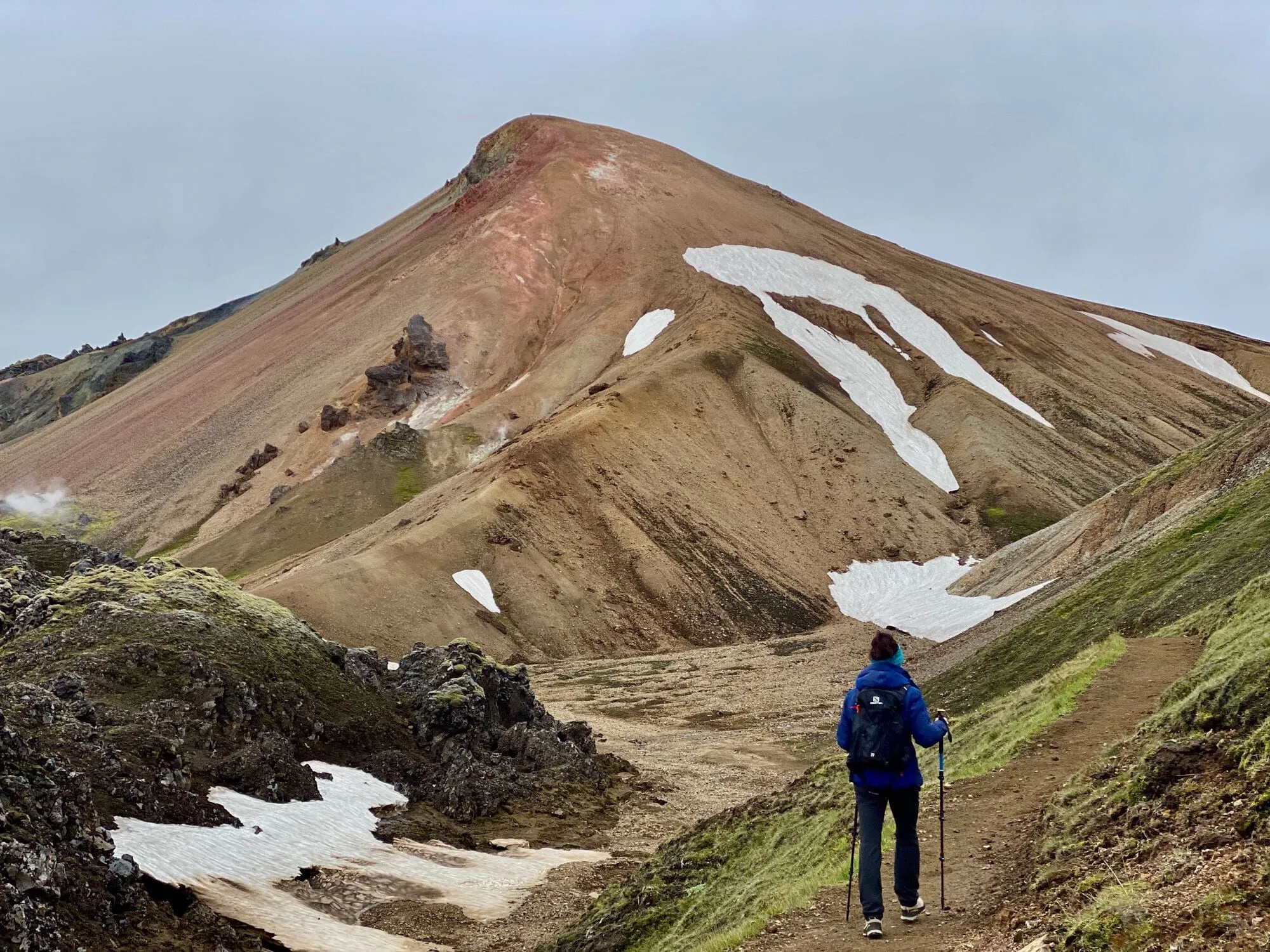 Some of the things you take with you during a hike are highly influenced by the weather. We already covered the packing essentials that you need for every hike, and besides those, we are going to go through the hiking gear that you need in cold weather.
Always tell your friends that you are leaving on a hike, the location, and when you expect to be back. Some countries also offer services to register your hiking plan with an estimated return time. If you haven't checked out before that time, the search and rescue teams will start looking for you.
In this article, we are only covering the gear required for one-day hikes and not multi-day hikes. For multi-day hikes, you should also consider your camping options, the necessary gear, and extra food to last for your entire journey.
Note: we do not recommend hiking in extreme conditions. By extreme weather, we are only referring to low temperatures, and not winter storms or other extreme weather conditions. Always check the weather before planning a hike and also before leaving on a hike. Use good judgment, and make decisions based on actual conditions at the location and personal physical ability.
Our hiking experience in cold weather relates to hiking in Iceland and Norway. The longest hike that we did in cold weather is in Norway, to the northernmost point of mainland Europe: Knivskjellodden. It was 18.5km long, at around 0 degrees Celsius (32 Fahrenheit). We had strong wind, rain, sun, rainbows, and some sleet. It was probably the most weather-diverse hike.
Hiking Gear
The following are the most important items to consider when hiking in cold weather. After listing them we will go into more details for each point.
Base layer
Mid layer
Insulation layer
Outer layer
Shell
Boots
Headcover
Neck gaiter
Gloves
Socks
Insulated water bottles
Food
Hand and foot warmers
First aid kit
As usual, the products that we mention in this article are products that we use ourselves. The product links are affiliate links that help us pay the costs for the Travelfoss blog.
Clothing
Hiking in cold weather is a bit more difficult than warm weather and also riskier. You have to always be careful to keep warm and avoid hypothermia. This includes first and foremost wearing the proper clothing. There's a saying in Iceland that goes like this:
"There is no such thing as bad weather, only bad clothing."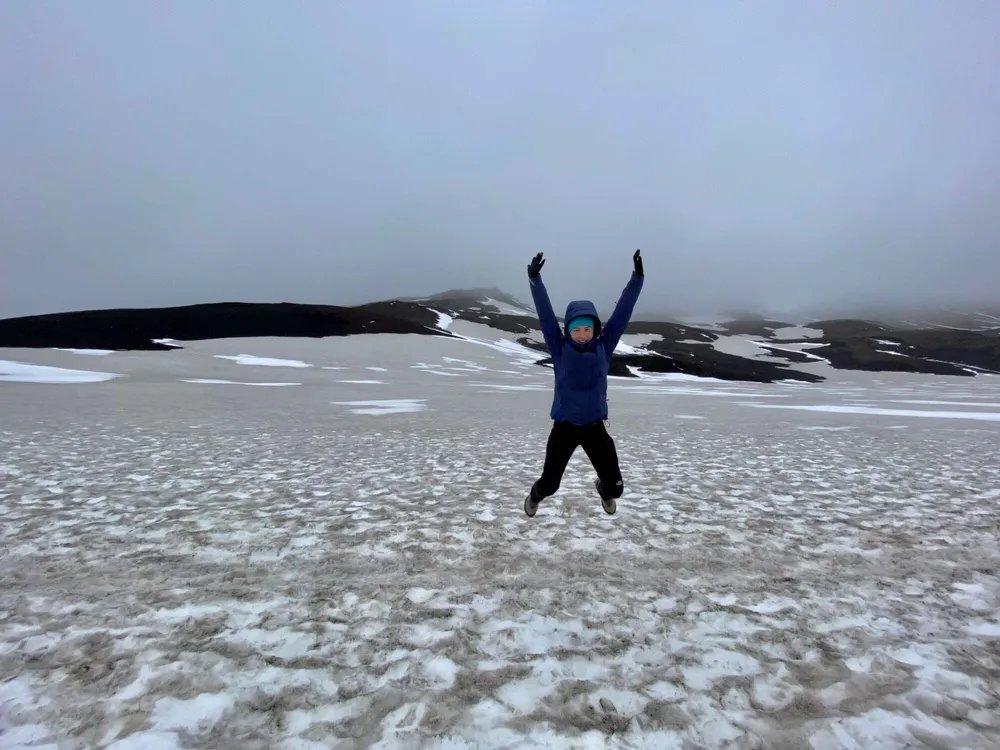 Layering is crucial and so is choosing the right type of layers. Depending on how cold the weather is, you can adjust these layers to fit your needs.
Base layer
Base layers can have long or short sleeves and can be synthetic or wool. Cotton should be avoided as it dries out slowly and will make you cold. If the weather is not extremely cold we might use synthetic t-shirts, like running ones, and if the weather is colder, we prefer using long-sleeved wool tops. As for bottoms, with the cold weather trekking pants that we have, we rarely needed to use base layer bottoms. Just like the top, we prefer wool bottoms:
Women
Men
Mid layer
The best mid-layers are fleece jackets. They are made of synthetic material, they are extremely light and dry out quickly. Fleece jackets will keep you warm without making you bulky. The items below are the items that we are currently using:
Women
Men
Insulation Layer
For polar expeditions, you might also want to have an insulation layer over your fleece. Although this is rarely the case for most hikes, our go-to option is a down vest: Patagonia Women's Down Sweater Vest, Patagonia Men's Down Sweater Vest. Depending on the level of activity you are doing, you should always consider that physical effort will raise your body's temperature.
We never used an insulation layer during a hike itself, but we did carry and use one when we wanted to take a break or spend some time in one place on the hike. For example, when hiking to the Fagradalsfjall volcano in Iceland, we wanted to spend a couple of hours looking at the eruption before hiking back to our car. We used to carry an insulation layer in our backpacks and gear up when we got there.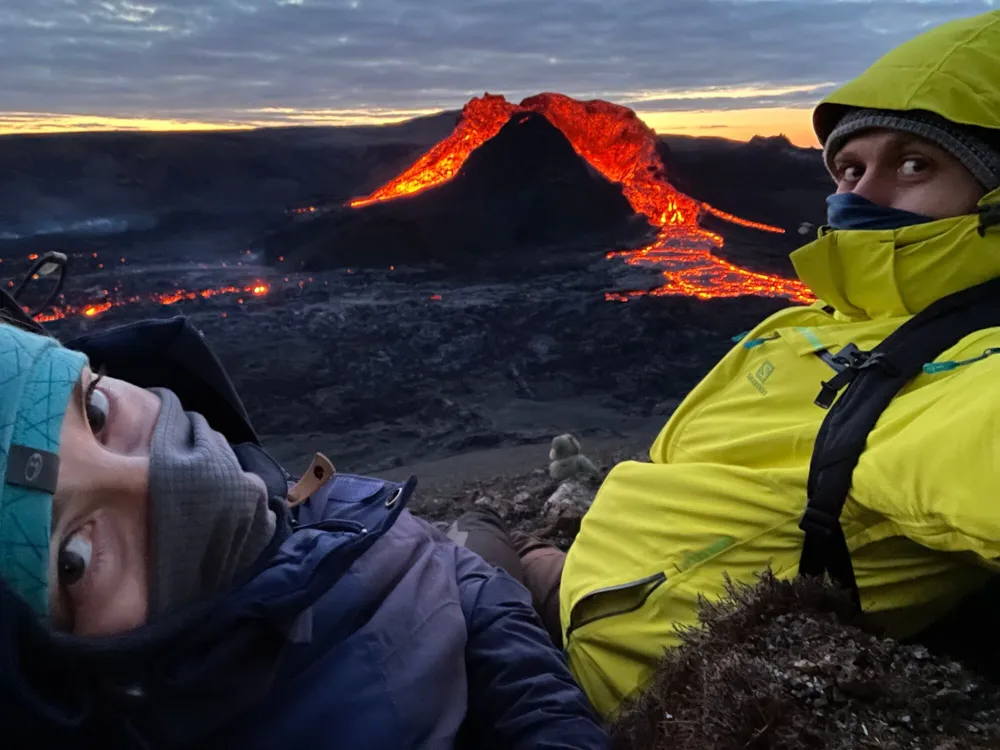 Outer Layer
The outer layer should be wind and waterproof, and also provide some light insulation. For us, the best top outer layer option is a ski/snowboard/trekking jacket: Salomon Icerocket Women and Salomon Icerocket Men. These jackets are specially designed for movement and physical activity. They have light insulation, don't weigh much, and don't make you feel bulky. Most of them also have a zipper under their arms to help regulate your body temperature if needed.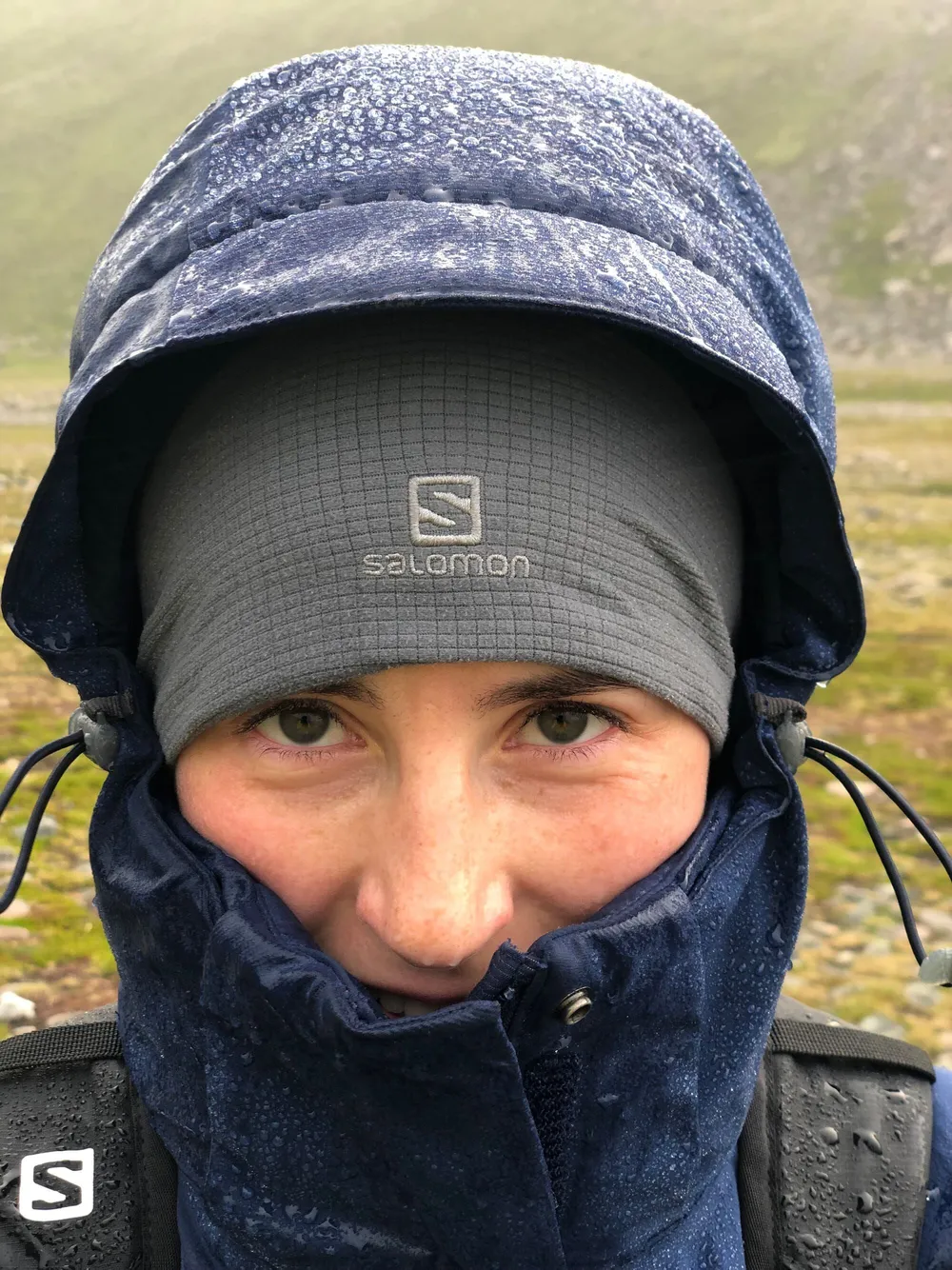 Our favorite cold-weather trekking pants are the Keb trousers from Fjallraven: Fjallraven Keb Trousers Women and Fjallraven Keb Trousers Men. They are extremely comfortable and practical.
Shell
No matter what or how many layers you have on you, you should always be prepared with an extra mid-layer or insulation layer is case you feel cold, a base layer in case you sweat a lot a need to change when you find some shelter, and a light waterproof outer layer like a shell jacket if rain gets too intense.
The waterproofness of the Keb trousers from Fjallraven is adaptable with Greenland Wax. If you expect a lot of rain, you might also want to have some shell pants to take over your trekking pants.
Boots
We purchased the hiking boots that we are using exactly when we needed them: I bought them in Norway at the North Cape before the hike to Knivskjellodden, and Stefan in Iceland, before going to Askja in the Highlands of Iceland. I use La Sportiva TX4 MID GTX and Stefan uses Asolo Falcon.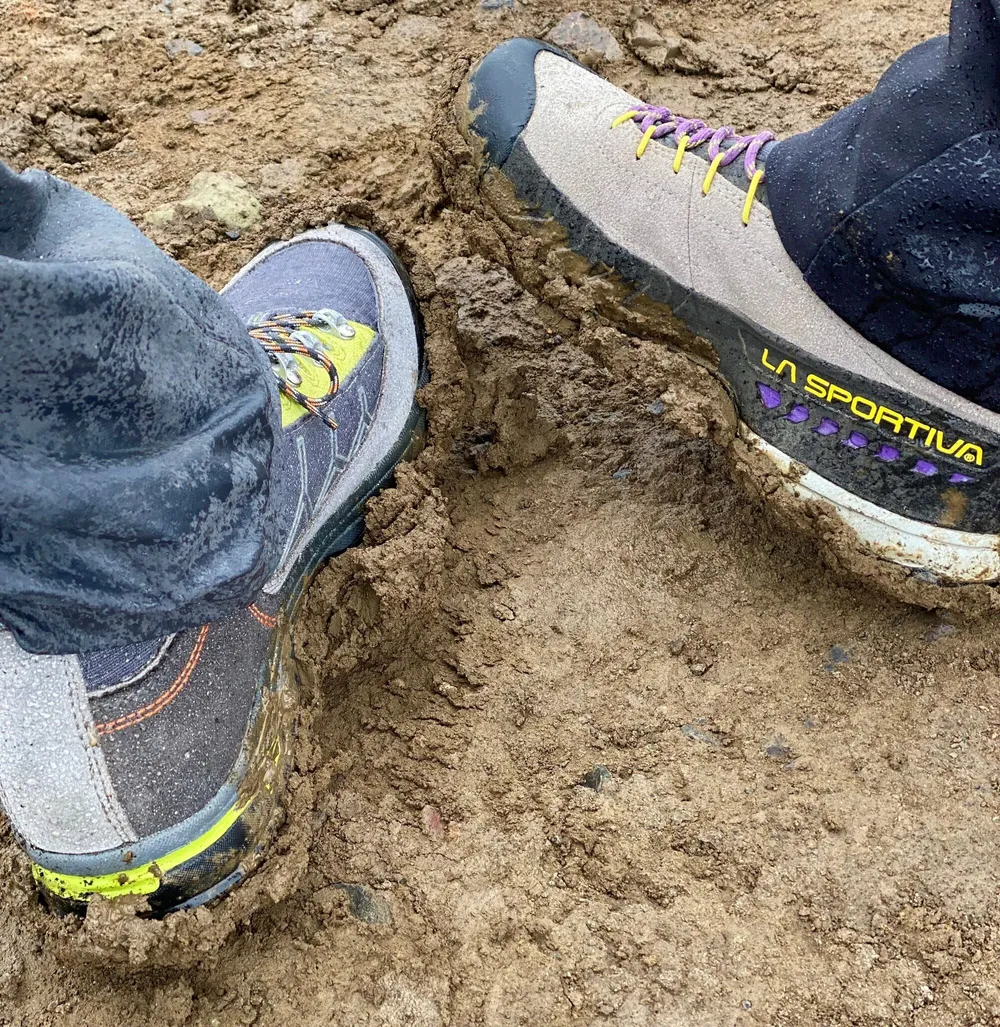 Both our boots use a Gore-tex membrane, and I have to admit that I am a big fan of Gore-tex. They warrant their products for lifetime (lifetime of the product that is), and they hold up to their promise. Gore-tex exchanged my boots with a new pair when they started leaking water. However, this is a story for another day, right now we're talking cold weather hiking gear.
Head and Neck
Some people prefer head covers, I mostly prefer neck gaiters. Neck gaiters are so easy to repurpose, and use as you see fit. Neck gaiters are extremely useful and important. Besides the usual neck and head cover, you can also use them to protect your face from the cold or the wind. Here are some of the neck gaiters that we are using: Fjallraven Bergtagen Neck Gaiter, Salomon Warm Tube, Icebreaker Merino Wool Winter Neck, and we always have at least 2 of them per person. Stefan also uses a wool headcover from Fjallraven.
Gloves
Most of the time we use thin gloves and they are doing a great job at keeping our hands warm. However, on colder days some heavier gloves are always welcomed. The best choice for heavy gloves is the ski/snowboard ones: Salomon Force Dry W, and Salomon Men's Standard Propeller Dry Glove.
Socks
The socks you use are mainly based on your preferences. The only recommendation that we have is to opt for socks that are quickidrying to prevent your feet from staying wet and getting cold. Like with other clothing, this means technical, synthetic materials or wool. Wool is our go-to option because it naturally prevents bad odors.
Just like other wool clothing items, you can choose from light to heavy cushion socks depending on your preferences. What we recommend is to make sure that your socks are higher than your boots.
Food and Drinks
Never go hiking in cold weather without an insulated bottle. Your water will get cold extremely fast if you drink cold water. Use insulated bottles for hot water, and also to keep your water at room temperature if don't want to drink hot water.
Hot water is also good to make yourself a hot meal. During cold weather, we prefer taking with us dehydrated food. Our favorite dehydrated food brand is the Norwegian Real Turmat. Another way to enjoy a hot meal is to use an insulated lunch box or insulated food jar with some home-cooked meal in it. If you take your own meal instead of a dehydrated one, make sure it has enough calories and proteins. Your body will use a lot of calories to keep you warm and your muscles need proteins to sustain the effort.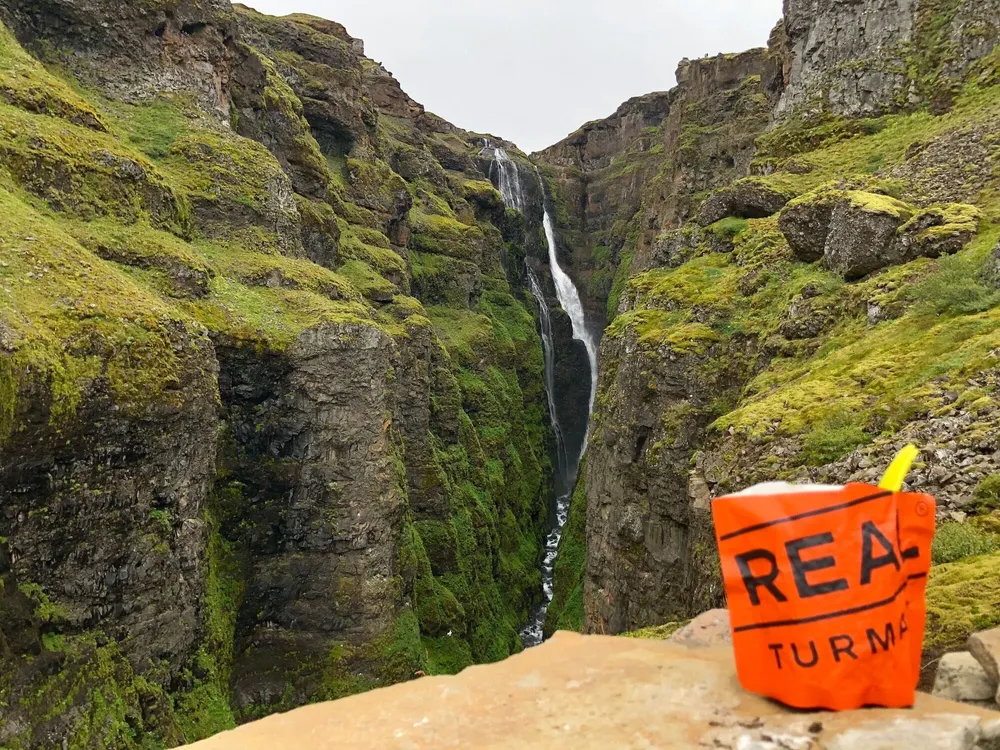 First Aid Kit
You should always carry a first aid kit with you, on any hike, no matter the weather conditions. We are mentioning the first aid kit in this article because we can't stress enough how important this is. We have an article dedicated especially to first aid kits that we recommend you to check out.
Essentials for Polar Expeditions
If you are looking for the essential gear for a polar expedition, then you might also want to check our other article about what to pack for an expedition in Antarctica.
Other Hiking Information
This article is dedicated to hiking in cold weather. If you are interested in other useful resources regarding hiking, please try out our articles in the hiking category.
We did hikes all over the world, and we are constantly writing about them. Browse through the hikes we did and choose your next destination. Don't forget to subscribe if you wish to receive them by email.
---
Have fun and take care of nature!