We're planning an 8 days road trip in Southern England, and a 7 days city break in London, United Kingdom. Here are our planning notes for these itineraries.
In our 2 weeks in England we want to spend our time exploring the city life, but also the nature. In the first part of our trip we are planning a road trip, and then a city break in London before leaving the United Kingdom. Here are our day by day notes:
Southern England 8 Days Road Trip Itinerary
This is how our road trip plan looks like. We estimate to drive somewhere between 1000km (650 miles) and 1500km (900 miles), and to have a lot of fun!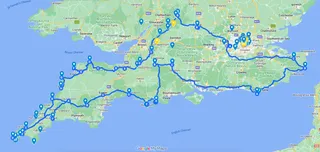 We also want to share with you our Google Map for this road trip itinerary. Although this map includes most attractions for London as well, we suggest you to use for London the map below which is more complete and specially designed for a 7 days itinerary in London.
Day 1 - Arrival
Driving distance: 80km (50 miles). Total driving time: 1 hour 10 minutes
arrival in London, Heathrow
pick up the rented car
go to accommodation in Oxford
Sleep in Oxford.
Day 2 - Oxford
Spend the entire day in Oxford, explore the entire area and feel the vibe, go inside churches and other buildings. Don't miss:
Bridge of Sighs
Bodleian Library
Radcliffe Camera
Sleep in Oxford.
Day 3
Driving distance: 200km (125 miles). Total driving time: 3 hours 40 minutes - without the Lonleat Hedge Maze and Stonehenge
visit Cotswolds: there are multiple villages, but we don't have to check them all, we could spend more time only in the prettiest villages (marked with yellow on the map). Bibury is one of the most crowded villages, buses start rolling in from about 10 am.
Bath: 2h hours should be a decent visit. We might have lunch here as well. Check out the free audio guide.
today or in Day 7: go to Lonleat Hedge Maze, and Stonehenge
Wells + Glastonbury
Sleep in Glastonbury or Bridgwater.
Day 4
Driving distance: 220km (135 miles). Total driving time: 4 hours 40 minutes
Drive through Quantock Hills to Exmoor National Park, stop at Valley of the Rocks for the views and a walk
Drive to Barnstaple - take a lunch box and go on Croyde Bay to relax
Drive to Hartland Quay for the views
Drive to Bude and Crooklets Beach for the sunset
Sleep around Launceston.
Day 5
Driving distance and time: as much as we want in Cornwall
Launceston to Launceston day trip - drive as much as we like, visit only what we want. Land's End seem overrated, no need to drive so far. There are multiple options for stops on this day:
Tintagel castle - king Arthur
Bedruthan Steps - scenic spot
Holywell Bay
Perranporth Beach
Gwithian Beach
Land's End
Nanjizal Beach
The Minack Theatre - outdoor thatre
Porthcurno Beach
Mousehole for lunch
drive to Eden Project - closes at 6PM (visit duration should be around 2h) - perhaps is better to visit in the morning, but we have to buy year pass instead of a one time entrance ticket which I don't morally like.
Lizard Point or Pendennis Castle if we wish
Sleep around Launceston.
Day 6
Driving distance: 200km (125 miles). Total driving time: 4 hours
drive through Tamar Valley to Dartmoor National Park (free-roaming ponies can be seen here) - walk in the forest
stop in Exter for lunch
drive to Charmouth Beach walk on the coast, look for fossils
Optional: Crab House Café to eat and walks in West Dorset Heritage Coast
Drive to West Lulworth and walk to Durdle Door, Lulworth steps, Lulworth Cove - if possible spend time here for golden hour and sunset.
Sleep in West Lulworth.
Day 7
Driving distance: 300km (185 miles). Total driving time: 4 hours 30 minutes (with Stonehenge included)
Go to Lonleat Hedge Maze and Stonehenge if not visited yet
Seven Sisters
Sleep near Seven Sisters.
Day 8
Driving distance: 300km (185 miles). Total driving time: 4 hours 30 minutes
from Seven Sisters to white Cliffs of Dover
Canterbury
Drive to Heathrow Airport to drop the rented car
If time allows, check out Hampton Court Maze, and Windsor Castle
Get to London
Sleep in London.
7 Days Itinerary in London
Day 2, day 3, day 4 can be connected but it is hard to tell the duration. In case part of them will merge, we might be able to add the Harry Potter Warner Bros experience to the itinerary. Buy ticket the day before. However, we shouldn't try to merge them. Go easy!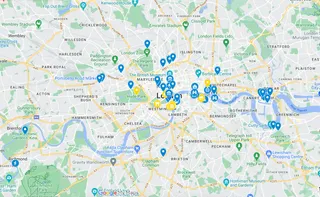 You can check out in more detail the map above using our Google Map. Here you will find the all the pins grouped by days.
Experiences worth checking out on this itinerary:
Phantom at the opera musical - buy ticket in advance
Eat at Borough Market
Picnic in Hyde Park
Harry Potter
London Dungeon - buy ticket
Buckingham Palace - watch the guard change 11AM - might be very crowded
Euston Tubes - tour takes 75 minutes - Buy Tickets - not sure in which day we can include this.
Day 0
This is the arrival day in London, from our road trip in the southern part of England. We will probably not have too much time left in this day other than having a dinner and a walk.
Day 1 - City of London
Tower of London - Buy Ticket
Tower Bridge
the Shard
Borough Market - lunch
Shakespeare's Globe
St Paul's Cathedral
Leadenhall Market
Tate Modern - free art museum, either love or hate
Sky Garden - book in advance for diner and view
Day 2 - Soho & Convent Garden
British museum
Covent Garden
Cecil Court
Chinatown
Piccadilly Circus
National Gallery - free
Trafalgar Square
His Majesty's Theatre - Buy tickets Phantom at the opera
Day 3 - Westminister & Waterloo South Bank
Westminster Abbey
Churchill War Rooms - Buy Tickets
Big Ben - from Churchill War Rooms walk towards Westminster Bridge along Great George Street/A302 - multiple red phone booths to photograph with the big ben
Palace of Westminster - Walk across Westminster Bridge
London Eye
London Dungeon - Buy Tickets
Queen's Walk - for golden hour / evening walk on the river
Day 4 - Buckingham Palace, Hyde Park, Richmond
Buckingham Palace - visit or watch the guard change
grab a lunch box, go for a walk and picninc in Hyde Park
go to Richmond for the river side walk and Kew gardens
optionals: Notting Hill, Portobello Road Market, and Little Venice
Day 5 - Cambridge
Take the train from King's Cross station to Cambridge
Explore Cambridge, there are some pins on the map for guidance
Go punting
Day 6 - Canary Wharf & Greenwich
Have fun in the Canary Wharf:
Traffic Light Tree
Adams Place Bridge
Crossrail Place Roof Garden
Free Outdoor Public Art Trail at Canary Wharf
One Canada Square
Jubilee Park
Fairgame
'Memories of a Dead Poet': Immersive Art Experience
Harbour Quay Gardens
Check out the Prime Greenwich Meridian Line
Day 7 - Departure
Enjoy a nice English breakfast and catch the flight.
Related Travel Articles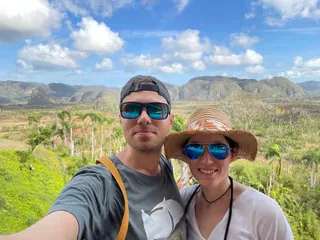 Writing free, independent and personal travel content since 2021. If you appreciate what we do, then you can return the favor by using the affiliate links below: