Beauty is subjective, so we're going to show you our real photos of 40 waterfalls we discovered in Iceland and let you choose your own favorite.
If you're planning a trip to Iceland, prepare to be amazed by the waterfalls. There are so many of them and they are so diverse that every single one is unique and will make you wonder if it's still possible to see a different or more spectacular one.
You'll find all kinds of waterfalls, from popular to hidden gems, from touristy to unnamed, from small to big, and from peaceful, that make you feel like you found heaven, to so strong that will remind you how small you are on this planet.
It's hard to find some criteria to rank the waterfalls in Iceland, so we're listing them in no particular order. You can also find all of them on the map below where we put in yellow those that we personally believe you should not miss. Though feel free to choose which ones you like the most and if you're passing close by one of them, make a stop. I'm sure you won't be disappointed.
Tips: Keep in mind that visiting a waterfall might get you wet depending on how tall the waterfall is, how the wind blows and how close you get to it. You should always be prepared with waterproof clothes.
Glymur
Close to Reykjavik, you will find the second tallest waterfall in Iceland (it was long known as the tallest until another waterfall appeared from under a glacier). Glymur is reachable by a moderate hike of around 7 km out and back. It starts with an easy walk that gets you to the bottom of the waterfall. From there you cross the river on a log with a cable to hold on to, and then you start hiking up on rugged terrain that requires sturdy shoes.
Along the way to the top, you will have multiple viewpoints where you can enjoy your packed lunch and admire the waterfall. Glymur waterfall is fairly popular and if the weather is nice, the trail might be quite crowded in the afternoon.
The highest point of the trail is right above the waterfall itself. Take a break, refill your water bottles and prepare for your return hike. For this, you have two options: the way you came up or cross the river and make a loop back to the parking lot. By cross the river I mean, take your shoes off and your feet wet. We didn't know about the river crossing, and we were not prepared with some quick dry towels to dry our feet on the other side (you can't stay wet in Iceland), so we got back the same way. If you attempt to do the river crossing bear in mind that the water temperature is very low even in summer.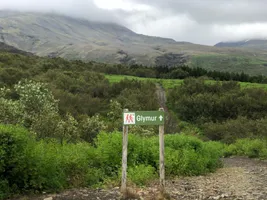 Skogafoss
On road 1, from Reykjavik to Vik, there is Skogafoss. It's impressive, powerful, big and if there is sun, there is a rainbow. You can go close to it (prepare to get wet) and feel the full force of the waterfall or take the stairs to see the river before it forms the waterfall. Once up, the trail continues along the river all the way to Þórsmörk. The hike is called Fimmvorduhals and it passes by 26 waterfalls that we will not cover in this article now because we haven't done the hike yet.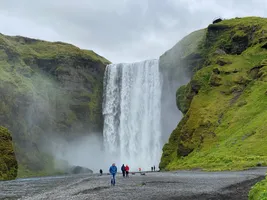 Kvernufoss
Very close to Skogafoss, you can find Kvernufoss. It is a less known and less touristy waterfall that you can walk behind and enjoy. For us, Kvernufoss is like a hidden gem of the Icelandic waterfalls. It is so close to the ring road (20 minutes walk from the parking), and yet so hidden away from the crowds. Just three people were leaving the waterfall sight when we arrived and nobody came for 20 minutes while we've been at the waterfall. It was indeed July 2020, during the pandemic, when few tourists roamed Iceland, but compared to Skogafoss or Seljalandsfoss the site was empty.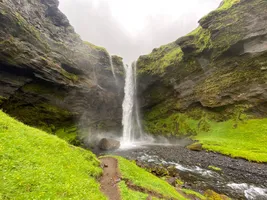 Haifoss and Granni Waterfalls
On the golden circle, Haifoss and Granni waterfalls are a must-see. We've been there twice, once in summer (July) and another time in autumn (October). The first time the weather was rainy, foggy, and windy, but in October we had blue sky so we hiked all the way down the canyon. Both times, it has been an outstanding experience and we would certainly stop by again if we were close to it. Haifoss and Granni are some of our favorite waterfalls in Iceland, and hiking down the canyon offers impressive scenery. The main photo we used for this article is also with these two waterfalls.
The hike is 4.5km long out and back, and it took us a bit under 2 hours, but this includes time spent to admire nature and take photos. Otherwise, the hike itself would take somewhere between 1 and 1.5 hours. If you hike down, some areas are a bit exposed to a landslide, so make sure you assess the risks before crossing them. Haifoss and Granni waterfalls can be reached from the Golden Circle. The road to the waterfall is a bit bumpy, but hey this is Iceland! It is highly advisable to have a 4x4 car, but the waterfalls can also be accessed with a regular car.
Fun fact: Granni in Icelandic means Neighbour, since Granni is the neighboring waterfall of Haifoss.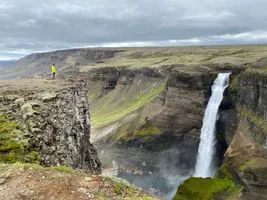 Gjáin
When we first saw this place in July, we called it "a corner of heaven". Gjáin is a magic place with many small waterfalls all around and lush vegetation. In a place like Iceland where most of the land is lava and vegetation is not abundant, Gjáin was like an oasis of green. If you visited Haifoss, you'll be astounded by the contrast between these two waterfalls. They are just 25 minutes by car from each other and I believe it is also possible to hike between them. We haven't done that, but I saw a path on the way down to Haifoss which seems to lead to Gjáin.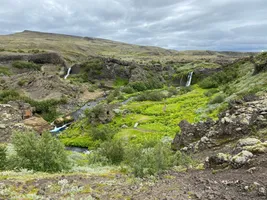 Gullfoss
Just at the end of the Golden Circle, after you pass Geysir, you will find one of the most dramatic waterfalls in Iceland. Gullfoss is a large waterfall, where the water drops down a stair-like landscape with sharp turns and then plunges into a deep canyon. It is a deep expression of the power of nature. Like you would expect, if there is sun, then we have a rainbow too, but in Iceland catching a rainbow is mostly for the lucky ones. Don't be upset if you don't have a rainbow, I guarantee that the waterfall's beauty will leave you astounded.
From the parking lot, you will have to go down a few tens of stairs. Then, you can either get close to the cascading water (full experience with getting wet included) or stay in the distance for a panoramic view. Gullfoss is a hit all year round, though, in the summer months, the green grass with small flowers in it is turning this waterfall into a unique scenic spot.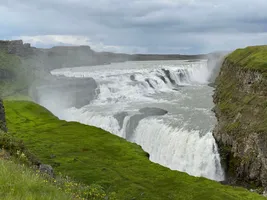 Brúarfoss, Hlauptungufoss and Miðfoss
The Golden Circle is full of unique places to see. Close to the world-famous tomato farm, you can stop and hike along the Brúará river that forms Burarfoss with an unforgettable sky blue color. During the walk you will pass by several smaller waterfalls called Hlauptungufoss and Miðfoss, Brúarfoss being the pearl of the crown. The hike is an easily walkable path of 7km that took us under 2 hours out and back, including time for photos. Although on the Golden Circle, we noticed that Brúarfoss is mostly a hidden gem with very few people going to it.
We used Google Maps to get there and it initially took us to the wrong parking spot, which is 2km away from the official parking. Make sure you are going in the right place by setting the navigation to the official parking, and not the waterfall.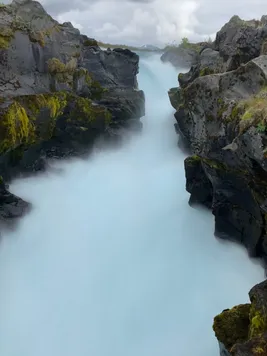 Seljalandsfoss
Perhaps one of the most famous waterfalls in Iceland, you can't miss Seljalandsfoss when you drive on Road 1 towards Vik. Seljalandsfoss is a huge free-fall waterfall and it is guaranteed to get you wet because you can walk behind it. Next to the waterfall, there is a huge paid parking (one of the few places in Iceland where you have to pay for parking). Being very accessible also makes it a very popular, and touristy spot, so expect large crowds. If you want to avoid large groups of people, it's best to go there early in the morning or very late in the evening during summer when you have almost 24 hours of daylight.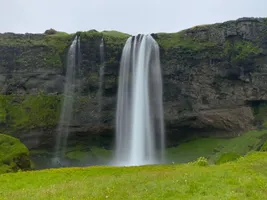 Gljufrabui Canyon Waterfall
Many people get to Seljalandsfoss and skip Gljufrabui which is just 500m away and it is a very unique waterfall that hides inside a canyon. We've been here twice, but the first time we haven't got to fully see the waterfall although we went to the canyon. It was so rainy and windy outside on that day of July that when we reached the canyon we couldn't stand anymore the strong water sprays coming from Gljufrabui that filled the entire canyon. It remained in the back of our minds, and the second time (in May) we were determined to see it even with the risk of getting soaked to the skin. The water flow that went out of the canyon was higher this time and you could barely step without soaking your feet in the water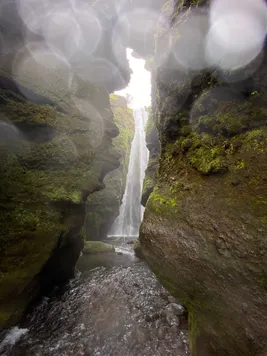 Svartifoss and Hundafoss
Close to the glacier lagoons of Vatnajökull in the south of Iceland, Svartifoss is a must-see. It is unique, impressive and you could stand and admire it for hours (if you don't freeze in the meantime). The water drops over a wall of basaltic lava columns that look like a huge chapel organ. The name of the waterfall, Svartifoss, literally translates Black Fall because of the dark lava columns behind the waterfall.
Svartifoss is located in Skaftafell, part of the Vatnajökull National Park in Iceland and you can reach it by a 45 mins one-way hike. After leaving the parking lot, follow the trail and you will also pass by another waterfall called Hundafoss. Then the trail splits in two. The trail on the right is a bit shorter and perhaps easier. After reaching the waterfall, you can return the same way or do the Svartifoss loop trail. There is nothing special to mention about the other part of the loop, just a different landscape than the one you went up, so why not? If you choose to go the other way down you can also walk up a few hundred meters to get an awesome panoramic view of the area with the glaciers in the background. Below is the map with the trail we did, it ended up being 4km long and took us 1.5 hours. All photos were taken in July.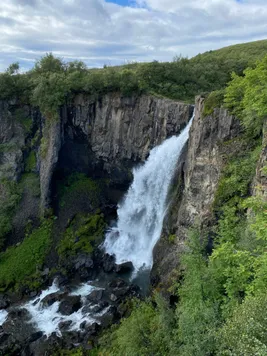 Goðafoss
As the name suggests, it translates in English as Waterfall of The Gods. It is located in the northern part of Iceland, along the main ring road. Goðafoss stands out by its unique blue color and 3 streams that fall in almost perfect symmetry. There are multiple viewing spots both on the west and east of the waterfall. You can easily spend well over an hour here going to the different viewpoints and admiring this scenic waterfall.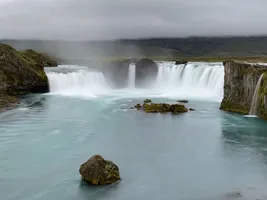 Aldeyjarfoss
If you're going to Goðafoss and you're a bit more adventurous, then Aldeyjarfoss is for you. On the same Skjálfandafljót river with Goðafoss, it is perhaps one of the most outstanding waterfalls that we've seen up to now. It does have something in common with Svartifoss, it falls over vertical, black basalt columns. In contrast with Svartifoss, at Aldeyjarfoss the columns are layered in a different manner, and the river continues through a canyon with basalt columns on the edges. Aldeyjarfoss drops inside an almost perfectly round basin, surrounded by black basaltic lava columns that create a dramatic landscape and that leaves most visitors astounded.
Aldeyjarfoss is located in the highlands, but don't get freaked out, just continue reading. The road to the waterfall starts right next to Goðafoss. It takes around 45 minutes one-way, on a bumpy and boring road, part of it on an F-road F26. This particular F-road has river crossings on it, but Aldeyjarfoss is before any of them, so you don't have to worry about that, a 4x4 car is highly recommended though. From the parking lot, there is a quick 10 minute walk to reach the waterfall.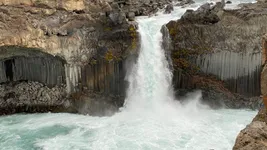 Dettifoss
Not so accessible as the waterfalls from the south of Iceland which are closer to Reykjavik, Dettifoss is a truly magnificent waterfall in the Northern part of Iceland. It is grand, imposing, and will make you feel small and powerless in front of the all-mighty Nature. You can see Dettifoss from both west and east. Both views are impressive and in October 2020 they were building a huge parking lot on the west side. It's also important to mention that the road 862 on the west side is paved, while the road 864 on the east is gravel.
The fall of the water is impressive and Dettifoss is mentioned in some sources as the second most powerful waterfall in Europe after the Rhine falls. Seeing both Rhine falls in Switzerland and Dettifoss in Iceland, we tend to like Dettifoss more because you are surrounded by nature, you can walk around freely and it has a greater water drop.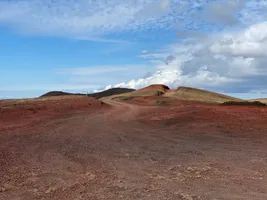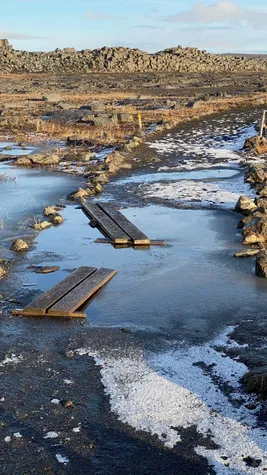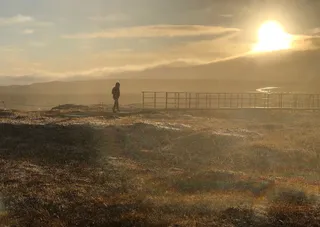 Selfoss Waterfall
Selfoss waterfall in the summer season ranks high in our top of Icelandic waterfalls. During this period, the Selfoss waterfall is rather a long waterfall, than a tall one, stretching on a wall roughly 100m long. Its length is what gives it its uniqueness, and adding to the fascinating scenery is the stunning surroundings with lightly colored rocks, black sand, and small ponds of water.
Selfoss is about 1.5km South of Dettifoss and you can walk to it both on the east and west side. If you're there in spring-summer, we'd recommend going on the east side and choose the west in the autumn-winter period. In the summer, Selfoss has multiple small falls and you can see them best from the east side. In winter, if you go west, you can actually walk inside the waterfall because all the small falls that are there in summer will be dry in winter or completely frozen.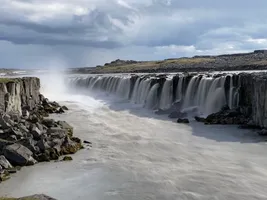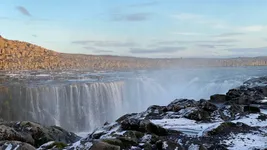 Hafragilsfoss
When we went to see Dettifoss, we've been before to Ásbyrgi and from there we drove South on road 864, the east side of Dettifoss. Hafragilsfoss is just a few km north of Dettifoss and you will have a panoramic view of the river flow. We just stopped by it and admired for a few minutes the bluish colors of the river after the fall.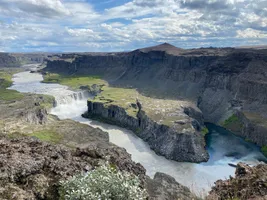 Öxarárfoss
Inside the Þingvellir National Park, Öxarárfoss is a scenic fall between the tectonic plates of North America and Eurasia. We recommend parking at Öxarárfoss P3 Parking Trailhead, and after a beautiful walk between the two tectonic plates lies a small viewing platform where you can watch the waterfall. Being less than one hour from Reykjavik, it's good to be there early in the morning to avoid large groups of people as this spot is a very popular, tourist place. Though you shouldn't skip it because it tells a lot about the geology of Iceland.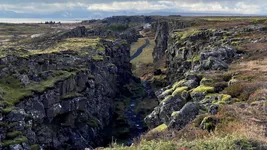 Hengifoss & Litlanesfoss
Probably one of the most difficult to reach waterfalls from Reykjavik, Hengifoss is in the east of Iceland, close to Egilsstaðir town. Once you get to the parking lot, you have quite a demanding hike to reach the waterfall as you have to go uphill a bit. On the way, you will also pass by Litlanesfoss where you can catch your breath before continuing the hike to the magnificent Hengifoss. The hike is 4.5km long out and back and it took us a bit under 1.5 hours.
Litlanesfoss is one of the only three waterfalls in Iceland where the water drops over black, high, and straight basalt columns, just like Svartifoss and Aldeyjarfoss. This geological feature is relatively rare in the world, and the columns at Litlanesfoss are some of the tallest in Iceland.
Hengifoss is the third highest waterfall in Iceland, with 128m, and it features multiple red layers of clay rich in iron which make it look like out of this world. Geologically speaking, each red line marks a different volcanic eruption that happened over the centuries. Although the red lines are visibly red, most social media images are highly edited making them an unreal red and creating false expectations for travelers. This waterfall is still impressive and a must-see if you are traveling to the east of Iceland, even if the red is not as red as you might have seen in some highly edited photos.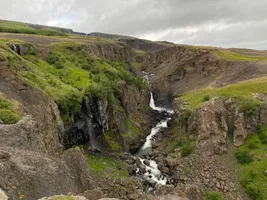 Helgufoss
Very close to Reykjavik, Helgufoss is a small, smooth, peaceful waterfall. It is absolutely worth going to it if you have a free morning or afternoon and would like to spend some time in nature. The walk to it from the parking lot is just around one kilometer and you go through beautiful grass and you'll hear only the birds and the wind. Once you get to Helgufoss, you could take a moment to sink in the views or go up to the place where the river starts cascading for a closer look. If you feel more adventurous, you should be careful because the pathway to go up is rough and slippery. The trail continues onward, but we don't where, we just went for the waterfall.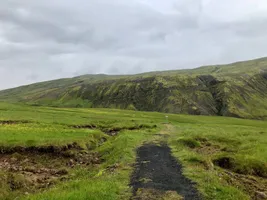 Dynjandi Waterfall
The Westfjords is one of the most remote parts of Iceland and few turists get here. If you're planning your trip in this area, then checkout the Dynjandi waterfall which is the largest waterfall in the region. You won't see just a waterfall, but 5 other waterfall, each with its own name that you pass by while walking up towards the biggest one. The other waterfalls are: Bæjarfoss, Hrísvaðsfoss, Göngumannafoss, Strompgljúfrafoss and Hæstahjallafoss.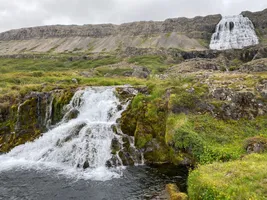 Barnafossar & Hraunfossar
We reached these two waterfalls on a very rainy day of July, after ten or more rainy days in a row. You can imagine that our morale was a bit low, but these waterfalls cheered us up quickly.
Hraunfossar is right next to the parking lot and it is made of so many small waterfalls that you can barely catch them in a single photo. For Barnafossar you have to walk a bit, and you will get to see a quick flow of water squeezed into a narrow, rocky canyon.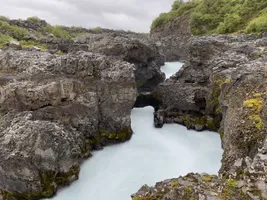 Skutafoss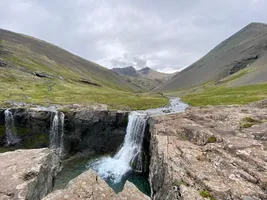 Folaldafoss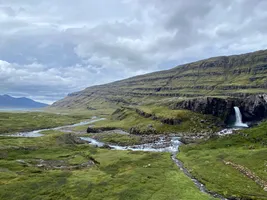 Nykurhylsfoss (Sveinsstekksfoss)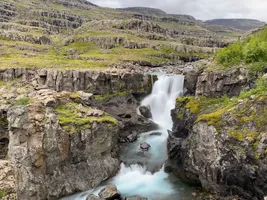 Hjalparfoss
This waterfall is on the Golden Circle, not far away from the Gjáin and Haifoss waterfalls. We didn't have Hjalparfoss on the map initially, but we saw a road sign with it and since we had time, why not explore randomly and enjoy the element of surprise.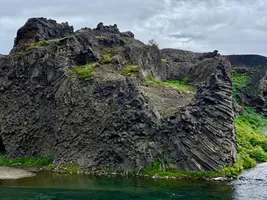 Kolugljúfur Waterfall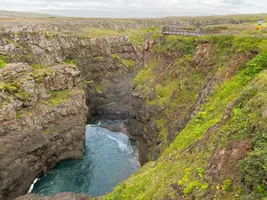 Rjúkandafoss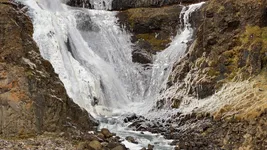 Unnamed Waterfall
We saw it on our way from Egilstadir to Hengifoss and decided to stop by. It was a bit awkward to reach it as there was no clear pathway and we had to cross a small fence. We walk around 1km to reach it and it took us half an hour to get to it and then back to the car.
The waterfall is very impressive because it is stretched over a hill in multiple falls. One branch of the waterfall is larger, with a bigger water flow which makes it stand out.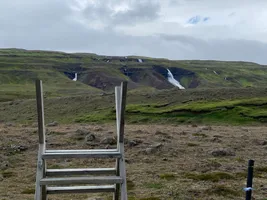 Drífandii Waterfall
There's nothing very special about this waterfall, but we've been seeing it for multiple days in a row from our accommodation so we have a very clear picture of it in our heads. The water that drops in this waterfall is so thin and the drop is so tall that on a windy day the water is dispersed in the air and does not reach the ground.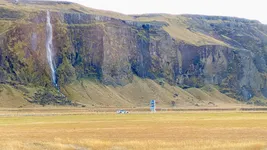 Stjórnarfoss
I don't remember how we ended up going to this waterfall. We didn't have it on our map. I guess we really like randomly exploring and looking for the element of surprise.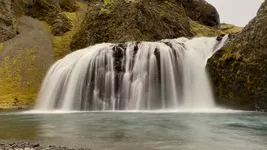 Unamed Ocean Waterfall
We spotted this waterfall from the while driving in the northeast of Iceland. We couldn't find its name or the name of the river that flows to it. The waterfall itself is not that spectacular, but it might be the only waterfall that we've seen dropping directly in the ocean.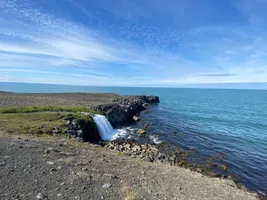 ---
Oh, so many waterfalls! We counted 40 so far and I am almost sure that we forgot at least one. There are sooo many waterfalls in Iceland.
It takes a lot of planning for the perfect trip, but packing can sometimes be frustrating. Either packing too many things or packing too few can both ruin a bit of the fun. We've perfected our packing checklist over years and we believe it will be of good use for you too. We also have some travel packing tips & tricks to share to save you the hustle we once had.
Happy waterfall chasing!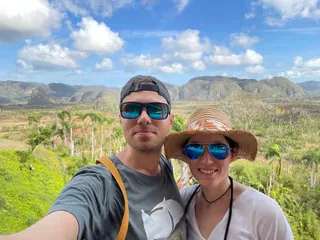 Writing free, independent and personal travel content since 2021. If you appreciate what we do, then you can return the favor by using the affiliate links below: