The Northern Lights (a.k.a. Aurora Borealis) is such an amazing experience, and I am sure that you don't want to let the cold weather ruin it.
Disclosure: The products that we mention on this page are products that we use ourselves. We earn a commission from every purchase made from the links on this page at no extra cost to you. In case you need to buy anything for your next travel please use the links in this article to help us pay the costs for the Travelfoss website. Thank you!
We've been sharing a lot of tips and tricks about how to chase the Northern Lights (a.k.a Aurora Borealis), and how to photo shoot the lights with your iPhone. We forgot to mention that the most importan skill that you need for this experience is to stay warm! Are you prepared? If not, don't worry, we're going to share a list of essential clothing items and accessories to keep yo warm.
Clothing
Above everything all, clothing is the most important. It might sound weird, but the best insulator is air. Getting as much air as possible trapped between your skin and the cold weather outside is you best bet for staying warm. Yes, you might have guessed: that means giving up slim clothes, and jeans.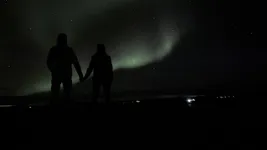 Our favorite way to gear up is layering. It offers more flexibility and adjustability for colder or warmer days. Technically speaking, it is also the best way to take advantage of the all benefits that each layer brings.
Base Layer
The base layer is the first layer of clothes that you will take directly on your body. It is sometimes also called underwear (although it does not refer to your bras, panties, or boxers). The base layer needs to be breathable, keep you warm, and wick moisture away quickly to keep you dry.
The best materials for this layer are merino wool and synthetic technical ones like Capilene from Patagonia. We personally prefer merino wool for the base layer. Synthetic materials tend to get a bad smell quickly and to create more static electricity.
People feel cold differently. Also, the amount of physical effort that you are doing will have a huge impact on how warm or cold you are feeling. Since we are talking about chasing the Northern Lights, our experience involves minimal physical effort. Under normal circumstances, we opt for lightweight layers, but for the Northern Lights, we both went for midweight merino base layers.
You might not be familiar with what lightweight or midweight merino base layer means, so let me shed some light. The weight is measured as the fabric's weight in grams per square meter. The bigger the weight number, the thicker the material, and the warmer you will be. The graph below illustrates the different types of weight for wool products.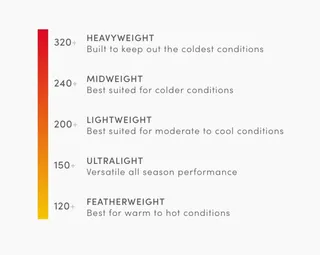 Based on this graph, our go-to number for chasing the Northern Lights is at least 240. The weight is highly dependend on your location. Some places are cold, but other are even colder. If you are chasing the Northern Lights at -10 Celsius (14 Fahrenheit) or lower, then go for heavyweight (320+).
The following are the base layers that we used while chasing the Aurora Borealis:
Women
Men
Mid Layer
The mid-layer is worn over your base layer. It adds an extra barrier against cold without making you too bulky. It should be smooth on the outside for easy layering. Again, you can opt for a heavyweight, mid-weight, or a lightweight fleece.
Personally, I prefer wearing 2 lightweight fleece layers under normal circumstances, rather than a heavy one. That's because it offeres me more flexibility on the thickness of my mid layer, and also because I am usually wearing light or maybe mid-weight fleeces and I don't want to spend extra money on something I'll be wearing just once. Keep in mind that I am a person that doesn't get cold too quickly, so you might want to get a thicker mid layer than I am.
Like base layers, the available materials are wool or synthetic ones. For this layer, we prefer synthetic materials because they are extra light and quick-drying.
There are mid-layers for both top and bottom. The fleece pants can be either long, capri, or shorter. We personnaly haven't used a bottom mid layer while chasing the Northern Lights, but the temperature outside never dropped to -10 Celsius (14 Fahrenheit) in our case.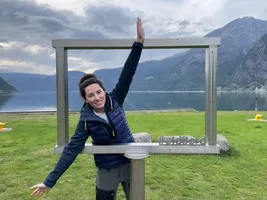 Although, not chasing the Northern Ligths in the photos above, I wanted to show you some of our mid and insulation layers. As you can image, in cold weather, these layers are under our jackets and you can't see them while we're chasing the lights. In the photos you can see my Fjallraven Övik Fleece Hoodie, and my Patagonia insulation layer. Stefan is wearing the Fjallraven Abisko Trail Fleece, and the Fjallraven Expedition X-Latt Vest. All of these items are mentioned below.
Here are our go-to options when it comes to mid-layers:
Women
Men
Stylish Mid Layer
If you want to be more stylish, and perhaps go out for diner before chasing the lights, then you can opt for some wool sweaters for your mid layer. Our favorites are Fjällräven Övik Knit Sweater for women, and Fjällräven Lada Round Neck Sweater for men.
Insulation Layer
The insulation layer is best at keeping an extra layer of air, the best insulator, as we already explained at the beginning of this article. Of course, there are thinner, and thicker layers of insulation, as well as long sleeved or vests.
For extra movement capabilities, we personally prefer vests:
Women
Men
Outer Layer
The outer layer is extremely important because it is your main shield against the cold environment. It is recommended for it to be windproof because wind will make a cold temprature feel even colder, and you don't want that cold air to pass through your outer layer.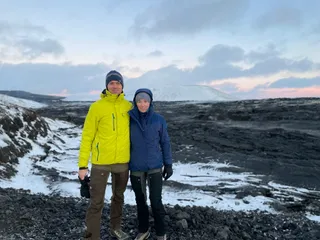 If you leave in an are where there's snow in the winter, then you might already have a good outer layer. Otherwise, you can opt for a ski/snowboard/trekking jacket because that will guarantee you a good shield form the elements. We have Salomon Icerocket Women and Salomon Icerocket Men. However, these jackets are specially designed for movement and physical activity. Therefore, they have light insulation which might not be enough while standing still. That's why we opted for our other jackets with thicker down insulation: Salomon ICETOWN JACKET Women, and a similar jacket for men, which unfortunately is not longer on Amazon to share with you.
Our favorite cold-weather outdoor pants are the Keb trousers from Fjallraven: Fjallraven Keb Trousers Women and Fjallraven Keb Trousers Men. They are extremely comfortable and practical. However, if the weather gets too cold, I would go without hesitation for a pair of insulated ski/snowboard pants. I personally have a pair of Salomon snowboard insulated pants, but if you have your own ski/snowboard pants, there's really no reason to buy anything else.
Head and Neck
If it keeps you warm, what you wear on your head is not that important. You just need to make sure cover your head, ears, and forehead. For windproofing, just drag your jacket's hood over you head. Stefan usually wear a wool headcover from Fjallraven, and I bought my favorite head cover from a random store.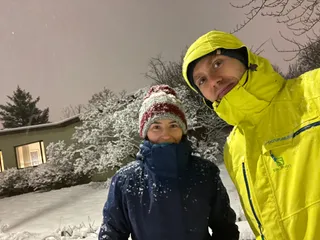 To keep your neck warm we recommend neck gaiters more than scarfs or other fashionable items. Besides keeping your neck warm, you can also use the neck gaiter to protect your face from cold or wind. Here are some of the neck gaiters that we are using: Fjallraven Bergtagen Neck Gaiter, Salomon Warm Tube, Icebreaker Merino Wool Winter Neck.
Gloves
Gloves are a tough choice beacuse you want to photo shoot the Northern Lights. Although some thick gloves will offer you the most warmth, you will need to take them down for every photo, and your hands will get cold. That's why we would recommend some thin gloves with touch screen firendly fingers. If you're not the one taking photos of the northern lights, then you could go for heavier gloves. The ones that we use are the ski/snowboard ones: Salomon Force Dry W, and Salomon Men's Standard Propeller Dry Glove.
Footwear
Footwear sometimes gets neglected, but when chasing the Northern Lights you really want to stay warm.
Boots
Sneakers are a big no no. You will get cold starting from your ankles. You need something to keep your ankles warm as well. Your boots should also be waterproof because getting wet is the perfect recipe for cold feet. You also need to be able to take a pair of thick socks in them for insulation and warmth, so slim boots might look nice, but this is not the place for them. Last but not least, you need good grip because you might be walking on snow or ice.
We've been using our cold weather hiking boots when chasing the aurora because we are sure that these boots check all the requirements mentioned above. I use La Sportiva TX4 MID GTX and Stefan currently uses the same men's model La Sportiva Mens TX4 Mid GTX. Stefan Used to have Asolo Falcon, but the outer sole broke. I've been using my La Sportiva boots before Stefan got the pair of Asolo, and my boots and currently in a very good shape, although his got worn down. La Sportiva boots are definetely more durable and of higher quality.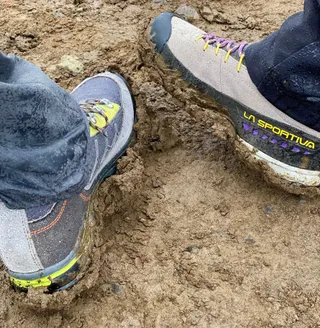 Socks
Remeber that one requirement for choosing your boots is to be able to fit some good, warm socks in them? Our go to socks material is again merino wool: Icebreaker Hike+ Heavy Crew Sock.
Hot Drinks and Food
If you read our other articles about how to chase the northern lights (aurora borealis), then you should know by now that the lights are not always there on the sky, and that you have to wait for them. If you're on a tour, then they might offer you some hot choclate to keep you warm. If you're on your own like we were, then you need to take some hot drinks with you. Never go chasing the lights without an insulated bottle with hot tea to keep give your body a boost of warmth when needed.
If you plan to chase the lights for several hours and know you will get hungry, you can take with you some snacks, or even better some hot food. For this we prefer taking with us dehydrated food. Our favorite dehydrated food brand is the Norwegian Real Turmat. Another way to enjoy a hot meal is to use an insulated lunch box or insulated food jar with some home-cooked meal in it.
---
Still not convinced that you will be able to stay warm? Then add to your gear some hand and foot warmers: Hand Warmers, Foot Warmers.
To increase your chances of spotting the northern lights, don't forget to check out our other articles with tips and tricks about how to chase the lights, mistakes to avoid, and the most common myths you will hear:

We also have an extensive tutorial about how to photo shoot the Northern Lights with your iPhone:

Good luck chasing the lights, and stay warm!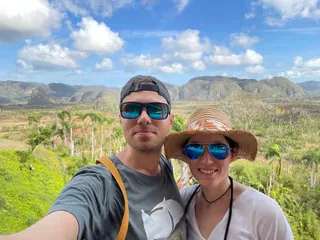 Writing free, independent and personal travel content since 2021. If you appreciate what we do, then you can return the favor by using the affiliate links below: