You need money everywhere, but in Cuba you have to learn how you can use your money, your credit cards, and how currency exchange works.
Money in Cuba is a complicated and ever-changing topic. The country went from a dual currency to a single currency, and changed the conversion rate from 25 to 120 CUP for 1 USD over night. Add to that limited access to international banking services, and you get the perfect recipe for a complicated money management situation. Nevertheless, we've been to Cuba in 2023, and know all the recent updates about this delicate and important topic.
Currencies & How to Exchange Money
Local Currency
The Cuban Peso CUP is currently the only real currency that Cuba has. In the past, there was also a currency called Cuban convertible peso CUC, but that no longer exists. CUP is the one and only local currency that is accepted everywhere.
Cuba now has a new, virtual currency called MLM. Cubanos can buy MLM by depositing foreign currency at the national bank. MLM is only given on special cuban cards issued for locals, and it is used to purchase imported goods from special stores in Cuba. While locals can buy MLM with foreign currencies, it is not possible for cubanos to officially buy any foreign currency. In other words, even if 1 USD or 1 EUR can be exchanged for CUP at the official rate, buying USD or EUR with CUP is impossible, unless you get it from tourists.The only way for locals to obtain foreign currency is directly from tourists.
I believe that MLM is one of the reasons why there's a black market for foreign currencies in Cuba. People that do not work in the tourism industry have no way of acquiring foreign currencies, and MLM respectively, that can be later used to purchase imported goods.
Foreign Currencies
Some places also accept payments in USD or EUR cash, but be wary of the exchange rates. 1 EUR is considered the same as 1 USD, although on the international market 1 EUR is usually more than 1 USD. If you're from Europe, consider buying some USD before coming to Cuba. However, Cuba has a history for blocking cash deposits in USD, and having EUR as a backup is advisable.
Other major foreign currencies can also be exchanged in Cuba, however we haven't seen them traded on the market to pay for food or other services. Exchanging such currencies to USD or EUR is the safest bet.
Exchanging Money
Official exchange offices are the recommended way to exchange money in order to avoid any scams or counterfeit currency. The official exchange rate in 120 CUP for 1 USD or 1 EUR.
The exchange rate on the black market differs from one region to another:
In Viñales the rate is around 160 CUP for 1 USD / EUR
In Trinidad the rate is around 185 CUP for 1 USD / EUR
In Havana the rate is around 170 CUP for 1 USD / EUR
Exchanging money on the black market is illegal, but frequent. You will see people on the streets with paperboards telling you the exchange rate they are willing to give you. Restaurants usually accept foreign currency but they will give you the change in CUP at whatever exchange rate they want. Restaurants will NEVER give you change in the same currency you are paying in.
Should you exchange money on the black market? That is totally up to you. If you are willing to take in some risk, then the difference can be quite significant. However, we would suggest arranging any exchange with your host or a guide to minimise the risk of any types of scams. To minimize risks, it is always a good idea to not change large amounts of money at once.
Note: Make the math and make sure you don't end up with too much CUP at the end of your trip. It might be difficult to convert it back in Cuba (since people want foreign currency more than local currency), and it is impossible to exchange CUP once you're outside Cuba.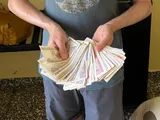 Note: 100 USD will bring you a huge pile of CUP bills. They might not fit into your wallet, so be prepared to have good pockets, a money belt, or any thing to keep your money safe.
Caution!
Always count the money you receive very well, even twice. It happened to us more than once to receive incorrect amounts (obviously lower) especially at restaurants or shops.
If you want to pay in USD at a restaurant or shop, always ask for the exchange rate in advance. If you don't ask they might give you an exchange rate lower that the official one. For example: we wanted to purchase a soap with USD and the exchange rate they gave us was 70 CUP for 1 USD.
Prices and Payments
Some restaurants and shops have prices in CUP only, USD/EUR only, or both. Never buy something that doesn't have a price without asking the price first.
Cubanos have this misconception that 1 USD is for us what 1 CUP is for them. Which is far from reality. There still are things that you can buy with $1 like a small bottle of water. There is absolutely nothing that you can buy for 1 CUP, not even in Cuba. The cheapest thing we bought in Cuba was a 15 CUP ice-cream, cheaper than water. For this reason they tend to ask for outrageous prices on things or services that don't have a labeled price.
Prices in CUP
Use CUP whenever possible. For the sake of saving money, it is advisable to purchase CUP before having to pay for anything. Restaurants and shops will give a bad exchange rate if they have the prices in CUP and you want to pay in USD or EUR.
Prices in USD or EUR
Carry small value USD or EUR: 1, 2, 5, 10 USD bills. Restaurants with prices in USD or EUR will give you change in CUP. Even is USD or EUR is mentioned everywhere in the menu and there's no exchange rate written anywhere, be sure that they will give you change in CUP. It is advisable to have small value bills in order to give pay only as much as you want, and not require change.
Prices in both local and foreign currency
When this happens, the exchange rate is usually not favorable for the client, and it is cheaper to pay in CUP. Although this is not universally applicable, and sometimes it might be a fair exchange. Always do the math!
Tipping
Tipping is customary in Cuba. In some restaurant it will be included on the check, but not everywhere. You need to pay attention to this before paying. The usual tip amount that is included on the check or is expected is 10%.
The Bad: Due to the poverty we've seen in Cuba and usually low prices, we tipped everyone generously. When 10% was included on the check, we used to round everything up leave extra tip. Even so, after multiple meals at the same restaurant they still tried to scam us with the change.
The Good: We tipped generously our accommodation hosts as well. One of them was so surprised by our tip that they gave us a souvenir in exchange. That souvenir now has a story attached to it.
Using Credit Cards
Most places don't even have a POS for you to pay with a card. Cards issued by American banks or banks that have any agreement with an American bank will not work. If you don't have other types of cards, you will have to use only cash.
Short Personal Story
I have this story that I want to tell you about using cards in Cuba because it is extremely weird how you can encounter a card-only place when cards are usually not accepted.
We did a trip in the Topes de Collantes Natural Park near Trinidad, and we had to pay a park entrance fee before going there. Weirdly enough, the park entrance fee could only be payed by card. We had cards issued by 2 different banks with us. One was not accepted for the reason mentioned above, and we insisted in paying with that one for safety reasons because we could've easily frozen that type of card in case of any type of fraud. After many minutes of trying to convince them to accept cash because our card was not working, their final stance was "if you can't pay by card then you can't go in the park". In the end we pulled out a different card, issued by a Romanian bank which worked from the first try. We got our entrance ticket and enjoyed our day. In case you wonder: nothing fraudulent happened afterwards on that card, but we used it at an official/national travel agency.
Cash & ATMs
We haven't noticed any ATMs in Cuba. We heard that there might be some, but we haven't seen any. We haven't searched for them either because we brought cash with us, and, for all the reasons mentioned above, we suggest you to bring cash with you as well. Plan your budget in advance, and factor in expenses for accommodation, food, transportation, and activities. Make sure you have cash to pay all of them because accessing more funds might be challenging once you're in Cuba.
Many things can go wrong with ATMs: run out of cash, have a malfunction, no electricity, card not accepted, bad exchange rate, etc. In Cuba is better to always apply Murphy's First Law: anything that can go wrong will go wrong.
Cash Wear and Tear
Important Note: The cash you bring with you in Cuba needs to be in perfect condition, a.k.a new bills. They will not accept any bills that have the smallest defect. While for us, in Europe, and North America, is easy to go to a bank an exchange a teared bill, the national bank of Cuba will not accept any bill that is ripped, torn or damaged, and nor will the locals.
---
Always keep in mind that no matter how much money you have, in Cuba you can't find for sale everything you are used to. Pack everything you may need in your trip to Cuba, including sunscreen and soap.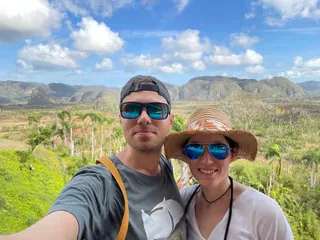 Writing free, independent and personal travel content since 2021. If you appreciate what we do, then you can return the favor by using the affiliate links below: