Getting from one place to another in Egypt can be very intimidating. We've done that in Cairo, Alexandria, Aswan, and Luxor, and now we share our experience.
We have explored on our own some of the most important cities in Egypt and tested multiple ways to get around in each of them. We are completely transparent and want to clearly specify that we only did so in the cities, and not between them. Between the cities, we've traveled together with a guided group, through a travel company that has arranged our busses and our flights. We will write more about that in future articles.
In each major city, we had at least half a day of free time to explore them at our own pace. The tour started in Cairo, but we arrived 1 day earlier in order to walk the streets of this enormous city. Right now we are planning to do a city break in Cairo on our own when the Grand Egyptian Museum opens.
Cars
The easiest way to go around in Cairo is with Uber. If you take a taxi, chances are that it has no meter and you never know how much you should pay. If you choose to go this way you should agree on the price from the beginning. Although, it is very unlikely that the drivers know enough English and you never know what they understood. In Cairo, the distances are also long and it is hard to estimate how much is a fair price.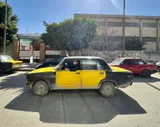 It's very nice that each city has a different style for taxi cars. For example, the taxis in Alexandria all look like the one above. They not only have the same colors in the same places, but they are also the same type of car. The taxis in Luxor are all white with some blue and some Egyptian drawings on the sides. Our apologies for the bad photo with the Luxor taxi, but unfortunately it is the only one we have. Now that I am writing about this I regret not taking photos with each style of taxi in every city.
Uber is safe and easy to use, you don't have to handle money and you know up-straight how much you have to pay. Don't forget to tip the driver too, also in the Uber app. The most challenging part that we had with Uber was to be 100% sure that we got on the correct car. In the Uber application, you will see the car's license plate written in our alphabet, but the actual license plates are written in Arabic. We ended up learning the Arabic numbers, but then we figured out an even easier solution. The most convinient way to check them would be to add the Arabic keyboard on your phone and go to the numbers.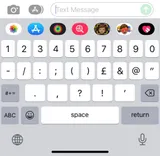 Bonus tip: taking a car to go from one place to another in Cairo is a unique experience. Even if you traveled by bus with your group and that seems nerve-racking, you should know that in a smaller car things get even more intense.
In other cities than Cairo, Uber might not be available, but the distances there are also shorter, which makes things easier. Most of the time we walked because we like to see the vibe of the city and people's culture, but taking a car or another means of transportation is also more accessible.
Horse Carriage
Once we took a horse carriage in Luxor because otherwise we would have had to walk some 2km that we have already walked the day before. Horse carriages are just a way to get from one place to another, don't expect to enjoy a special ride. The "driver" of the carriage will constantly bother you, trying to take you somewhere else which is further away, just to get more money from you.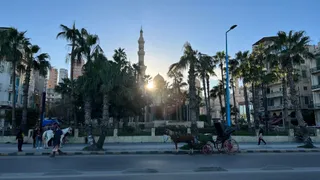 Important Note: Before taking a horse carriage, take a look at the horse and the shape it is in. Some people don't take good care of their horses, like in Edfu. A good-looking horse should not have scars or open wounds and you shouldn't be able to see all its ribs. You will see that in places where horses look well there's always some food for them around.
Boats and Feluccas
Besides the experience, feluccas are also a means of transportation. If your departure site and your destination are along the Nile river, then you could very well take a felucca.
It might also happen that you want to cross to the other side of the Nile river as we did in Aswan. There is also a ferry, but for us, it was more convenient to take a boat. Motorboats are faster, but feluccas are silent and they don't pollute. If you are short on time, then you might prefer the motorboat, which can be more expensive because of the gas.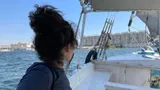 Like always in Egypt, you have to bargain for a good price, and even when you think you reached the final price, they will still find something to ask for more money for some reason that can be either a "misunderstanding" from your side or things like the skipper had a child helping him on the boat and he asks for money to buy a pen for him at school. Don't expect to win every battle. If you want to not waste too much time arguing, just give them something. Usually, they will appreciate even what you consider a small amount, but if you give too much you will never get rid of them asking for more because they know you have it.
Our guide told us that 200EGP for the motorboat out-and-back is a fair price. We negotiated 150EGP for the felucca, but of course, we had a long debate on the price all the way and we ended up paying more than initially agreed just to get rid of the hustle.
Is it Safe?
The way people drive in Egypt is crazy. I think only people born and raised there could be able to do it. They seem to have their own unwritten rules and a special honking language, but it works. All the time we've been there we haven't been involved in an accident, and we haven't seen any accidents. All the cars are at least scratched everywhere, but nothing more than that. Like our Egyptian guide also said, I don't understand how come traffic like this doesn't have serious car accidents as we do on our highways where people respect the lanes?
---
If you wish to find out more useful information, travel tips or stories about Egypt then please check out our other Egypt articles: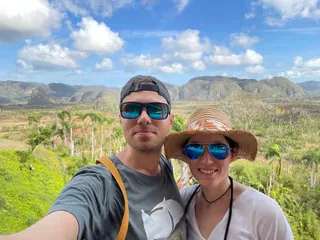 Writing free, independent and personal travel content since 2021. If you appreciate what we do, then you can return the favor by using the affiliate links below: