The hiking backpack has a huge impact on how you feel at the end of a hike. To enjoy every hike, get yourself a good backpack.
Disclosure: The products that we mention on this page are products that we use ourselves. We earn a commission from every purchase made from the links on this page at no extra cost to you. In case you need to buy anything for your next travel please use the links in this article to help us pay the costs for the Travelfoss website. Thank you!
There are thousands of options out there to choose from when it comes to hiking backpacks. It's impossible to tell you which one is the best, but we can help you narrow down your search. We are all different and have different needs, and therefore there is no such thing as the best backpack for everyone. Here are some things to consider before buying a backpack:
durability
comfort
volume
weather conditions
breathability
gender
pockets
weight balance and distribution
Durability
Most hiking backpacks are made to be durable and they offer an appropriate warranty. After all, they will see some rough terrains, they will get scratched on rocks, branches, and so on. Be careful and not mistake a city backpack for a hiking one.
Another thing to consider is to not buy the cheapest no-name hiking backpack and expect it to last. We used to have Salomon backpacks, which are not the best hiking backpacks out there, but I have to admit that the material they are made of is extremely durable. We didn't pay too much attention to care for them, but nothing broke or got loose after more than 5 years of intense use. All seams are intact, and the material doesn't have any tears in it. A lot of times we forced some layers of clothing inside them, stretching the zipper to its maximum, but it didn't break.
Volume
Backpacks come in all shapes and sizes. You should not think about what backpack volume you need, but how much you can carry. Definitely, if the backpack is too small you will not be able to fit enough in it. A backpack that is too heavy will tire you fast and will make you prone to injuries, which is the last thing you want. The ideal capacity for a hiking backpack is around 10% of your body weight, but you will be okay up to a maximum of 20%.
Wondering how to convert kilograms into liters? Usually, a 35l fully loaded backpack weighs around 10kg, a 55l fully loaded will weigh about 14kg, and a 75l will weigh around 20kg. That means that for a person that weighs 70kg, a 55l backpack would be okay.
Your required backpack volume is also influenced by the length and duration of the hike. For day hikes, there is no reason to go all the way up to 20% of your body's weight. 20% is mostly required for multi-day hikes.
Our recommendation would be to get the backpack that represents 20% of your body weight and keep it only partially full. It's always better to have some extra space in it in case you hike in colder climates and need to pack extra layers of clothing which take a lot of space although they are not so heavy.
Weather Conditions
Weather is tricky, and when you go in nature you must be prepared for anything. This also means that you should have the appropriate backpack.
Rainy days
If rain never caught you on a trail it's because you didn't hike enough.
For rainy days you will want to have a waterproof cover for the backpack even if it has a DWR treatment. All water repellent treatments tend to wear out in time and if you are on a trail in the rain for a prolonged period of time any backpack will eventually get wet without a waterproof cover. We learned this the hard way, destroying almost completely the car's registration certificate while hiking a glacier in Norway.
You can find backpack waterproof covers to purchase separately, but a lot of hiking backpacks come with one included. Before ordering a backpack and a cover at the same time, don't forget to check the backpack's description to see if it already includes one.
The last thing you want during a rainy hiking day is to have everything in your backpack went.
Hot Weather
In hot weather, the most important aspect is dehydration or in other words how much sweat the backpack will make you lose. Some backpacks use a back pad technology to increase breathability. It can either be a special material like a foam that conducts air through specially designed channels, or even a mesh back system like an elastic spring or trampoline and a metal frame that keeps the backpack off your back entirely.
In hot climates your goal is to not lose excess water (or produce less sweat), not just air conduction to dry your sweat away and cool you down. Yes, cooling down is essential to prevent heatstroke, but excess sweating only leads to dehydration.
More drinkable water leads to more weight, and this leads us to the next point.
Weight Balance and Distribution
While the metal frame and mesh sounds ideal for hot climates, you should also consider the weight of your backpack. By that, I am not referring to the weight of the backpack by itself, but to the entire backpack, loaded with everything you need. If you have a heavy load you will want to keep the center of gravity as close to your body as possible for maximum equilibrium and optimal energy consumption. In other words, the metal frame system which keeps your backpack off your back can be used with low and medium loads, but it gets trickier with heavy loads (over 50l backpacks).
This is where Osprey comes into play. They developed a system called AntiGravity, made of many parts forming a complex structure that combines three-dimensional suspension with a tensioned lumbar support. This system adds ventilation to the hip belt as well and it seems to be using the load itself to increase ventilation. Not only that this system help with ventilation, but it does a very good job at distributing the weight of the backpack in a balanced way around your back providing comfort.
A good thing to consider though is the backpack's own weight. If you are looking for a lower volume backpack you are doing so because you are a small to medium person, as described above at Volume. This means that you don't want any unnecessary extra weight on your back. A lightweight backpack is ideal and a complex system like AntiGravity will add some extra weight that you might not want.
Gender
Gender is an important factor if you are a women. Women are not just small man, and a smaller men's backpack or a unisex backpack is not enough for a woman. The width of the shoulders and straps, the height of the women's torso compared to men's, the position of the hip belt are just some of the differences that a backpack design for women has.
A lot of the time, being a woman feels like being left-handed in a world design for right-handed: you can use most of the things designed for right-handed but in an awkward or uncomfortable way.
Pockets and Packability
Every time you have a large backpack you also have a lot of items inside it. The most annoying thing is not being able to find something you need and having to take everything out.
It happened to us many times with the Salomon backpacks that we have been using. Also, the exterior lateral compartments are rather useless because everything falls out of them, including water bottles.
These are the kind of things that you want to watch out for when looking to get yourself a new hiking backpack.
Our Recommendation
Update: We finally upgraded our backpacks. Check out our final verdict to see what we ended up buying.
We're currently looking to upgrade our old Salomon backpacks (that almost look like new after 5 years) and our options are Fjallraven, Deuter, and Osprey. If you are looking to purchase a new backpack and you found the information on Travelfoss useful, please use the links below to support us. We are Amazon Affiliates and we earn a commission from Amazon without any extra costs for you.
You might be wondering why we want to change some backpacks that almost look like new. The answer is because of the key factors that we mentioned above. While durable and lightweight, we are struggling with the lack of pockets or poorly designed ones, uncomfortable back padding, uneven weight distribution, and not well adapted for women.
Women
I'm a rather small woman weighing 50kg at 162cm in height. 20% of my body weight would mean 10kg, which is around a 35l fully loaded backpack. However, at 162cm, most 35l backpacks seem too tall for my short torso. Therefore I feel that a 30l hiking backpack is more appropriate for me.
Fjallraven Abisko Friluft 35 W: We are big fans of Fjällräven, but unfortunately the most appropriate hiking backpack they have (and not daypack or mountaineering) has 35l which is a bit too much for me. It does seem to be a great backpack though, and I hope they release a similar 30l model.
Deuter Futura Pro 30 SL: I'm not performing at my best in hot weather. I get heatstroke and dehydrated quite easily. That is why I like this backpack a lot. It has great ventilation thanks to its tensioned mesh.
Osprey Tempest 30: Osprey is one of the leaders in the backpacking industry. Their backpacks are one of the best, and I am impressed with their AntiGravity technology. Unfortunately, you can find this technology only on backpacks 50l and above. I also know how important weight distribution is and I am in doubt about the trekking pole attachment only on one side that this model has.
Men
Stefan is a medium-sized man, weighing 64kg at 178cm. 20% of his body weight means 13kg, which is somewhere around 50l. Taking into consideration the type of hikes that we are doing (one day or multi-day with accommodation and food available at the end e.g. Alpe Adria Trail) and how much we usually pack, we consider that a 45l would be the maximum that he would need.
Fjallraven Abisko Friluft 45: This is a good option to consider. As I mentioned above we love the Fjällräven products. This backpack has great ventilation with an aluminium frame.
Deuter Futura Pro 40: While hot weather is easier to hike through compared to icy conditions, at the end of the day it proves more exhausting. That's why the ventilation this backpack has is a plus.
Osprey Kestrel 38: Although they create great backpacks, we feel that they are more focused on large volume ones. Since the AntiGravity system starts from 50l, there is no backpack for Stefan with this technology as well. It is anyway a good option to consider and compare with the other 2 alternatives.
Final Verdict
We have finally bought ourselves new hiking backpacks, and surprisingly we chose completely different models than what we were expecting. We tested all of the backpacks presented above and many more, and we both ended up buying Vaude.
We found Fjallraven backpacks too heavy, Osprey don't have enough ventilation and Deuter felt quite heavy. Surprisingly, the Deuter Futura Pro 30 SL didn't feel confortable on my back. The edges of the tensioned mesh were very rigid and they were hurting my back at the scapula bones. I didn't realise this intially, but luckly I was able to try the backpack on while loaded with around 5kg, and it was enough to feel it uncomfortable.
We didn't chose Vaude because we wanted to both have the same brand. We were individually trying out backpacks and it happened that we both liked Vaude more:
Stefan's Wizard backpack is very well organized with lost of pockets, and also bottom access for the main compartment. I was a bit concerned with my Brenta because it has only one large compartment where you throw all your stuff in with no bottom access. It also has a top compartment with multiple pockets in it, and the exterior elastic pocket. So far they served me well, and I haven't had any problems finding or accessing my things.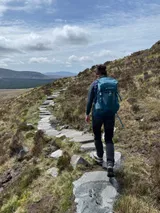 Regarding comfortability, we even used the backpacks while cycling the Gap of Dunloe in Ireland. They are not made for cycling, but you can't really carry a backpack for everything while traveling. For us one backpack has to serve multiple purposes, and the Vaude backpacks did that successfully.
Other Hiking Resources


---
We would love to hear your thoughts on these backpacks, so if you have experience with any of them please let us know in the comments below.
We're going to compare these backpacks in more detail in order to make a decision for ourselves. If you wish to learn more about them as well, write a comment or contact us for details.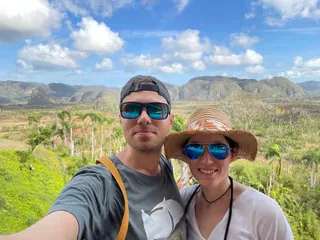 Writing free, independent and personal travel content since 2021. If you appreciate what we do, then you can return the favor by using the affiliate links below: