Hike along the youngest lava in Tenerife and admire the contrasting sceneries created by the 100 years volcano.
Chinyero is Tenerife's youngest volcano with its last eruption in 1909. Due to the fact that the land in this area is so young, the landscape here is different than in other places on the island. The vegetation is more scarce and the lava flow is clearly visible and has more vivid colors.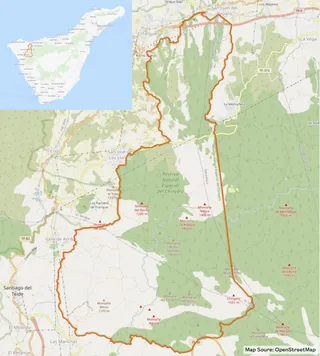 Almendros en Flor Infantil 0 a 5 años (Almond Blossom Route) and Montanas Negras
A circular hike through almond trees. The trees are in full bloom in January and February.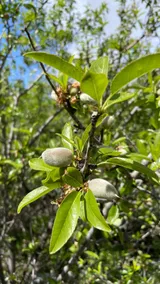 This hike in Valle de Arriba has spectacular views all year round. We were there a bit too late (1st of March) for almond flowers, but there are plenty of other flowers on the trail as well. The almond flowers were over for some time since some almonds were quite large. We also found some old almonds, the black ones, that you can crack open and taste.
We started the trail in Santiago del Teide, following PR TF43.3 towards Chinyero, although we didn't go all the way to Chinyero this time. We reached the lava stream from the Chinyero eruption in 1909, walked along it, but then followed the signs to Las Manchas PR TF 65, going around Montanas Negras. However, our goal wasn't to reach Las Manchas, but to descend north of Las Manchas, closer to Santiago del Teide where we left the car. Afterwards we had to walk for a while along the road TF 375.
You should be careful on this trail because some areas have loose gravel that can be slippery as the trail inclination increases. Get some good shoes and don't rush, taking small steps reduces the risk of falling. The road TF 375 has no sidewalk so we had to walk on the side of the road being cautions about cars.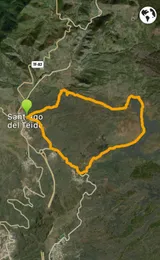 ---
Sendero del Chinyero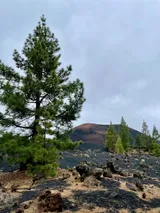 For us, this was an easy hike, more beautiful than we expected. We left this trail for our last days in Tenerife because we were not sure if it is worth doing, but we are extremely happy that we didn't skip it. The pine trees here are very tall and the cones bigger than usual.
We spent some good minutes admiring and photographing the volcano. We were fortunate to see it without fog when we arrived and then we had some fog coming in and changing the landscape, literally within minutes.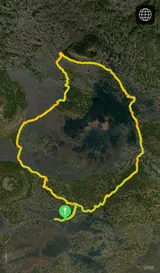 ---
As enthusiast hikers, there's no better way to observe and admire nature than a hike. However, the thrill of a hike can be ruined if you don't have the proper gear with you. For this we made a special article about the gear you need on every hike.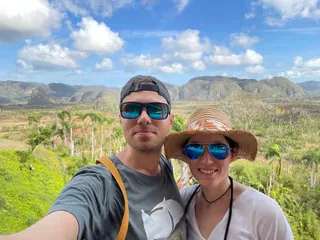 Writing free, independent and personal travel content since 2021. If you appreciate what we do, then you can return the favor by using the affiliate links below: