Hiking in Tenerife's Teide National Park is like hiking on the moon. At least this is how we think the moon looks like from the movies that were shot here.
This area has the most volcanic scenery of Tenerife. It is situated at a higher altitude and is usually above the clouds. This makes it an ideal location for beautiful sunsets or just impressive sights that you usually see only from an airplane.
There are a lot of hikes here, however, we found it difficult to do longer hikes because of the burning sun and the low humidity. We got exhausted faster than usual and once we admired the landscapes enough they are just repeating.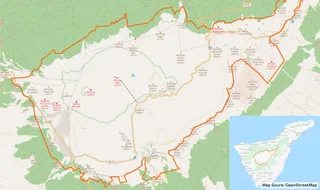 Minas de San Jose
A walk through lunar landscapes where film shooting often happen.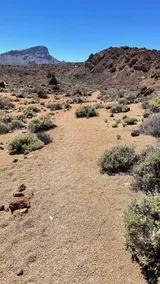 We started this hike very excited because of the views. Stepping on that light-colored lava feels like out of this world. You should definitely experience this, if not by doing the entire Sendero 39, but at least walk on the trail a bit near the car park.
After finishing Sendero 39, our plan was to continue on a trail that starts on the same path towards Montana Blanca, but we ended up going back on the main road. Although the temperatures were not too high we were a bit exhausted from the sun and dry air.
Rather than Minas de San Jose hike, we would recommend going on Montana Blanca because the landscapes are even more spectacular there and worth the effort. We personally haven't hiked Montana Blanca, but it is on our TODO list for the next time we're in Tenerife.
Don't forget to take plenty of water with you!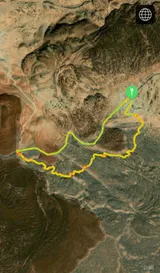 ---
Roques de Garcia
Truly impressive rock formations that you don't get to see anywhere else.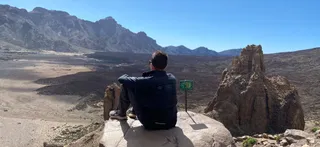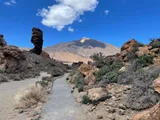 This hikes was a bit more challenging that we expected, but the rock formations you get to see are simply stunning. We could go as far as saying that this is a must-do hike in Teide National Park.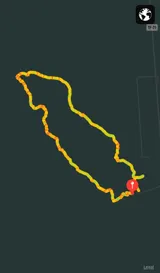 ---
Alto de Guamaso
An easy hike for above the clouds views.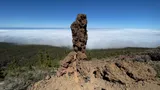 This hike is an easy one and probably not worth doing if there are no clouds. The main beauty is being able to see the clouds close up, just underneath your feet. Clouds are most common in the afternoon/evening, so perhaps you can check this out after spending your day exploring something else in the Teide National Park.
Yes, I forgot to start recording the hike from the beginning, but there's not much missing and we did a lot of stops on the path to take photos and admire the fluffy clouds.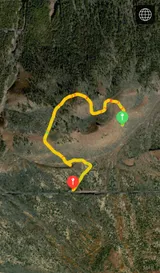 ---
Teide Cable Car (Teleférico del Teide)
Hike or take a cable car up, the views from 3500m altitude are astonishing.
We haven't done this hike because it is a very difficult one for many reasons. One main reason is the altitude that will slow you down, and the second biggest reason is the steepness of the hike, temperature and necessary gear. If you plan to hike all the way up instead of taking the cable car, it is good to consider spending one night at the Altavista Refuge (Refugio Altavista).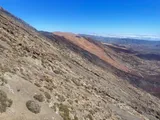 You could also take the cable car up and then hike your way down either on the west side or on the east side of Teide. The east side hike passes the Altavista Refuge and the west hike passes Pico Viejo. Depending on the weather conditions when you go up there, one trail or even both might be closed because of ice. The rangers will be there to advise you and/or prevent people from going on the trail without proper equipment.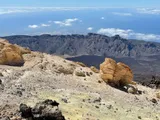 The easiest way to purchase cable car tickets is online to avoid long queues. Be there a bit earlier as parking might be scarce and you will have to walk 10 minutes from the car to the cable car.
---
Pico del Teide
TODO

Hiking from the Teleférico del Teide all the way to the top of Teide is possibly only with a permit. The permit can be obtained online for free, but you have to book it in advance.
Unfortunately, we didn't manage to get the permit soon enough. However, it was our first time at such an altitude and we did experience some altitude sickness, making us question the hike to the top. In our case, the altitude sickness went away in 20-30 minutes, but we still weren't able to walk very fast uphill. We believe we are physically able to go to the top, but we just have to take our time and accept a slower pace.
We will go the next time we're in Tenerife, but we need to be better prepared. By this, I mean hiking gear for cold weather and sturdy hiking boots.
---
As enthusiast hikers, there's no better way to observe and admire nature than a hike. However, the thrill of a hike can be ruined if you don't have the proper gear with you. For this we made a special article about the gear you need on every hike.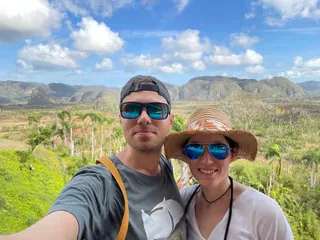 Writing free, independent and personal travel content since 2021. If you appreciate what we do, then you can return the favor by using the affiliate links below: