If you haven't traveled in underdeveloped countries before, then the thought of being alone on your first day in Cairo can be scary.
We haven't thought of it before going, so we had an extra day by ourselves at the beginning. It was not bad, just that you will have a cultural shock when you first get in contact with Egypt. If you are with a guide, then you will get over it quite easily and by the end of the trip you will feel confident enough on your own. Unfortunately, the first thing we did was to go alone in the Cairo old city. We felt like we have been thrown in the middle of a chaotic, underdeveloped and dangerous place. Yes, it is underdevelopment, but not chaotic if you get to understand their culture, and definitely not dangerous.
We already posted a suggestion of a city break itinerary in Cairo, but this time I want to talk about the experience we had on our first day in Egypt. Our itinarary was mostly the same as described in Day 1 in our suggested itinerary: Khan el-Khalili and Al Azhar Park. We could have done The City of the Dead as well, but we didn't know about it.

We also spent way more time than expected in each place, mainly because of the cultural shock that we were not prepared for. We did Khan el-Khalili twice, and we got so comfortable in the Al Azhar Park that we didn't want to leave and be on the city streets again. We'll talk about each of them below.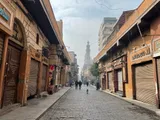 I'm going to be completely honest and admit that after we walked the entire main street of the historical center of Cairo called Khan el-Khalili, I realized that I was so nervous and scared that I didn't see much. My fear was caused by the messy streets, shabby buildings, and people I didn't know to read. Add to that the advice the receptionist gave us: "watch your pockets".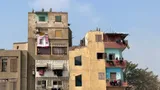 But we got to the end safe and sound. There was absolutely no threat or danger. There are even police men patroling the street to ensure safety. That was the moment when I understood that it's just different, and not necessarily dangerous. I calmed down and we went back to walk it all over again, this time at a more relaxed pace. We stoped to admire buildings, to take pictures, we walked on a few left and right streets, and did some people watching. You really need to take your time here, and let everything sink in because there's a lot to take in, don't rush.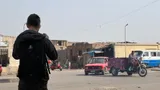 Do you notice the guy above, dressed in blue with a red tray in his hand, posing for the photo? As chaotic as it looks, note that in the left photo above, the scooter driver is smiling to the camera while Stefan is taking a picture. It took us a while to start observing that there's more to Cairo than meets the eye. This reminds me again just how welcoming people in Egypt are.
The park was an unexpected surprise and a great way to relax after a few hours in the bustling city center. It looked modern and more in line with the kind of civilization we are used to. A great break after a huge shock.
Don't avoid going uphill in the park because up there you will get to see the buildings of Cairo that surround the park. It's a view that you rarely get to see somewhere else. Life in Cairo is very puzzling. We have never seen a city made of so many unfinished and shabby buildings.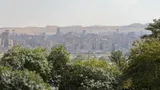 We spent a lot of time in the park, probably more than we normaly would. Looking back to that moment I realize that we were mentally tired after the nervousness we went through at our first contact with the city streets.
We finished this day relatively early. We left the park at 4PM because 1hour of Cairo trafic was awaiting us, we also wanted to stop at a supermarket to grab some bottled water, and we had our first group meeting at 6PM.
Getting from one place to another was relatively easy, as we explained in another of our articles. However, you can't really wait for a taxi anywhere. Once we were excorted by security officials away from a public building. We didn't do anything, we didn't took any photos or something, but we probably waited for too long for the Uber to arive and the Uber driver was also not willing to pick us up next to that building.

All in all it was a unique experience that I will never forget.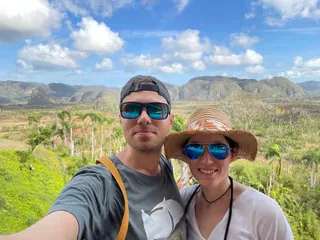 Writing free, independent and personal travel content since 2021. If you appreciate what we do, then you can return the favor by using the affiliate links below: