Singapore is proof that people of all races, religions, and cultures can live together in harmony, respecting each other and creating a prosperous environment.
The complex ethnical built-up of the country is what shapes Singapore. The country is characterised by fast-paced development, modern buildings, prosperous economy, high quality of life, and greenery flourishing all over the concrete, steel and glass urban environment. The cultural diversity of Singapore is beyond what meets the eyes.
Singapore is a pleasure to explore by foot. All the streets and buildings are well looked after, renovated, cleaned and maintained. Exploring the cultural diversity of the country is no exception, be prepared to walk a lot (or take a Grab once in a while - the SE Asian version of Uber).
In short, this day is about exploring the multicultural aspects of Singapore: Chinatown, Christian Community, Little India, and the Arab quarter called Kampong Glam. It is a one-day itinerary that we did ourselves while in Singapore.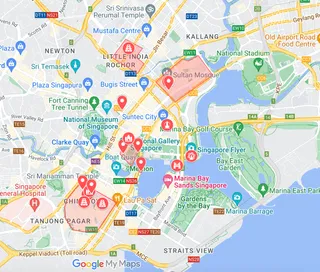 Note: If you wish to go inside some of the temples and churches, then make sure to wear some shoes that are easy to take off, don't wear tank tops, and take with you a scarf that you can use to cover your legs in case you wear shorts.
1. China Town
Home to multiple temples of 3 different religions: Hinduism, Buddhism and Taoism.
You can start exploring the area from the Chinatown Station, and then walk on as many streets as you wish. Each one of them will have something to show you.
China town streets - make your way along each street, exploring in the process the China Town Colonial Shopping Street (or Pagoda street).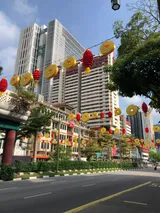 Sri Mariamman Temple - a hindu temple worth taking a look inside. Remember to take off your shoes and cover your legs.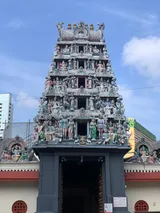 Jamae (Chulia) Mosque - a muslim mosque that sits right next to the Sri Mariamman Temple.
Buddha Tooth Relic Temple - buddhist temple with numerous relics and ornaments.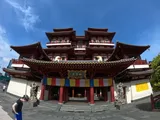 China town street art - we've been impressed by the number of street art in Singapore's China Town. Their quality is also extremely impressive, giving them almost a 3D feel.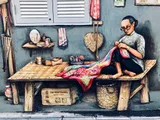 Thian Hock Keng Temple - a Chinese style taoist temple. To make your way to this temple we recommend you to take the alley towards Ann Siang Hill Park for some nice views.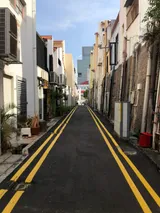 Chinese culture - in case you have some spare time one evening, you recommend you to check the China Town during the night as well. And if you're in Singapore during the Chinese New Year, then everything gets even better.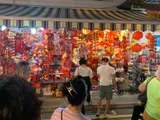 2. Merlion Park
At the intersection of modern development and mythology.
From the China Town we walked North to continue our cultural exploration day. We passed through Raffles Place which is the center of Singapore's financial district. Then we got to the Merlion Park, where you can find the famous statue-fountain with the body of a fish and head of a lion. This area showcases 2 more cultural aspect of Singapore: the economic growth conveyed by skyscrapers, and the mythical creature called a Merlion which is the symbol of Singapore.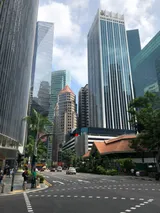 3. Esplanade Park
At the synergy of old and modern architecture you will find Christianity represented by the Neo-Gothic Anglican church.
From the Merlion Park we continued our way North, across the Singapore River and we reached the Esplanade Park, home to several representative buildings: National Gallery of Singapore, St Andrew's Cathedral, Singapore Academy of Law, and the Padang playing fields.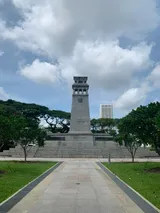 4. Little India
A vibrant district, with brightly colored buildings, street art, temples, and mosques.
Sri Veeramakaliamman Temple
Wander the streets of Little India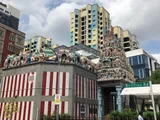 5. Arab quarter
A historic quarter where age-old traditions blend with a trendy life-style.
Arab Street
Haji Lane
Bali Lane
Sultan Mosque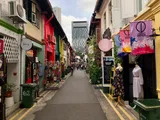 From here you can call it a day if you are tired. But if you are in for some more walking then head South to check out some extras.
6. Extras
Fountain of Wealth - if you get at the fountain in the evening then you're in for a light show.
Singapore Flyer - great views over the city
Helix Bridge - foot bridge with modern design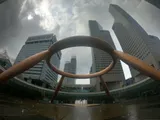 Right now you are right next to the Gardens by the Bay which you can leave for another day (or take a look at nighttime as well)
Itinerary Variations
If you only have 2-3 days in Singapore, and want to have a packed itinerary, you can also add to this day this half-day Singapore city itinerary since they are relatively close by: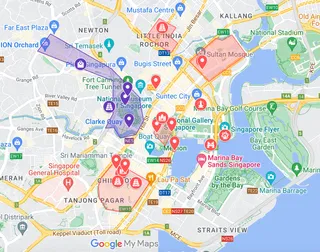 How would your itinerary look right now? You simply include the half-day itinerary from the link above between Esplanade Park and Little India form this post.
---
We write to help you create your own Singapore itinerary, and to discover off the beaten path attractions. Checkout out other articles that we have about this spectacular country:

---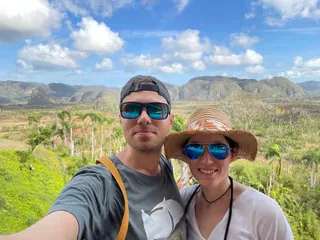 Writing free, independent and personal travel content since 2021. If you appreciate what we do, then you can return the favor by using the affiliate links below: