Egypt is an ideal destination if you are looking for a cultural shock, something different than yet another western destination.
I'm happy that I am able to start this post by saying that our trip in Egypt was an experience far better than what we've expected. Part of it because of the welcoming Egyptian people and part of it thanks to our awesome guide, Michael Halim.
We had one day on our own in Cairo and the rest of our trip was with G Adventures. I'll start with my first advice, if you plan to go with G Adventures (which we recommend) or any other travel company, and you also want to take some days for yourself in Cairo (which we also recommend), then take those extra days at the end, and not at the beginning of your trip. Of course, our trip included plenty of "free time" where you could go explore the city or even more at your own pace.
Why we chose a travel company
If you've been following our blog, then you probably know that we are almost always traveling on our own. Egypt was the first time we went with a travel company, and we're glad we did so. While anyone can easily go for a city break in Cairo or Alexandria, or for a beach holiday in Hurghada, it is hard and stressful to travel the entire country of Egypt, all the way to the border with Sudan.
In our trip we had hotel room issues, restaurant issues, and even canceled flights. All of them have been solved thanks to our guide, Michael Halim. Some issues are hard to solve on your own because a lot of people in Egypt don't know enough English. Luckily, we had an amazing guide that we could count on, and he was there to solve any problem for us. Our trip was smooth and nice thanks to him.
Food in Egypt is good if you know where to go. Travel diarrhoea is also a big risk in this country. Again, many thanks to our guide, Michael who, not only took us to good and great restaurants, but he also chose them in such a way that we could taste different types of Egyptian dishes. Even so, you should bear in mind that they use a specific mix of spices called dukkah in most foods, and that mix contains cumin. This might not be your top choice of spices, but you have to be open minded when you travel to a different culinary culture.
One thing that we sometimes miss while traveling on our own for longer periods of time is having some quality time with our friends. We had a great small group of 10, with very nice people. Although we just met, every evening was a pleasure, and felt like having dinner with friends. I hope that one day we'll meet again.
Egypt Highlights
On the first day, there was an optional tour, at extra charge, organized by G Adventure for Islamic and Coptic Cairo for those that arrived in time. We knew about it, but we're not very religious, and we had our fare share or churches in Egypt, so we decided not to join them, and explore Cairo instead. It's quite sad that travel companies don't include the city of Cairo in the itinerary.
The second day started very early and we went straight to the Giza Plateau:
From the Giza Plateau we went and had lunch, we've seen how real papyrus is made, and left Giza for Alexandria where we enjoyed our evening.
Alexandria had a different vibe than Cairo with more European influences. Although, the Egyptian hustle and bustle was still there. We had our first cultural shock in Cairo, so we were able to fully enjoy Alexandria. In our free time in Alexandria we were able to walk the entire corniche and get immersed in the local culture.
From Alexandria we went back to Cairo by bus to catch the plane to our next destination: Aswan. In this city the trip was again a mix of exploration as a group and individually as well. I am very proud that we managed on our own to rent a felucca and go across the Nile for a desert hike.
From Aswan we went to the well known Abu Simble temple before boarding the ship for our Nile cruise.
The Nile cruise makes multiple stops along its way to Luxor. The final destination of the cruise is well known for the famous Valley of the Kings:
But there is more to discover about Luxor than the valley of the kings:
From Luxor we took a flight back to Cairo, preparing to end this amazing trip and head back home.
---
In the end we liked Egypt a lot and we want to go back after the Grand Museum opens. We already wrote few other articles about transportation, culture and how to get along in Egypt when traveling without a guide. We suggest that you also check those articles out before going to Egypt: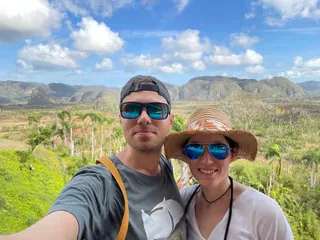 Writing free, independent and personal travel content since 2021. If you appreciate what we do, then you can return the favor by using the affiliate links below: