Black or gold, surf or swim, you'll find a beach for you on Tenerife in the Canary Islands of Spain.
Tenerife is mostly known as a place for an exotic vacation focused on beaches. On our trip to Tenerife, we discovered a completely different face of the island that we didn't know exists. Yes, there is more to the island than meets the surface, but let's now dive into the beaches.
There are beaches all over the island, however, the north has black sand beaches, while the south has more gold-sand beaches. Since the south has a warmer climate, it is the ideal place if you are mostly interested in beaches. You should also keep in mind that the south is more touristy and most cities are in fact resort cities. During the pandemic, these resort cities looked almost abandoned. Sad for the businesses and creepy for the wanderers.
We personally found black sand beaches more interesting because of the contrasting colors. However, as they are located in the north, you should consider that not all afternoons are sunny in this part of the island. We also enjoy blending in with the local culture and habits that you get in the north. Since we get bored from lying on a beach all day every day, we don't mind the occasional clouds.
El Bollullo
Unspoiled black sand beach. Don't forget your towel or surf board!
Plan your visit to this beach so that you are sure to fully enjoy the sun. Being surrounded by cliffs, in the late afternoon, part of the beach might be in the shade. You can either watch where you are lying your towel or go earlier when the sun is up.
The beach is mostly formed of sand, with very few rocks here and there that you can easily see and avoid. Surfers seem to like this place, we never seen this beach without surfers, especially in the afternoons.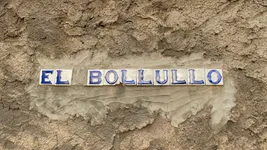 There is parking close to the beach, but the road to it is narrow and it might be a hustle to get to your destination if you encounter cars coming the other way. At peak hours the parking might also be full so you risk being forced to head back. We recommend you leave your car somewhere in El Rincon before the narrow road and walk to the beach.
Playa El Ancon
One of the lesser known secluded beaches in Tenerife
El Ancon is not far away from El Bollullo, but the access to this beach is more hidden, making it a hidden gem that few people know about. The access to the beach is a thrilling experience by itself. You have go down on some stairs on the lava wall that borders the beach.
Playa de Martiánez
Black sand and pebbles beach in Puerto de la Cruz.
Like most beaches in the north of Tenerife, it has black sand and also pebbles. Entering or getting out of the water may be a bit of a challenge due to the rocks at the shore.
If you're looking for a sand-only or mostly black sand beach, there is another beach in Puerto de la Cruz called Playa Jardín.
Playa Jardín is larger than both Playa de Martiánez and El Bollullo, but it is not an unspoiled beach like the latter.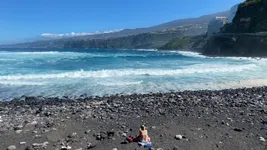 Playa Jardín
Don't let the weather scare you.
The weather didn't look promising at all, but in the end it didn't even rain. Playa Jardín is a very wide and spacious beach, with pictoresque city buildings on one side and a botanical garden park on the other side. As a city beach, we didn't have high expectations, but we've been pleasantly surprised.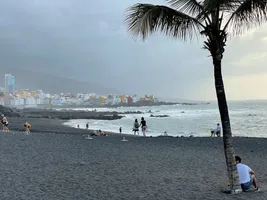 Playa de Los Cristianos
One of the most known beaches and also most popular in Tenerife. To us it seemed a lot like any other beach you would go to in a touristy place. It didn't have anything unique. However it's sad is very nice which makes it perfect for beach sports like voley.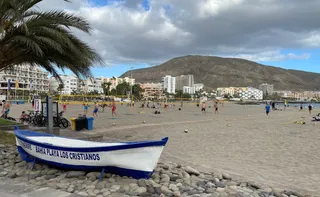 Playa de Las Vistas
Just next to Playa de Los Cristianos sits Playa de Las Vistas. It is also the beach of a resort city, populated mainly by tourists, but with awesome sand.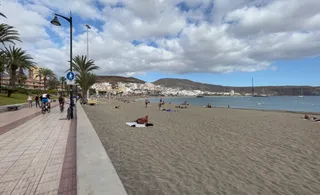 Playa de la Enramada
No beach photos for this one, our attention was drown by the huge number of people paragliding here. Playa de la Enramada is the base beach for paragliders.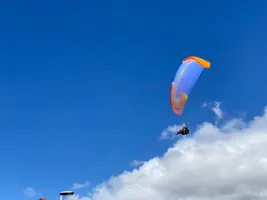 Playa de Las Teresitas
Man-made beach close to Santa Cruz de Tenerife. Probably the only beach in the north of the island that is not black.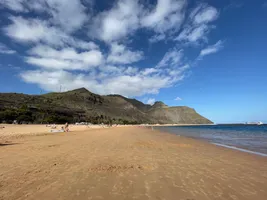 Playa de Roque Bermejo
What a better way to cool down after a hike under the sun?
This beach was like a surprise for us. We simply went on the Roque Bermejo Hike and didn't know what to expect. In other words, there's no easy way to get to this beach other than a hike or perhaps a boat if you are more adventurous.
The beach itself is not spectacular, it is a small strip of sand, not very wide and it can't accommodate too many people. We believe that not too many people arrive here anyway.
The beauty of Playa de Roque Bermejo is due to its location. It is just perfect for taking a break from hiking and enjoying the greatness of the ocean on a beach that, if you're lucky, is all for yourself.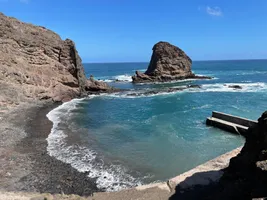 Playa del Roque de las Bodegas and Playa de Almáciga
Sometimes it rains and sometimes you're there for the hike. Enjoy every moment as it is!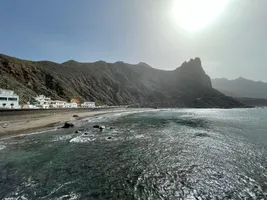 Playa de Benijo
One of the most scenic beaches on the island. Not crowded, but probably not close to most accommodations as well. No matter where you stay in Tenerife, we recommend that you don't skip this one.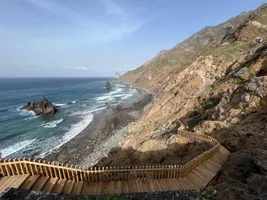 Playa de Leocadio Machado
We stumbled upon this beach by accident after hiking La Montaña Roja (soon to be covered on this blog). It starts very unusually with some greed stony ground, but this is one of the largest natural beaches in Tenerife and it is a sandy one. Right next to it lays Playa del Médano famous for surfing.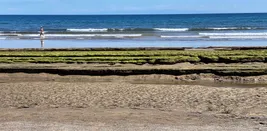 Playa de la Tejita
Tenerife's longest natural beach.
Separated from Playa de Leocadio Machado by Montaña Roja, Playa de la Tejita is a fine sand beach. This beach spans more than 1 kilometer, and it is even longer than its neighboring beach.
Playa de la Tejita is almost always windy which makes it a great place for surfers, but can be off-putting for people who just want to sunbathe.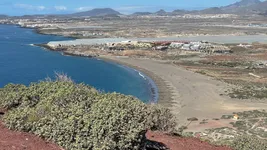 Playa de Los Gigantes
Black sand beach guarded by giant cliffs.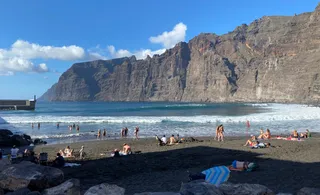 Playa Punta de Teno
This beach is a bit more complicated to reach. The easiest way to get there is by bus and the hardest way is to hike to it like we did. We have covered more details about how to get to Punta de Teno in other articles on this blog.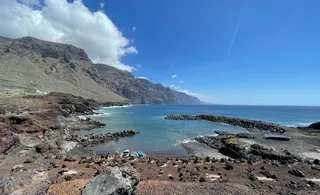 ---
It takes a lot of planning for the perfect trip, but packing can sometimes be frustrating. Either packing too many things or packing too few can both ruin a bit of the fun. We've perfected our packing checklist over years and we believe it will be of good use for you too. We also have some travel packing tips & tricks to share to save you the hustle we once had.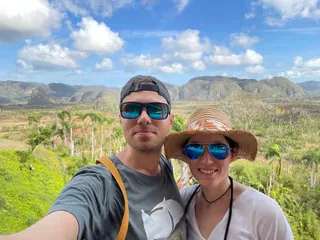 Writing free, independent and personal travel content since 2021. If you appreciate what we do, then you can return the favor by using the affiliate links below: